Jose Mourinho: Arsenal are still in the Premier League title race
The Gunners are seven points behind the Blues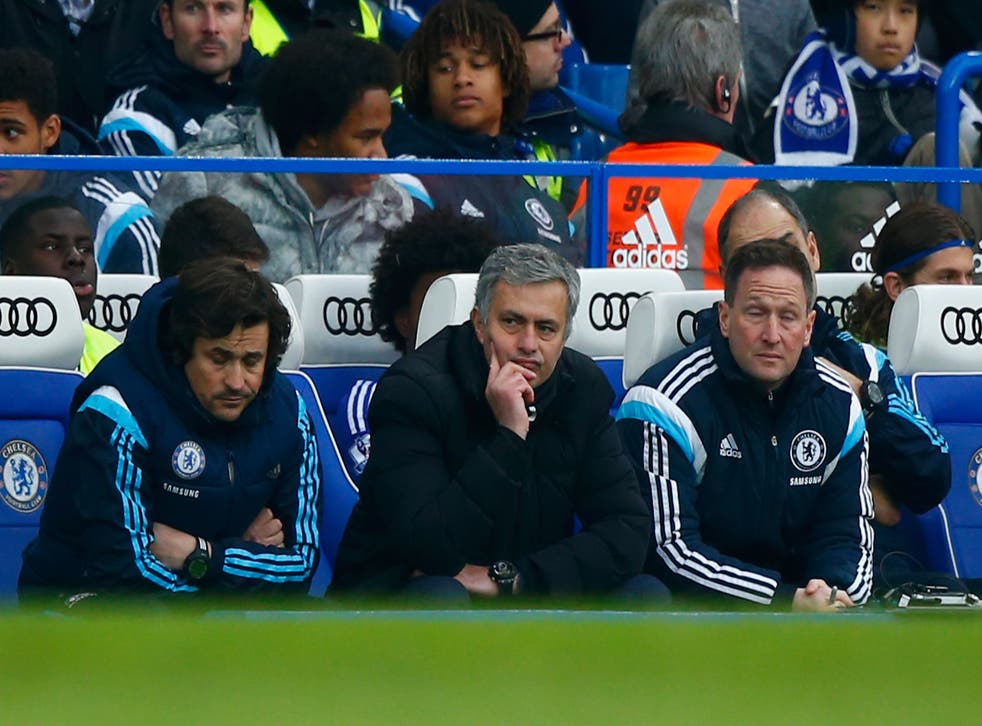 Jose Mourinho conceded that Arsenal were still in the title race after both Chelsea and Manchester City failed to take three points this weekend, but pointedly asked whether Arsene Wenger's team have the momentum to overhaul the leaders.
A draw at home to Southampton meant that Chelsea go six points clear of second placed Manchester City and also have a game in hand over the defending champions who lost at home to Burnley on Saturday. Mourinho conceded that he expected his team to have done better having taken the lead through Diego Costa.
Reflecting on the draw, Mourinho said: "One perspective is a draw at home to Southampton is not a good result. For me, that perspective is very acceptable because I have this feeling. And the second perspective is we had a lead of five points from second, and now it's six points with one less match to play.
"Of course [Arsenal are in contention in the title race]. [They are] seven points behind Chelsea, and one less match to play than Chelsea. I keep thinking our opposition is better than theirs … both teams are in the race." Asked whether Arsenal had greater momentum, Mourinho said: "Which momentum? Three-one against Monaco or 3-0 against West Ham? It depends on the momentum."
Chelsea 1 Southampton 1 player ratings

Show all 23
Told that his current bête noir Graeme Souness, the Sky Sports pundit, had agreed with referee Mike Dean's decision to award a penalty against Nemanja Matic, Mourinho said that Souness had his priorities were wrong. "Souness says it is more a reason [to be] a critic of a player for asking for a yellow card than if a player kicks someone in the chest."
Mourinho was unhappy that referee Dean had not awarded a penalty for a trip by Dusan Tadic on Branislav Ivanovic in the first half. "Every match is difficult," he said. "Remember our two matches against Southampton: in one game, one penalty that is not a penalty; in another game, a penalty that was not given [for Fabregas at St Mary's].
"So you are speaking about six points and getting two. So the danger is always there. But I keep saying, we are there [at the top]. If someone had told me in August that, at the end of March, we'd be six points in front with a match in hand, I'd have signed for that immediately."
Nevertheless, Mourinho admitted his players had struggled after Tadic's equaliser in the first half from the penalty spot. He said: "I think we started well. I think the penalty changed the rest of the first half. The players felt it and we stopped playing, and made a few mistakes. They scared us in a couple of dangerous counter-attacks.
"In the second half, from the moment Ramires came on [for Matic], we killed their counter-attack, they felt that and we had complete control of the game. We created lots of chances to win the game, but we didn't."
Ronald Koeman praised his goalkeeper Fraser Forster who made a number of saves as the pressure increased at the end of the game. "I'm very happy and pleased that we have Fraser in our team. Not only for this game … he made fantastic saves in the second half, but he has played an unbelievably high level for the team.
"Goalkeepers are always key players in a team, in a good defence, and that's one of the qualities we have. [Joe] Hart is a good goalkeeper, Fraser is a good goalkeeper. I'm happy to have him in the team. It's not my decision to make [who plays for England]".
Join our new commenting forum
Join thought-provoking conversations, follow other Independent readers and see their replies