Bournemouth vs Manchester United: Jose Mourinho hails Zlatan Ibrahimovic after goal on debut
Mourinho says that the veteran striker is as good as he ever has been after his long-range goal seals opening win at Bournemouth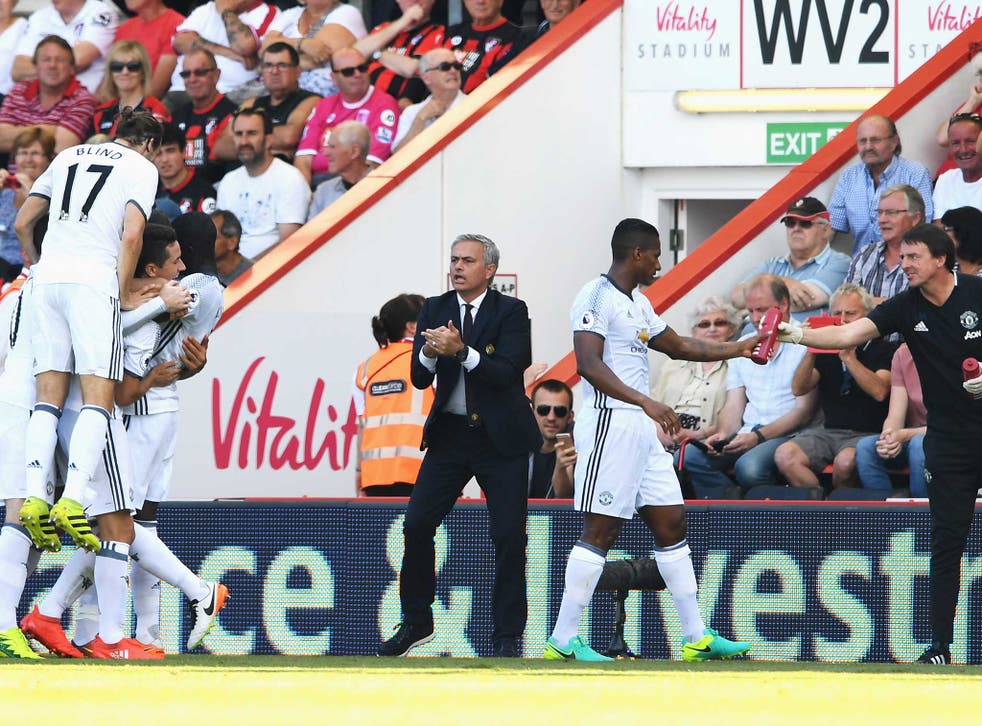 Jose Mourinho said that veteran striker Zlatan Ibrahimovic is still at the peak of his powers after seeing the 34-year-old Swede score a brilliant debut goal for Manchester United.
Ibrahimovic scored the long-distance third in United's 3-1 defeat of Bournemouth, following his crucial winning header in the Community Shield last Sunday. He has settled into English football quickly after his free transfer from Paris Saint Germain this summer, and Mourinho heralded his impact on and off the pitch.
Mourinho coached Ibrahimovic at Internazionale eight years ago and has already been impressed with his contribution at Old Trafford. "The first thing I can tell you is that his table for breakfast and for meals he is surrounded by the young ones, the kids," Mourinho said. "Luke Shaw, Marcus Rashford, these are the guys who are with him at the table. He knows what he can be for them."
Having seen Ibrahimovic score two good goals in his two United games so far, Mourinho said he was playing as well as he as ever has done. "For the team, you have to forget the passport, that he is 34 years old," Mourinho said. "The body and mentality are not those of a 34-year-old guy. He's at the top of his qualities."
This 3-1 win moved United to the top of the Premier League table, and Mourinho re-iterated his promise that United would compete for the title this year, something that they have not done since Sir Alex Ferguson left in 2013. Mourinho's words effectively dared his rival managers to be as open about their own title chances.
"Everybody knows that we are going to fight for the title," Mourinho said. "Win it or not win it is a different story. But everyone knows we are not going to [fight for it]. We don't hide in our words or our approach, so we are going to fight until it's possible. If one day it's not mathematically possible then we'll think about top four, which would be one step ahead of last season which would be fine. But we want more than fine. We want to fight for the title."
Mourinho admitted that he did still feel nervous before the first game, even after a 15-year career at the top of the European game.
"To be honest, yes a little bit [of nerves] before the game," Mourinho said. "For somebody with so many years in football, to have that feeling is normal. I never forget coming with Real Madrid to Old Trafford and asking Sir Alex if he was still nervous. "Yes." I understand it never changes. Experience helps with many things but it's good to have a little feeling."
Join our new commenting forum
Join thought-provoking conversations, follow other Independent readers and see their replies