Jose Mourinho: Manchester United want to win the Premier League - other managers are afraid to admit it
Manchester United have not won the league since Alex Ferguson's final season in charge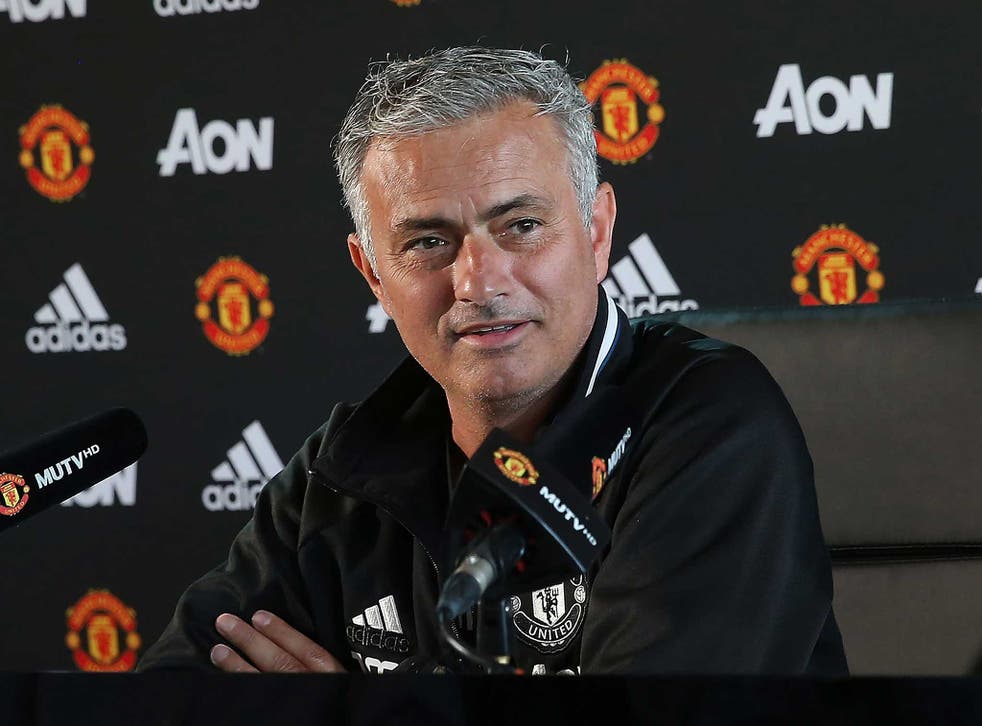 Jose Mourinho wasted no time in laying down a marker for his new team by demanding Manchester United challenge for the Premier League title, while criticising rival managers for lacking the bravery to make similar public pronouncements.
Manchester United have not won the league since Alex Ferguson's final season in charge in 2013 and never threatened to under either David Moyes or Louis van Gaal, who paid the price for finishing fifth last season with his job.
Mourinho, who replaced van Gaal at Old Trafford in May, is a proven course and distance winner from his two spells at Chelsea, where he won the league three times.
And the Portuguese believes he is now back at a club which should not be frightened about stating its ambitions, unlike a number of others with Arsenal and old adversary Arsene Wenger likely to be high on the list of managers Mourinho has in mind.
Mourinho said: "We feel that we are candidates to win the title. If at the end of the season we are not champions because someone is better than us then great, that's football. But at Manchester United Football Club you cannot say differently, we have to fight for the title.
"Many more think the same way as us but they are afraid to say it. They prefer to play a defensive game in words. They prefer to say or to hide or to play defensively with the words, that's not our way. I don't think that's Manchester United. I think Manchester United has to say we want to win the title.
Manchester United's best XI with Paul Pogba

Show all 11
"We have all the respect for the others and maybe we don't win, maybe we arrive end of season and are happy to finish top four. It depends on how the season goes. But in this moment when I speak to you, I speak to my players too, and I cannot speak differently."
Mourinho concedes that other managers may have different agendas but believes where United are concerned there can be no hiding place.
He added: "It's just a question of profile. It's just a position. It can be strategic. It can be to protect what you can call a long-term project. But even behind a long-term project there is always the desire to do it now. We could also speak the same way.
"I have a three-year contract, take time to make a team, but behind the words would be the ambition to fight for the title. So let's be objective in our case and say we want to win the title."
Mourinho's confidence must be enhanced by the fact that he has secured what appeared to be his top four summer transfer targets in Paul Pogba - who misses United's opening game at Bournemouth tomorrow because of a ban carried over from his time at Juventus when he collected two yellow cards in the Coppa Italia - Zlatan Ibrahimovic, Henrikh Mkhitaryan and Eric Bailly.
Manchester United announce that Paul Pogba is back
The manager praised United's hierarchy for financing the deals, which he believes were also secured thanks to his decisive identification of targets, a trait that was not always apparent in some of his successors, notably Moyes.
"I think I gave a contribution because I was very objective," said Mourinho. "I think some managers, they have doubts. I don't know the word but they find it difficult to decide, they are almost decided and then you come with another idea. Then the clubs feel that you are not so sure about it. I was very objective from day one."
Mourinho has also acted decisively in sending Adnan Januzaj on a season-long loan to Sunderland but he insists he retains faith in the player and believes he will benefit from regular first-team football in the Premier League under Moyes.
Join our new commenting forum
Join thought-provoking conversations, follow other Independent readers and see their replies