Jose Mourinho on Sir Alex Ferguson: 'A good friend, a good person, a fantastic sense of humour. I like him very, very much'
Fergie might have been full of praise for his former rival and friend but the Chelsea manager has responded with a love-in of his own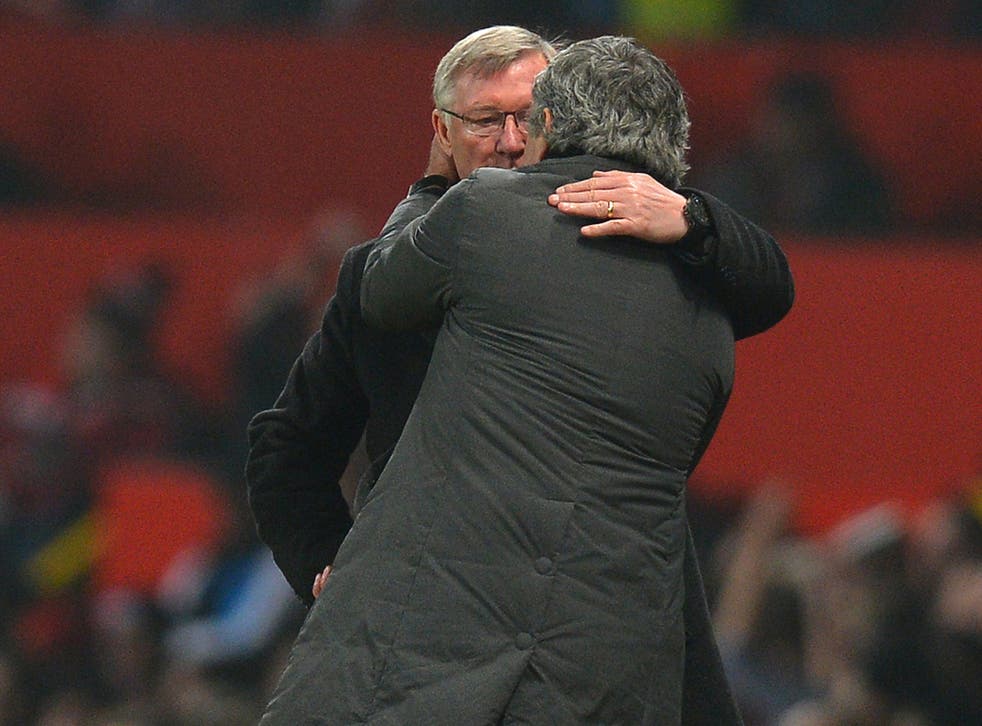 Sir Alex Ferguson was full of praise for Jose Mourinho, saying it was "unfair" that the Chelsea manager was "good looking, multilingual and wins everything".
But the Blues boss has hit back at his old rival and friend.
Mourinho, speaking to Clare Balding for a BT Sport Christmas Day Special, 'Clare Balding Meets', was asked what makes the former Manchester United manager - the most successful British manager of all time - special.
"Everything, his talent, the time he put his talent at the service of Manchester United and football in general," the Portuguese said.
"The passion that he has put in to everything, and after that in private moments, obviously, a good friend, a good person, a fantastic sense of humour. I like him very, very much.
"Now and again I've had questions to put to him and the way he has answered to me was always magnificent and a great support."
Mourinho, who led Chelsea to top at Christmas with a win over Stoke City on Monday night, also remembered the first time he and Ferguson, who he refers to as "the boss" shared a bottle of wine - it was not to the Scot's taste.
"It was Chelsea Football Club catering that bought the wine, and obviously the wine was not the top quality that the boss deserves," he said.
"It was quite funny but disappointing. So the next time we play against each other, I called a friend and I told him, the best I want the best. And from that moment always the same bottle when I play against the boss."
Mourinho also revealed that his wife, Matilde Faria, was the most influential person on his career and that she, somewhat disappointingly, told him to turn down the England job.
"She was right [telling him to turn down England]. Too early for me. I love the day by day, I love to play, I love the pressure of the day by day, the training, the travelling, the matches, the competitiveness and I remember clearly there was a moment where the next match for England would be in Paris, France v England, a friendly match.
"And I was already thinking about who to select, who to play, how to do it. She came to me and said 'when is the next match', 'ah the next match is in two months'. What are you doing for two months, what are you doing. what are you thinking, she was saying, forget it, its not for you, maybe in twenty years."
He added: "She knows nothing about football, she doesn't like football, but she's very intelligent and she helped me a lot on many occasions during my career, in the sense of modelling my personality. She's also very competitive and I think she's the one."
Jose Mourinho was speaking to Clare Balding as part of a BT Sport Christmas Day double-bill of 'Clare Balding Meets' which features exclusive interviews with Mourinho and Sir Alex Ferguson. Watch the full interviews on BT Sport 1 from 3.30pm on December 25.
Join our new commenting forum
Join thought-provoking conversations, follow other Independent readers and see their replies