Liverpool 1 Stoke City 0 match report: Daniel Sturridge fires Liverpool to opening day victory but Simon Mignolet takes the plaudits for late penalty save
Reds get off to a good start but had the Belgian goalkeeper to thank after they failed to convert their dominance in to more goals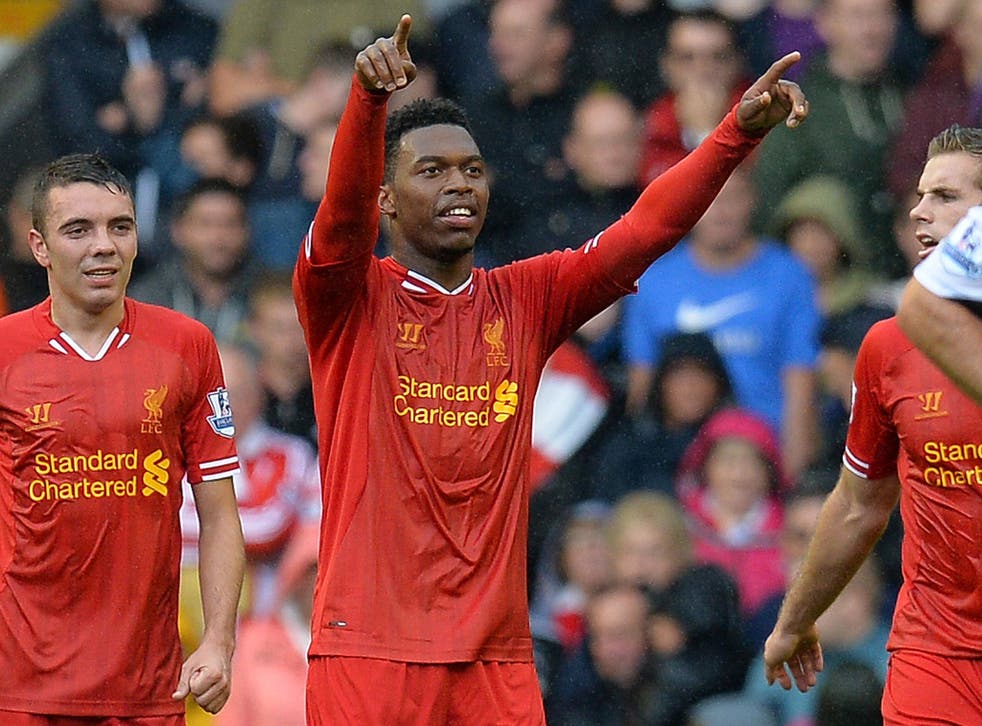 Roy Evans, perhaps the most underrated of all Liverpool managers, once remarked that a season without European football was "like a banquet without wine". However, they will take their water at Anfield if it sparkles like this.
The scoreline was 1-0 but the afternoon was a rout. Liverpool struck the frame of Asmir Begovic's goal twice and the frame of the Stoke keeper many more times. The Bosnian gave the kind of display that suggests he could play for any team in Europe.
The men in front of him suggested they might be good enough for any team in Staffordshire. Mark Hughes did not attend the post-match press conference because he had a plane to catch. His plans to transform Stoke from football's equivalent of a Ronseal tin to something slightly more sophisticated are also up in the air.
Nevertheless, however much this was the game of Begovic's life, the morning headlines belonged to the other goalkeeper, who for the vast majority of the afternoon had performed horribly erratically.
Nerves affect sportsmen in different ways. Just before he qualified for the 1500m final in Moscow this week, the Scottish middle distance runner, Chris O'Hare, confessed to being 'petrified'. However, the nerves that cling to a goalkeeper are more acute than almost any others.
For Sunderland, Simon Mignolet had proved his ability many times over but he was replacing Pepe Reina, one of Liverpool's great keepers who holds the club record for successive clean sheets, and he admitted the first quarter of an hour in front of the Kop had affected him badly. "You wouldn't trust him with the washing up," remarked the commentator from Radio Stoke as he spilled a straightforward cross.
Two minutes from the end, another cross was driven into the Liverpool area and this time the handling was rather better. Unfortunately for the home side, the hand belonged to Daniel Agger.
Jonathan Walters invariably puts his penalties to the keeper's right and he did so once more without even striking it particularly well. Mignolet parried the shot and saved the rebound, ending up in the arms of another debutant, Kolo Toure.
Stoke had not scored a league goal at Anfield since 1983 and that in a match they had lost 5-1 and yet in an encounter Liverpool dominated, they might have had three. Robert Huth drove against the crossbar and Lucas Leiva cleared off the line from Ryan Shawcross.
Not since two goals from Michael Owen had overcome West Ham a dozen years ago had Liverpool won their opening league fixture and the game this sometimes resembled was the one that opened their campaign two seasons ago, against Sunderland. Then, they had battered their opponents to their knees and somehow contrived to draw a game that featured a missed penalty from a promising young footballer named Luis Suarez.
Yesterday the man who gives almost daily and invariably contradictory interviews on his desire to quit Merseyside made the brave decision to go to Anfield, where his shirt had been burned a few days before with his three-year-old daughter, Delfina. Both inside and outside the stadium, his reception was reasonably cordial.
His manager, Brendan Rodgers, who commented that the victory showed Liverpool's innate spirit "in spite of everything that has been thrown at the club", added: "Luis is part of our team and part of our club and our supporters are a class act. The Liverpool way is always to support the players."
Liverpool began the season as Europe's least relevant great club. This is their fourth season outside the Champions League and Rodgers' task is to take them back or lose his job.
If more teams allow Philippe Coutinho the amount of space in the final third that Stoke did, his task will be considerably easier. With every attack, with every display of quick feet, with every dead ball delivered by Steven Gerrard, Rodgers's vision for Liverpool looked like it might be solidly founded.
Daniel Sturridge anticipated Gerrard's free-kick slightly too early and was offside when he headed past Begovic. Coutinho delivered a lovely, measured ball that gave Jordan Henderson time to pick his spot. He chose Begovic's knee cap. Toure headed against the crossbar, Henderson struck the post.
Then, just as Rodgers was writing a note that Sturridge should shoot more, he did so, past the tips of the goalkeeper's gloves and into the corner of the net, fulfilling his instructions to the letter.
Join our new commenting forum
Join thought-provoking conversations, follow other Independent readers and see their replies