Liverpool vs Middlesbrough: Five things we learned as Jurgen Klopp's side returned to the Champions League
Georginio Wijnaldum was the man for the big moment but Jurgen Klopp's tenure now reaches a critical stage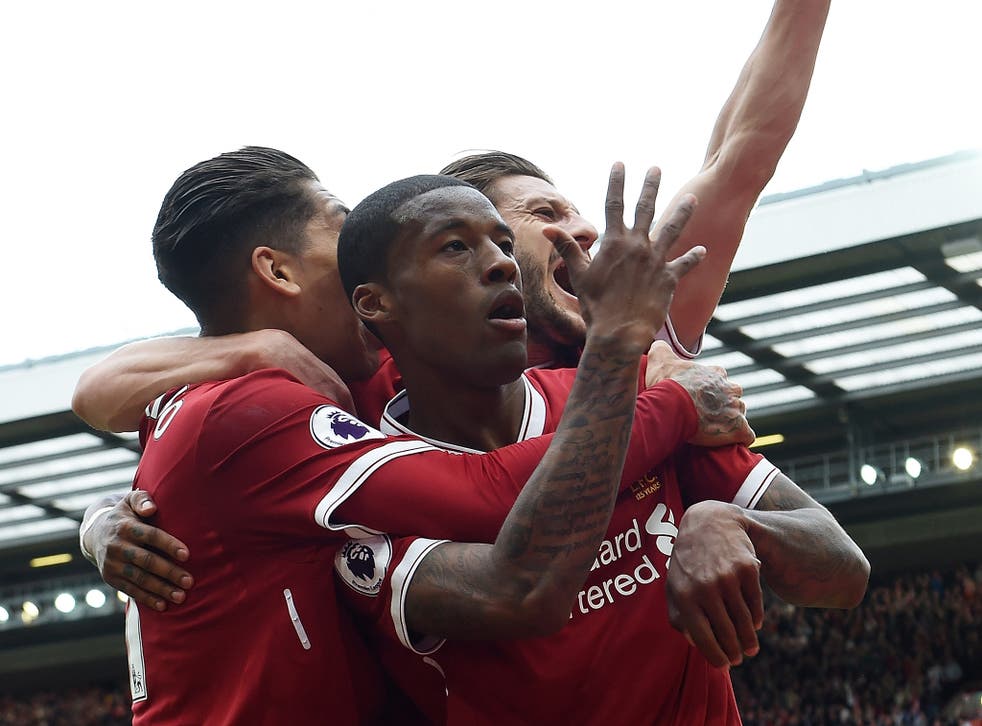 Liverpool overcame a nervy start to comfortably beat relegated Middlesbrough and confirm their return to the Champions League next season.
Georginio Wijnaldum's brilliant finish in added-on time at the end of the first half finally broke the deadlock, but only after the visitors had been denied a penalty after Dejan Lovren brought down Patrick Bamford.
Jurgen Klopp's side re-emerged for the second half and took the game away from their guests, with Philippe Coutinho and Adam Lallana making sure of a top-four finish.
Here are five things we learned...
Liverpool summer transfer targets

Show all 9
Wijnaldum the man for the big moment
There were some doubts over the signing of Georginio Wijnaldum last summer and understandably so. It was unclear as to where the Dutchman would fit in and once he started in all-action midfield role, unclear as to whether he had the attributes for the task.
Nine months later, all those questions have been answered. Wijnaldum has been the most successful of all Klopp's summer signings, Mane aside; a consistent performer, one not afraid to do the messy midfield work.
And, crucially, a tendency to score important goals: the winner against Manchester City, the equaliser against Chelsea, the equaliser against Burnley and now the opener here. It may well be the most important of his Liverpool career, no matter how many more years he spends at the club.
The emphatic finish, which flew past a helpless Brad Guzan, came just at the right time to ease the tension around Anfield and puncture Middlesbrough's growing confidence. It would have been a very different second half and perhaps a different result entirely without it.
That's how you break down a deep defence
Middlesbrough may have arrived as a relegated side, but there was a time when it looked like the Teesiders' stubborn defence would give them enough to stay up.
Under Aitor Karanka, this was a team that was solid but unspectacular and although they have lost some of that resoluteness since the Spaniard's dismissal, his former players retain enough muscle memory to frustrate teams. They did just that to Manchester City at the Riverside less than a month ago, they could always do the same here.
The question was whether Liverpool would have enough to break down a deep defence. It has been a common criticism of this team, one made more in the second half of the season than the first, but the solution has always been the same: quick, intelligent passing in the final third.
Wijnaldum's opener should be treated as a template for how this team overcomes what is said to be their Achilles heel. Roberto Firmino's first-time pass was a little behind his team-mate, but it was slick enough to catch Middlesbrough's backline totally off guard. That is how you break down a deep defence and yes, Liverpool can do it.
Bamford call could have cost Liverpool
Middlesbrough are among the poorest teams the Premier League has seen in an attacking sense. They should not have been given a sniff of goal, especially with Liverpool needing to seize the initiative from the first minute.
And yet, the visitors created one of the best attacking breaks of the first half and should have been awarded a penalty from it. Dejan Lovren was comprehensively beaten by Patrick Bamford, doing nothing to quieten his detractors. Quite how Martin Atkinson came to his decision, we do not know. It looked a certain spot-kick.
Liverpool can, therefore, count themselves lucky. At that point, it seemed this game and the day itself was edging away from them, as though they would choke. If Atkinson had made the right call, it so easily could have.
Anxious Anfield did not help
Jürgen Klopp used his first press conference as Liverpool manager to ask supporters to turn from doubters into believers. There have undeniably been improvements under his management, but this is one area where he still has much work to do.
The Anfield crowd has a brilliant reputation, but it is now more reactive than proactive. A noticeable effort to encourage the players was made in the opening minutes but that soon subsided as the team struggled to break Middlesbrough down and a familiar anxiety set in. Before long, this transferred to the pitch and Liverpool's players were nervy too.
It is not really the fans' fault. Atmospheres at all Premier League grounds have diminished over the years and there are sections of Liverpool's support that are working hard to make sure Anfield lives up to its reputation every week. And yet before the relief of Wijanldum's opener, it felt like something of a hindrance.
Klopp enters critical stage of his tenure
Whatever the result today, Klopp's Liverpool career was set to enter a critical stage. His first season showed promise, this first full season more still, but next year a title challenge that progresses late into the season will be expected.
Champions League football, in a sense, makes that a more realistic goal as it will help with summer transfer dealings, but its benefit will only be felt if Liverpool get their first-choice targets over the line and also significantly strengthen their squad.
If they start the next campaign with a similarly-sized squad and without improvements in several areas, their return to Europe's top table could be a stretch too far. Klopp will know this and will be preparing suitably. It is time for Anfield to finally see 'his' team. From here on out, there are no excuses.
Join our new commenting forum
Join thought-provoking conversations, follow other Independent readers and see their replies