Malky Mackay texts: 'Leader of people' Mackay issues grovelling apology for text scandal
He says: 'I'm no racist, no sexist, no homophobe and no anti-Semite'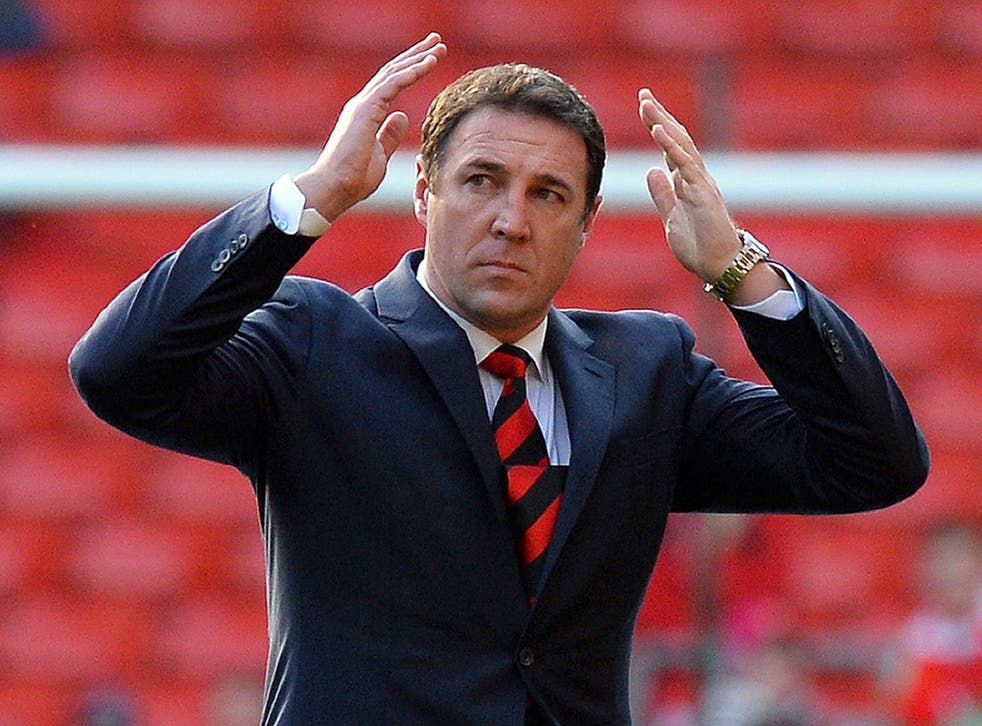 Malky Mackay broke cover to make a grovelling apology for what he described as "three texts out of 10,000 that were completely unacceptable and inappropriate" before insisting that when it came to transfers he was "100 per cent confident" he would be cleared of "any wrong-doing".
The former Cardiff City manager was poised to take over at Crystal Palace this week until news leaked of a series of offensive texts sent and received from the telephone of Iain Moody, Cardiff's former head of recruitment, some to and from Mackay. He looked tense in the short interview with Sky Sports News.
The Scot insisted: "I've been in multi-cultural football dressing rooms for 20 years. I'm no racist, no sexist, no homophobe, and I'm not anti-Semitic. People that know me, know that. I understand I have to convince those that don't know me."
Mackay, 42, said: "Out of 10,000 text messages in and out of someone's phone I sent three and that being the case, looking at them they are completely unacceptable, inappropriate and for that and for any offence I've caused I sincerely apologise. That's something I did and there is no excuse for that.
"I did it in a period where I was under immense pressure and stress in terms of the relationships that were possibly not going too well at my football club at the time. They came from a man under pressure rather than a bigot. But that doesn't excuse anything. The texts are things that I absolutely have to deal with and explain.
"I'm a manager, I'm a leader of people, and it should not have happened. But before all that and foremost, I'm a human being and I made a mistake."
Mackay spoke of undergoing diversity and equality training through the League Managers Association, and of meeting bodies such as Kick It Out, football's anti-discrimination body, and Stonewall, the gay rights charity.
He added: "I am someone who is sincerely apologetic for the three texts. Anyone who has taken any sort of offence from them, I deeply apologise for that – it was wrong. It was a mistake I made but that is not what people actually see of me in real life."
The texts were all sent to Moody, whose phone and computer were seized by investigators working on Cardiff City's behalf seeking evidence of alleged misconduct involving transfers. Addressing that issue, which is now the subject of a Football Association inquiry, Mackay said: "I am 100 per cent confident that investigation will show no wrong-doing in terms of transfers."
Mackay took Cardiff into the top flight for the first time in 40 years last year before falling out with Vincent Tan, the club's owner. He said he had signed a non-disclosure agreement with the club so was limited in what he could say, but added: "I will comply with the FA investigation to the letter of the law."
The LMA has been strongly criticised for the statement it issued on Mackay's behalf, in which his texts were described as "banter". Cardiff have called for the resignation of the association's chief executive Richard Bevan. Mackay expressed support for Bevan but insisted: "I've certainly never said the word 'banter'. I don't feel it was that. I think the overall statement was very, very accurate. That word is wrong and the LMA soon realised that. Every manager in the country backs Richard Bevan. I don't think they meant any offence."
Of himself Mackay, who looked far more confortable when facing battering-ram centre-forwards in his playing career, said: "I have been stupid and made a mistake."
Join our new commenting forum
Join thought-provoking conversations, follow other Independent readers and see their replies