Managers turn on Mancini over his red-card gestures
Mick McCarthy joins criticism of Italian and blames 'cultural differences'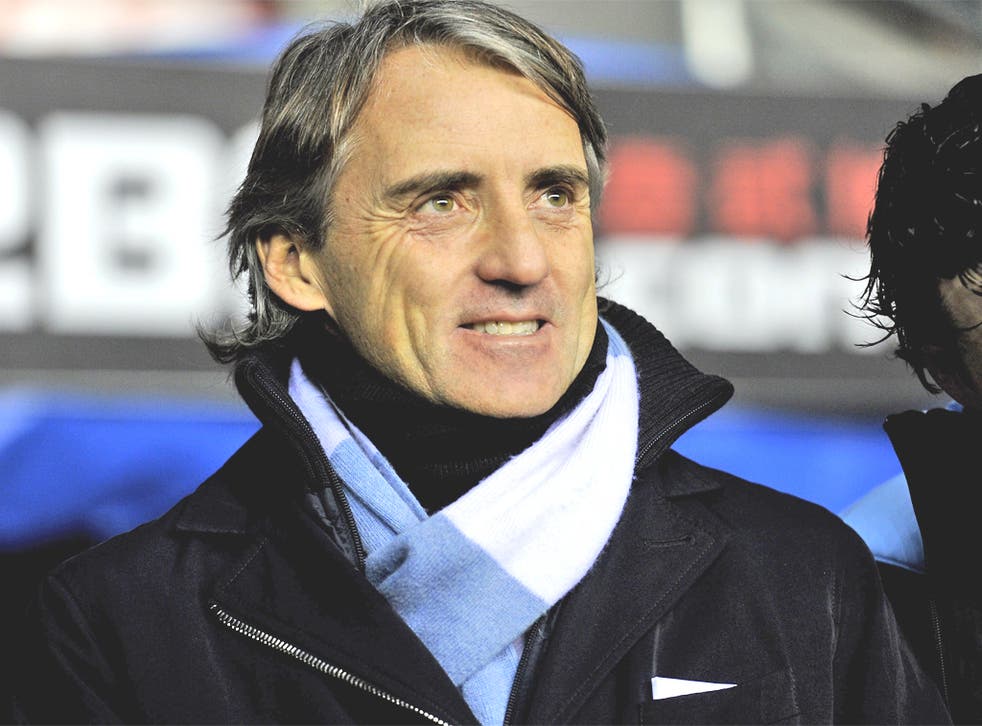 The Football Association considers Roberto Mancini's habit of waving imaginary cards at officials to be unsportsmanlike, though last night it was the growing criticism from his peers that looked most likely to force him to desist from repeating the gesture.
While the domestic game's governing body has no immediate plans to remind Mancini as to his future conduct, hoping that the Italian's club will instead point out that the gesture is not welcome in the British game, the conduct runs counter to the FA's Respect campaign and he may be reminded of his responsibilities in the future.
The FA is taking a relaxed position and any future communication with Mancini may come via the League Managers' Association rather than directly from Wembley, if required. But the comments yesterday from the Wolverhampton Wanderers manager, Mick McCarthy, may have the biggest impact. "None of us should do it," McCarthy declared. "It is something I don't like. There is a cultural difference. Roberto is in this country now. It is a little blip on a really good career for him at Man City because he handles himself with such good dignity and grace. He has done it. I wouldn't expect him to do it to one of my players or anyone else for that matter. It looks bad and I'm sure if it is pointed out, Roberto won't do it again."
Mancini, who has made the gesture after infringements from Liverpool's Martin Skrtel and Wigan Athletic's Maynor Figueroa in the past three weeks and yet attacked Manchester United's Wayne Rooney for similar conduct, was also criticised by Wigan manager Roberto Martinez after the 1-0 win at the DW Stadium on Monday night.
"I've been here long enough to understand that trying to influence the referee is not accepted in the British game," Martinez said. "When a player tries to simulate or buy a decision from the referee that is regarded as cheating. I understand that in Italy, France and Spain it is acceptable to try and get a decision from the referee, but it is different here." Asked if he was surprised to hear Mancini say the practice was "normal", Martinez replied: "Not really, no."
McCarthy said he was unhappy in 2009 after the Portuguese Bruno Oliveira, then assistant manager at Queen's Park Rangers, used the same gesture. "I took real offence," McCarthy said. "Paolo Sousa was in charge and he was really apologetic and he explained that is their culture. But I said, 'you are in our League and our culture, don't do it and we will get on.' We have to give people a bit of credence for different culture and different places. But when they come here they have to understand like if I go anywhere else, I have to understand their culture. I was asked the other day should we be teaching players coming into this country to behave. I said, 'No, I know how to behave and I've been all over the world in my capacity as Irish manager and not upset anyone.'"
Mancini, whose gesture at Wigan prompted Rooney to tweet, "Was manchini [sic] asking for a red card????", has built up a large store of credit with his conduct over two years in England. But the furore may make referees or fourth officials more aware of his conduct. Though this gesture does not contravene any law of the game, it does constitute placing pressure on a referee, which goes against the Respect campaign. The unwritten code that one manager will not seek to get another's players sent off has not generally been broken by English managers.
The LMA would not comment last night, having not had the chance to discuss the issue with Mancini, though the manages' body is privately hoping that the controversy and negativity created will help to prevent it happening again – and that City may tackle the issue internally. The LMA is aware that Mancini did publicly apologise for waving the imaginary red card at Skrtel.
Join our new commenting forum
Join thought-provoking conversations, follow other Independent readers and see their replies