Manchester City face fight to be kings of Queens
Local resistance may force the New York City FC franchise to move on from their preferred location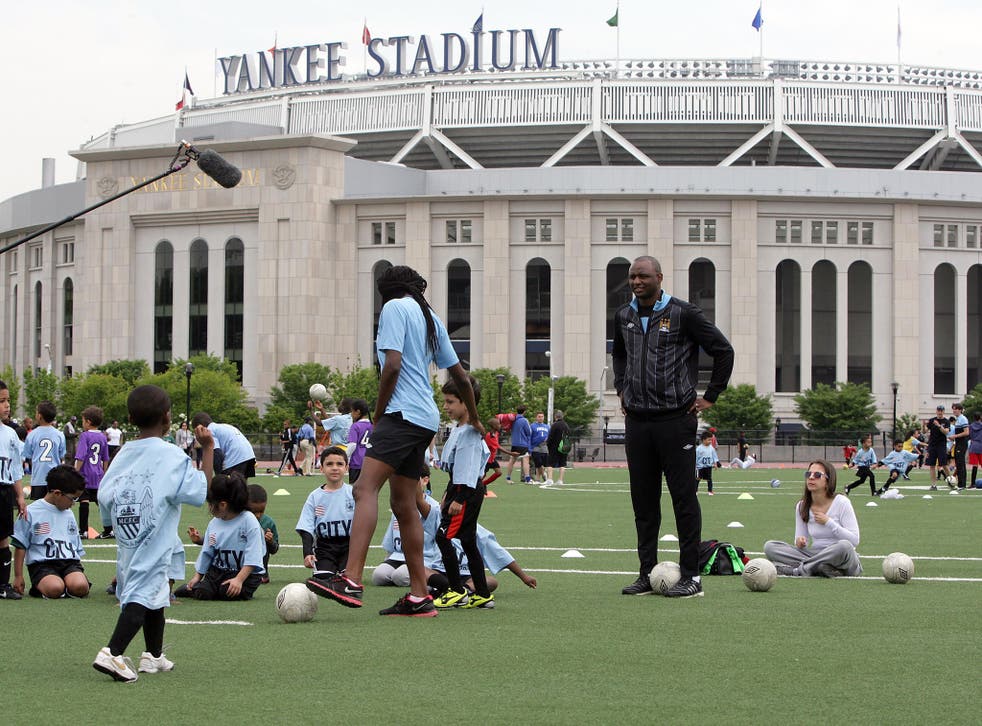 After a week of talk about their vision of a new Major League Soccer franchise, Manchester City were putting in the hard yards yesterday, taking players into the Queens district on unannounced visits to the many games which take place in the Flushing Meadows-Corona Park, where the club want to build a stadium for New York City FC. But the strength of resistance to City setting up home in these fields is stauncher than they had imagined, and there is a growing sense here that City will be forced to switch location and opt for the Bronx district instead.
The club insist that all options remain open and that the hugely multicultural fields of Queens remain the priority, yet there is a multitude of obstacles in the way. Much of the park is a federal flood zone, a river – paved over – runs under where the stadium would be built and the municipal hurdles are considerable. The City Council of New York must give the go-ahead and so, too, the state legislature if the development could be found to be "alienating parkland".
Several complicated environmental-impact assessments have to be made, which can be challenged in court. The US Army Corps of Engineers and Federal Park Service may also weigh in.
The level of opposition explains why City pursued the 11th-hour involvement of baseball's New York Yankees who, in return for their help in pulling the levers of power to get a stadium built, will get a 25 per cent stake and secure match-day revenues without having to lay out for a single brick of the stadium.
"The Yankees are geniuses at land acquisition; a fabulously profitable company who consistently persuade New York City and state to pay for their stadia," says the New York Times columnist Michael Powell – one of many here who now expects the Yankees' ebullient president, Randy Levine, to take the lead in driving the project through, with City's chief executive, Ferran Soriano, the less visible of the two.
But now that he has been brought on board Levine may conclude that the Bronx – home to Yankee Stadium, where City played Chelsea in a friendly match last night – may be a far more natural fit for the stadium. The two co-owners of NYCFC, as the new team are already becoming known, would be neighbours – a far more harmonious arrangement than the new City asking the New York Mets, the baseball franchise operating at their Citifield Stadium in the Yankees' shadow at Queens, for car-parking space on match days – and being quoted a small fortune. There would also be easy access to the Bronx for potential fans from Connecticut, New Jersey and Suffolk County, among others
MLS had looked at an abundance of venues before encouraging City to settle on Queens. They initially wanted a stadium on Pier 40 along the Hudson River. MLS offered to fix the pier and provide access to the pitch for local youth teams. Another 20 sites were looked at in Harlem, Staten Island, Randalls Island and Van Cortlandt in the Bronx. Queens offered proximity to subways, rail lines and highways.
Even if the practical obstacles can be overcome, it is unlikely that Abu Dhabi would want to be seen as making an unwelcome incursion into such territory. The motive for the emirate making this expensive move into a league is the enhancement of its reputation as a dignified, civilised, creative place, seeking to cement allies. It won't want to be seen as a coloniser, though so far that impression has been sticking.
"The Sheikh has become a lightning rod," says Powell. "There may be a little anti-Arab in this but the reason the Sheikh is resented is that he is fantastically wealthy, and his involvement crystalised the question: 'Why are we giving away our parkland?'"
The community protest is organised around the Making the Road group, an eloquent multicultural organisation. There is also the wealthy New Yorkers for the Park group. But City do their business well, and Soriano has insisted that they are not colonisers "inserting a soccer stadium into the green lungs of Queens County", as the New York Times described the proposed development earlier this week.
"In England we run a football club which takes its place in the community very seriously," Soriano said. "It embraces its community, listens to its community, and that will be exactly the same approach we would aim to take over here."
He quoted the community's response to the Etihad Stadium, which has helped to rescue east Manchester from post-industrial despair. If he were trying to build a stadium in Queens amid New York's disinvestment of the 1980s, that com- parison would stand. Yet now it is a densely populated, complex matrix. The player trips out there were welcome yesterday, but City have their work cut out to win this one.
Aguero signs new one-year deal
Manchester City's Sergio Aguero has signed a one-year contract extension, ending speculation that he might leave the club for Real Madrid.
Aguero's extension takes him to 2017 at City and comes three days after Ferran Soriano, the club's chief executive, insisted that the Argentinian had expressed no desire to leave. It had been suggested that Real Madrid might try to lure him.
Meanwhile Chelsea's Demba Ba has said Jose Mourinho's ability to build belief in players was an aspect of the manager-designate's qualities which could help him improve.
"The way he can bring a good player to become a world-class player is exciting," said Ba. "If you work hard, he helps you and gives you confidence. That is one of the most important things in football, to get confidence, to get the best out of you. I guess he is one of those who can do this."
Speaking at a community event at FC Harlem, Ba added that he was keen to be judged by the standards of the Champions' League. "There is a difference between performing very well in the League and doing it in the Champions' League," he said.
Ian Herbert
Join our new commenting forum
Join thought-provoking conversations, follow other Independent readers and see their replies