Manchester City: John Stones ready for challenges of a new chapter as he looks to sharpen up under Pep Guardiola
Smoothing off the rough edges under Guardiola is a process that Stones is relishing, writes Mark Ogden, but the Englishman won't be curbing his natural instinct on the ball just yet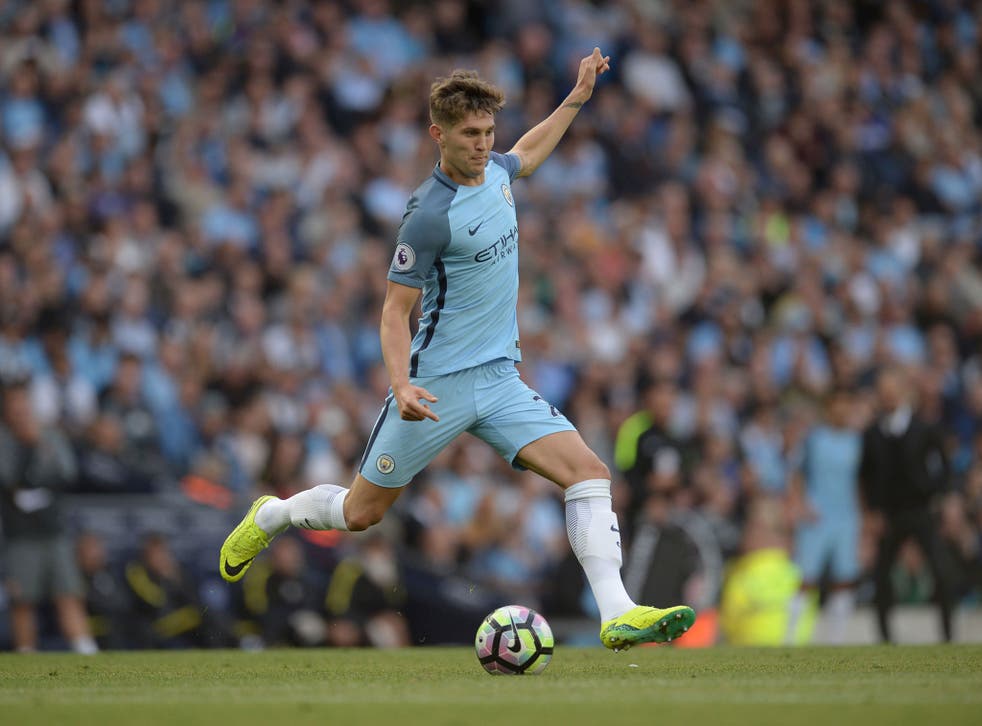 One thing that is evident from a twenty minute chat with John Stones is that the world's most expensive defender – and costliest-ever Englishman – possesses a surprisingly firm stubborn streak.
Perhaps the perception of a refined, ball-playing centre-half, who appeared to struggle in the glare of the spotlight at Everton last seasons, jars with the reality of a 22-year-old from Barnsley who is tough enough to know his own mind.
But as Manchester City's £47.5m summer signing from Everton prepares to return to the England team for Sam Allardyce's first game in charge against Slovakia on Sunday evening, Stones is clearly a different character off the pitch than his on-field persona suggests.
This is the centre-half who was berated at Goodison Park last season for performing Cruyff turns in the six-yard box, so surely launching the ball into Row Z would be anathema to Stones?
"Course I would," Stones said, when asked whether he would take the destructive option. "At the right time.
"I did it on Sunday (for City against West Ham). The guy (Arthur Masuaku) absolutely smashed me. But from last season to the start of this season, I'm realising when to do it.
"That's where I believe I have come on quite a lot as a player. I was doing things before and then afterwards I would think 'why have I done that? Why haven't I just put it out in Row Z?'
"Already I can see a difference in my decision-making. We can all regroup from putting it in Row Z sometimes. Sunday, I did it a few times."
On the face of it, it would seem that Stones is undergoing the same accelerated defensive overhaul that Rio Ferdinand experienced after making his £29.1m move from Leeds to Manchester United in 2002.
Having arrived at Old Trafford as a defender who could, and often would, carry the ball from defence and into midfield, Ferdinand was quickly told to cut out the roaming and stick to using his pace and reading of the game as tools to nullify opposition attacks.
In many ways, Ferdinand was neutered and diminished, but while Stones is sharpening up under Pep Guardiola, there is no suggestion that he is being asked to curb the natural instincts that earned him the move to City in the first place.
And the defender makes it pretty clear that he would resist any attempts to do so.
"I've always done that (carry ball out of defence), and like to carry on doing that," Stones said. "I want to stay true to myself.
"But at the end of the day I'm a defender, and that's what I want to be known as as well. I'm a defender first and foremost, getting the blocks in, getting the headers in that people don't recognise that I do – the dirty stuff that every defender should do and should be good at.
"That's what I'm trying to do and the rest of it is an added bonus, where I can play out, start attacks off. I'm still learning. I know that."
Many within the game believe that Stones takes too many risks, however. Roy Hodgson warned prior to Euro 2016 – when Stones ultimately travelled to France but failed to register a single minute on the pitch – that the then-Everton defender needed to 'cut out the mistakes.'
But Stones insists he has never been told to change and takes little heed of the suggestions from former players that he should.
"I could say a lot of things, but they have been in the game, everyone's got an opinion, that is how the world goes," he said. "That is how football is, everyone has got an opinion about you, and you've just got keep doing 'you' and doing what you think is right
"No coach has ever said that to me (take fewer risks). I think that is where sometimes people can get carried away with the "comfortable on the ball" side of the centre half that I am.
"They don't realise that I want to be a defender first and foremost and things get highlighted that don't get noticed enough because I am a defender: some of the blocks and headers and vital tackles or even just the communication side of it is massive but doesn't really get recognised.
"But I am working hard on that side of my game just as much as the other side of it."
Smoothing off the rough edges under Guardiola is a process that Stones is relishing, despite his surprising admission to "not knowing too much" about the City manager's success in doing the same with Gerard Pique.
Guardiola is a demanding process, on the training ground and on the touchline, and it is clear from Stones, who is as blunt as he is bright, that he did not receive the same tough love from Roberto Martinez at Everton.
"Maybe not," Stone says, when asked if worked on defensive improvement enough under Martinez. "Maybe things weren't just working out either.
"It's hard because they (Martinez and Guardiola) are different people, different advice, different thoughts on playing football and different needs, I suppose, as well.
"Roberto had his style of play and kind of changed that towards the end of his career at Everton.
"He changed the whole style of the team and things weren't working out at that time, so you could say it wasn't the best decision.
"It was a tough period (when I was dropped) because I was doing everything right, I was being professional, I was carrying myself well.
"That's when I found it hard. It's probably a question you should have asked him (Martinez) at the time because he wasn't telling me.
"But I definitely believe that change is good. I felt it was the right time to move on and go and further different ambitions in my career and it was an opportunity that I couldn't turn down.
"I felt it was right to move on to work under the best manager in my eyes.
"It's just how passionate he is. I think that is rubbing off on all the lads really - the passion side of it.
"Wanting to be the best and wanting to win each game and each challenge that is thrown at us. I think that is the only thing I could say."
But after a season of turmoil, which began with Everton's rejection of an offer from Chelsea and ended with four weeks of bench-warming in France, Stones now embodies the new start under Allardyce.
If the future is to be bright, it has to include Stones, and he insists he is now in a much better place than a year ago in order to grasp his opportunity.
"Since last summer it has been a journey," he said. "I was just trying to enjoy my football all the way through it, but it's a weight off my shoulders now, that I know where I am, settled, and keep enjoying my football
"But it was a good test for me. I learned a lot about my football, about myself. I feel I came out stronger and never changed who I was and how I played. I'm proud about that.
"If you try and change things to suit other people, I wasn't being true to myself and that's what I wanted to be.
"Everyone's going to make mistakes. I know that. I will be the first person to own up to that, and that's how I can move forward and grow as a player."
But it is safe to say that, as he grows, it will be on Stones's terms.
Join our new commenting forum
Join thought-provoking conversations, follow other Independent readers and see their replies