Pep Guardiola disappointed by Jadon Sancho departure after 'shaking hands' with youngster on new contract
The Manchester City manager said he had big plans for Sancho and was close to tying the young winger down at the Etihad before he made a dramatic U-turn in July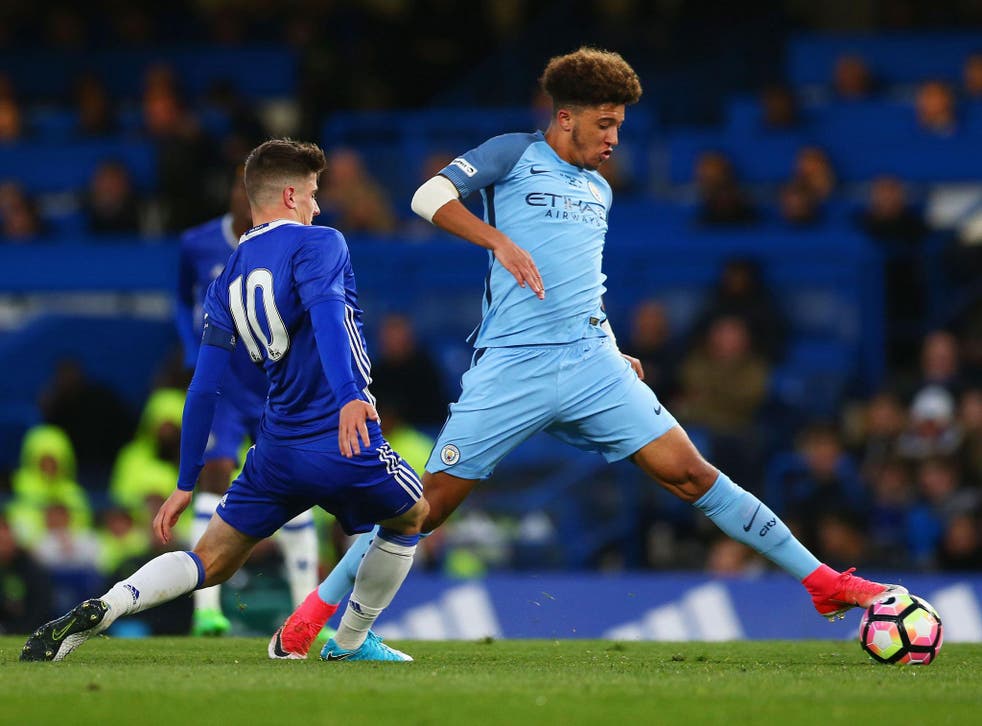 Pep Guardiola laid bare his disappointment at losing Jadon Sancho on Friday, revealing that there was a handshake agreement on a new Manchester City contract for the 17-year-old before his dramatic decision to leave.
Sancho never signed the £30,000 per week deal that City offered him, fearing that he would not get first-team opportunities if he stayed at City. On deadline day he left for Borussia Dortmund.
Speaking for the first time since Sancho's departure, Guardiola spelled out his plans for the young winger, saying he wanted to integrate Sancho into the first team over the course of the season. But he warned that he could not promise game-time to any of his players, not even Sergio Aguero, and that Sancho should have stayed and proved that he was ready for the first team.
City and Sancho had been negotiating his first professional contract for months and Guardiola said how close City felt they were to tying him down for the next three years. "We arrive in agreement with Jadon Sancho, we shake our hands," Guardiola emphasised.
"We shake our hands. So we offered the huge deal in the academy, in terms of salary, he was the [best] paid player in all the academy, and we shake our hands." The £30,000 per week City offered Sancho was the best deal ever offered to a 17-year-old player.
But in July Sancho made a dramatic U-turn, deciding not to sign his professional contract which saw him drop his scholarship agreement with City. So Guardiola decided not to take him on the tour to the United States.
"Before going to the States, he decide, or his manager decides, I am not going to sign the contract," Guardiola said. "And that's it, said ok. 'You are not going to travel to the States, because if you're not going to sign the contract you're going to stay here.' And after that, the last two or three weeks, he didn't appear at the training sessions. He should come to training sessions but he didn't come."
While Guardiola wished Sancho the best of luck at Borussia Dortmund, he said that he thinks Sancho would have been best off proving himself in first-team training at City. And he said that he could never make assurances on playing time, not even to his top professionals.
"Even the best players we have, like Sergio and others, I cannot assure them they are going to play," Guardiola said. "I never did in my life. I am not going to assure you that you are going to play all the games in the season to sign the contract. I would be a liar, it's not true."
Guardiola revealed that Sancho had wanted to play for the first team this season, and stressed that training would have been the perfect place to prove he was up to it. "You start to face the duels against Kyle Walker, with Benjamin Mendy, with Vincent Kompany," he said. "We are going to say how good is your level, do you dribble or not dribble, to play when you are going to play against [Matteo] Darmian, all the best full-backs in the Premier League, are you able to do that? That is what we believe is the next step."
Sancho has been given the number 7 shirt at Dortmund and believes he will play first-team football sooner there. Guardiola understands his concerns but said that he had done "absolutely everything" to help Sancho with his transition at City. And he defended City's approach to a player they are disappointed to have lost. "They have to know, he has to know, the family has to know and especially the agent has to know: we had a lot of confidence in him, a lot," Guardiola said. "We put a lot of efforts, like we had with Phil Foden, Brahim Diaz and other guys. To help them to grow up from here. But at the end, if they don't want to stay, nothing to say."
Join our new commenting forum
Join thought-provoking conversations, follow other Independent readers and see their replies