Manchester City v Liverpool: Reds will go into Boxing Day fixture with no fear, says Joe Allen
Reds could be top of the table over Christmas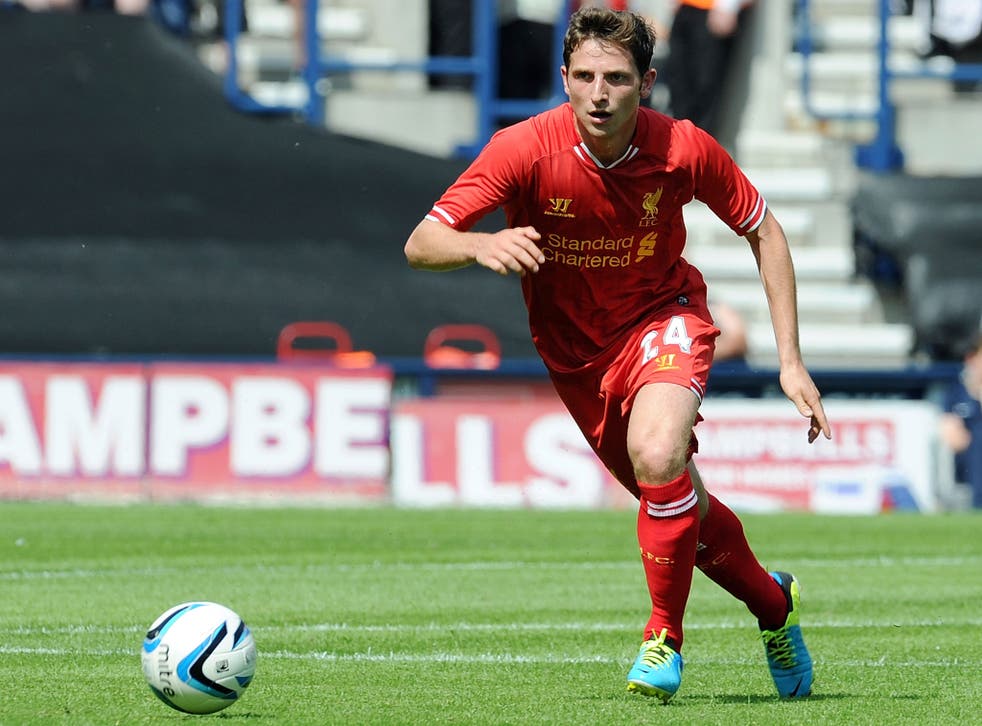 Liverpool midfielder Joe Allen believes they can head to Manchester City on Boxing Day without any fear.
City are formidable at the Etihad Stadium, where they have a 100 per cent record from eight matches and have scored 35 goals, including six against Arsenal on their last appearance.
However, Liverpool are the Premier League's second-highest scorers behind Manuel Pellegrini's side and have racked up 17 goals in four successive wins.
In Luis Suarez they also have the top-flight's leading marksman with 19 in just 12 appearances, while City's main threat Sergio Aguero is out injured and now six goals behind.
"Sitting on top of the table as it stands is a great feeling and it is near Christmas and that is a great achievement so far," Allen said after the 3-1 win over struggling Cardiff lifted them above long-time leaders Arsenal, who play Chelsea on Monday.
"Naturally we will play it down a little bit but I think the next two games (Liverpool travel to Chelsea after the City game) are going to be big ones and we will see where we are after we have played them.
"It is a massive challenge but one to look forward to. The run of form we are on and the way we are playing we are certainly looking to go there and get a result.
"You can never pick one or two games as season-defining but we appreciate they are going to be challenging, that goes without saying.
"Man City have an incredible record at home, as do Chelsea to be fair, but records are there to be broken and we have to be ambitious that we can be the team that goes there and does that.
"The dressing room is an ambitious one and we have a lot of determined and hungry players who are looking to achieve things at this club.
"The history of this club there is no reason why we shouldn't be competing at that top end of the table."
Suarez remains vital to their hopes of, at the very least, a top-four finish.
He signed a new contract on Friday making him the club's highest-paid player in history but, more importantly, appears to be happy to commit himself to Anfield long term despite the apparent doubts he had in the summer.
Allen believes that commitment has given the squad a lift and will also help manager Brendan Rodgers when it comes to recruitment either next month or at the end of the season.
"He is delivering week in, week out and that is the sign of a world-class player," he added.
"He is scoring goals for fun, creating goals and as a team we are killing teams off.
"From a players' point of view it was a massive boost going into the Cardiff game but also for the rest of the season.
"For him to commit his future here it is fantastic news for the club and supporters.
"It seemed to be concluded really quickly, which shows Luis' intent and desire to be at this club.
"That is the kind of signal you send out when you want to attract some big players to this club I guess."
In recent games - in the absence of injured captain Steven Gerrard - Allen has started to show why Rodgers spent £15million to bring the midfielder with him to Anfield from Swansea in the summer of 2012.
"I am grateful to have the opportunity to be involved in some tough games but also to be part of good team performances and more importantly victories," the Wales international added.
"It has been a big boost for me personally."
The average age of the starting line-up is currently around 24 and with one or two experienced players around that Allen believes Liverpool are laying strong foundations for the future.
"That is the blueprint the club have put in place over the last couple of years," he said.
"They want to build a young side who are going to grow together, improve collectively and play their best football at this club.
"The signs are certainly good if we can keep that going."
Join our new commenting forum
Join thought-provoking conversations, follow other Independent readers and see their replies