Manchester City v Manchester United: Screaming pressure for second title giving Roberto Mancini a headache
'Noisy neighbours' go into Sunday's Manchester derby muted by demands of defending title – a skill that United have mastered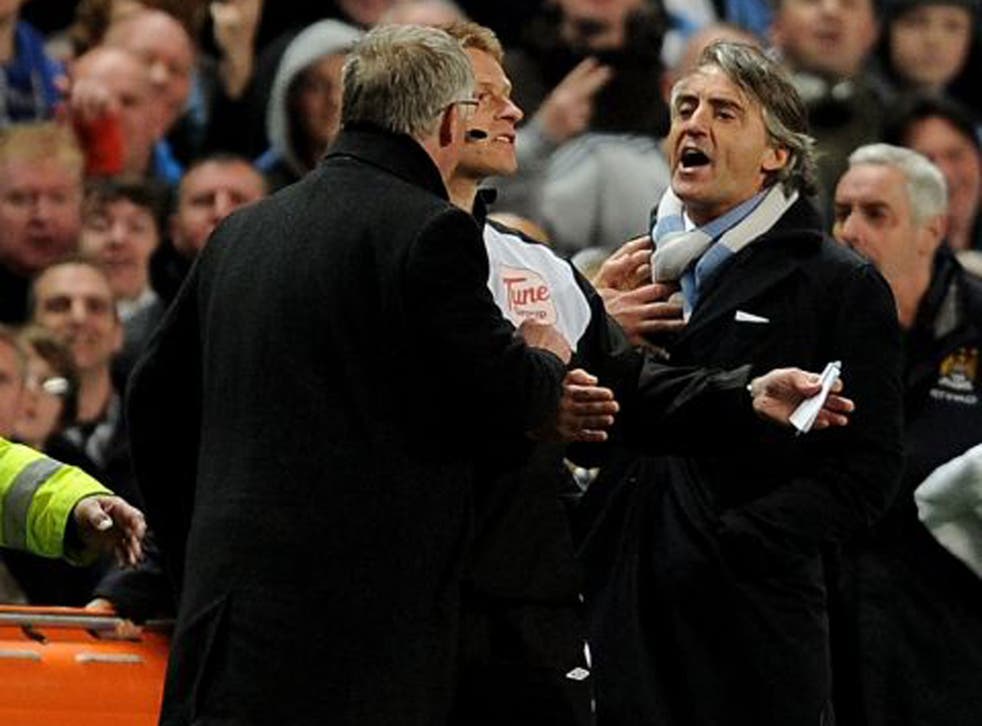 "They're screaming now," Sir Alex Ferguson remarked yesterday, of the neighbours he once called noisy. And he laughed.
When the Manchester United manager first produced that famous sound-bite about Manchester City, in a way that only he among his fraternity can, there was venom in his voice. "You can complain to the council, you can bang on their wall, you can go to their door but they still keep their music on," he said back in 2009. "So what do you do? You get used it…."
But yesterday's wide Glaswegian grin encapsulated the mood music of the back-to-back press conferences that he and Roberto Mancini gave, in rooms separated only by the frosty backfields of Carrington. The Italian was the one with the Premier League trophy in a cabinet and with the world on his shoulders.
The pantomime knockabout about penalties was just a footnote to Ferguson's more significant comment that winning titles was only the start of the work. "The great thing we have done is be here all the time, for a long time, for 20 years," he said. He refused to enter into a discussion on why teams find titles harder to defend than United. He laid the barbs for City on his own terms. But Mancini, speaking half an hour after him, had to reflect that the going certainly is proving very tough. Was retaining the title more difficult than winning it? Yes, he said. Was this season harder than last? Yes.
Mancini also employed one of his favoured pieces of pre-match propaganda about United being ahead of City and superior – a mechanism to relieve pressure from his own side. "They are favourites. They are better than us," he said. But this time the ruse felt hollow, coming from the manager of the champions of this land and contributed to the sense City are a squad on the back foot, in slight retreat.
While Ryan Giggs and Wayne Rooney have spoken eloquently for this weekend's newspapers, for example, there was silence from the champions' corner. That was the players' own decision – "I don't know why. They're afraid, probably," Mancini said – but there can be a defensiveness towards those questioning them. United's players have thicker skins, if not always their manager. "We are on the real end of getting results and the consequences of losing a game here is always huge," Ferguson reflected. "We are either front page or back page, and when we lose we are front page, there is no question about that. You get used to that part. There is no question of that, but you still don't like losing, no matter who it is to."
There were some subtle new strands of self-justification from Mancini – the most interesting being that the change of chief executive officer at his club had hindered progress in the transfer market, with Ferran Soriano appointed only in August. "We were in a difficult moment," he said. "We changed the CEO, the man who was in charge. In that moment if you are not strong enough you can have some problems in the transfer market." He also introduced the issue of United's superior spending decisions into the conversation. "They were a strong team and they bought [Robin] Van Persie and [Shinji] Kagawa. They put another 25 goals into the squad…."
It all seemed a very long way away from the Manchester United who emerged into the fray in August 1993 to defend their own first title in 25 years. At that moment in United's history, it felt as if the pressure had gone, not been augmented. Granted, 1993-94 began with Ferguson disgruntled about the money United were paying him, but the side were manifestly liberated, as he reflected years later, "from the pressures that a quarter of a century without a title had imposed. Our players brought a new authority to their game and began to justify being rated as one of the very best teams ever to wear the United colours."
The squad was better, not inferior, as Mancini's summer decisions to swap Adam Johnson and Nigel de Jong for Maicon and Javi Garcia have made City. They signed Roy Keane and possessed Steve Bruce, Paul Ince, Bryan Robson, Mark Hughes and Eric Cantona, players who would cause a row in an empty house, as Ferguson always tells it. The disciplinary record was dire that season but United were snarling Champions, looking the better for it.
Ferguson saw the same desire to reclaim a newly-won title in Jose Mourinho's Chelsea. It was the west Londoners' stunning starts to seasons – "by the time we got to October and we couldn't play catch-up" – that startled him. He changed United's entire pre-season programme to cope. Things feel more fragile with City. Lose tomorrow and Mancini's side will be six points behind United with a challenging visit to Newcastle United next weekend, when their neighbours host struggling Sunderland. That would feel like dangerous territory for a manager whose future now depends on retaining the title.
As ever with football, the narrative is not entirely black and white. United have hardly worn jet heels themselves this season and that in itself means there should not be all-pervasive gloom for Mancini. The Italian's bottle was half empty when, after he was reminded that his defence had conceded 10 fewer Premier League goals yesterday, he replied: "But they scored 10 goals more than us." Yet the two sides are curiously well balanced. It is "a bit of an opposite", as Giggs put it. "They are struggling at the [top] end and we are alright there. But we can't go on [defending] like this."
Another of the strands of Mancini's argument was that Rome wasn't built in a day. "Ferguson won his first trophy after seven years and his first Champions League after 14 years," he said. "I have another 12 years to win a Champions League." That was his own comedy moment and he laughed, too. But his own smile seemed a little too fixed to be genuine.
Join our new commenting forum
Join thought-provoking conversations, follow other Independent readers and see their replies