Manchester City vs Chelsea: Diego Costa is now the main man, says Didier Drogba
Blues great hails Costa as the man "Chelsea needed" this season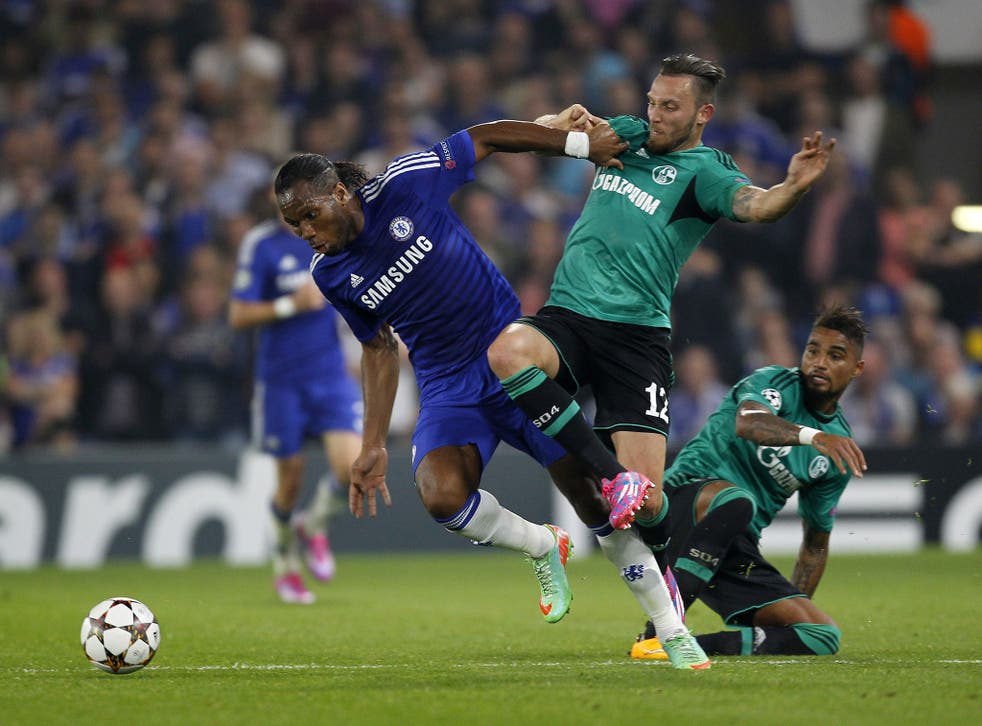 Didier Drogba has hailed Diego Costa as his successor at Chelsea, even if the Brazilian's troublesome hamstrings mean that Drogba will be more than a mere reserve this season.
After two years away from the club, Drogba rejoined Chelsea this summer and, while he has only started once so far, he will continue to get chances while the club manage Costa's workload, holding the new signing back from playing more than one game a week until his fitness problems are resolved.
Despite that, Drogba – who started instead of Costa against Schalke in the Champions League match on Wednesday – has been very impressed with the man who could replace him, saying he was precisely the player Chelsea were looking for.
After two years away from the club, Drogba rejoined Chelsea this summer but has found himself as second-choice centre-forward. Costa, who cost £32m from Atletico Madrid, scored seven goals in his first four games and Drogba admitted that the Spanish international was the man Chelsea needed.
"[Costa] is very good," Drogba said, praising the speed with which Costa has settled. "For him to start the season in England, coming from Spain which is a very different league, and to recreate the same thing he was doing at Atletico is fantastic. He's really good and he's enjoying playing here and being with us. That's the best feeling he could have. He's the striker we needed this season."
While there are similarities in style between the two – they are both muscular, aggressive and direct – Drogba pointed to another comparison. "Like me, he came to this level a little bit late, it is really good." Drogba was 26 when he signed for Chelsea from Marseilles. Costa is 25.
Chelsea 1 Schalke 1 player ratings

Show all 22
"It's good to be back," Drogba said. "Most importantly, it's good to play without pain. And that's what I've been looking for, for the past few weeks, to play without pain. I got a chance to start and despite the result, which was not the best, I'm quite happy with the way my ankle reacted to this kind of effort."
At the age of 36, Drogba knows that he will not play every game this season but understands his role. "Yes, it is different," he said. "But when I signed to come back here I knew that. I can only work hard and show the manager, like I did on Wednesday, that I can play pain-free and improve my condition."
However much Drogba does play, he has another role at Chelsea too, setting the standards which made him so successful in his first spell at the club. "Even if the team is young, you can see we have quite a lot of qualities, and experience in the game as well," he said. "Yes, I'm here to help but I'm also here to show, if I can say that, to show them the spirit. Even if I don't have any doubt about their desire to win, I'm here to help and I will give what I can."
Chelsea have changed since Drogba left, though. When they face Manchester City on Sunday afternoon, Frank Lampard will be on the other side. "I can't wait to see him, my partner in crime," Drogba joked. "It's a pity that I've come back and he's not here any more. But I know for sure I will be happy to see him again."
Drogba expects that the travelling Chelsea fans at the Etihad Stadium will give Lampard the respect he deserves, as "part of the history of this club", although Drogba, having faced Chelsea with Galatasaray last season, knows it will be "difficult" for Lampard too.
Join our new commenting forum
Join thought-provoking conversations, follow other Independent readers and see their replies