Manchester City vs Sunderland report: Paddy McNair own-goal gets Pep Guardiola era of to unconvincing start
Manchester City 2 Sunderland 1: City failed to build on an early Sergio Aguero penalty and looked on course for frustration after Jermain Defoe's equaliser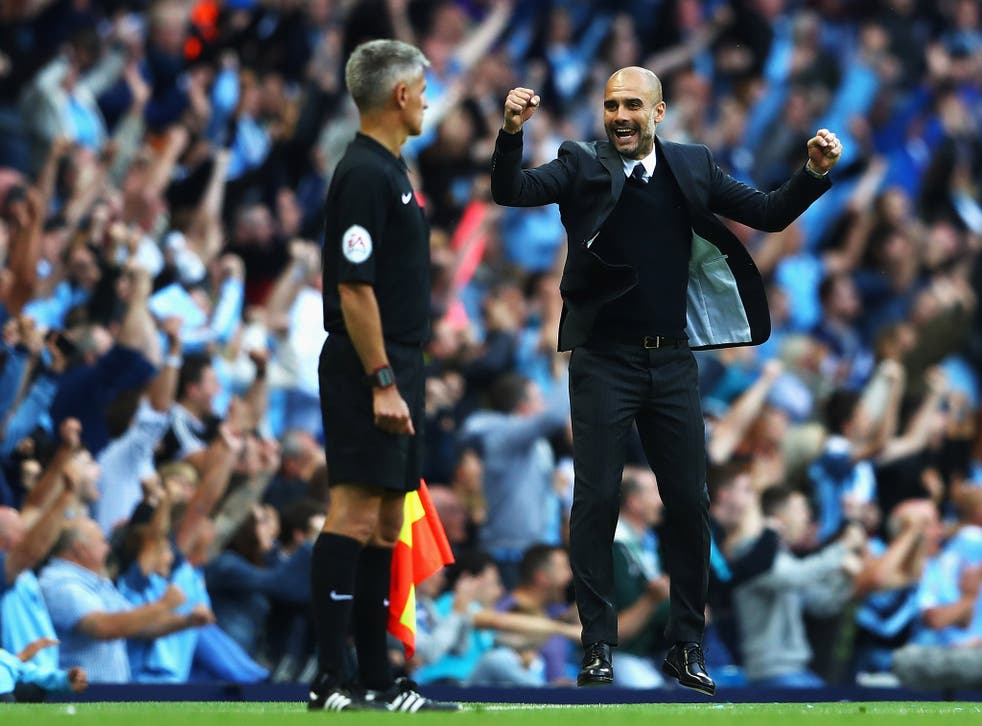 The season of Pep Guardiola opened with vast banners hovering over the pitch proclaiming 'It Begins' and ticker tape showering down over the stadium. If the last game of the season produces the same off-field panache, the world's most famous manager will have earned his considerable salary.
He began with a win but it was the kind of win that appeared to bear out the belief that leading Manchester City back to the Premier League title at the first attempt will be the hardest ask of Guardiola's coaching career.
Sunderland were beaten, as most expected they would be, but with three minutes left it seemed as if they would snatch a point. Manchester City had produced the kind of possession statistics associated with Guardiola's teams – always three quarters of the ball or more – but after taking a fourth-minute lead through Sergio Aguero's penalty they had failed to finish Sunderland off. It seemed as if this was an error for which they would pay.
A lovely through ball from Jack Rodwell, whose career soured the moment he left David Moyes's management at Everton for the money of Manchester City, released Jermain Defoe whose goals were the main reason Sunderland survived last season. Once more his finishing was perfect. Moyes, whose own return to the Premier League was rather overshadowed by Guardiola's debut, punched the air fiercely.
City then began attacking in earnest. Aguero, untypically, swept his shot wide from close range while Vito Mannone made a muscular save from Kevin de Bruyne. Then Jesus Navas delivered a cross that popped up and struck Paddy McNair in the face. To the delight of the Etihad crowd, someone who had been a Manchester United player until Wednesday had scored City's winner.
Unlike his first league game in charge of Bayern Munich – a 3-1 home win over Borussia Monchengladbach – Guardiola was not taking over a club that had just won every available trophy but a side in need of surgery.
As the team sheets were handed out came the first incision. Joe Hart, who had been part of Manchester City's DNA since before the Abu Dhabi takeover, was dropped. He had endured a very poor European Championship but for Manchester City he had nearly always produced and his replacement did not inspire immediate confidence.
Guardiola's plan appears to be to replace Hart with Barcelona's Marc-Andre ter Stegen but for now he had to make do with Willy Caballero.
The 34-year-old, who grew up on the banks of the Parana River in Argentina, appeared horribly nervous. He had produced a heroic performance against Liverpool to win the League Cup final but had seldom looked as if he possessed the quality to threaten Hart's position.
Caballero was tested early on by a free-kick from Patrick van Aanholt that he might have held but did not and then just before half time when presented with a high, looping but perfectly unthreatening ball from Fabio Borini, he fumbled it over the bar, conceding a corner which looked like one of the few ways in which Sunderland might score. There was a good save from Defoe but his kicking, which Guardiola had identified as a key weakness of Hart's game, was at best erratic.
Manchester City were, however, so dominant that it scarcely seemed to matter. They enjoyed 75 per cent of possession in the first half and, 10 minutes after the interval, it had climbed to 83 per cent. Only John Stones and Aleksandar Kolarov stayed back – everyone else in blue flooded the midfield. This was pure Guardiola football.
City, however, had only one goal to show for it and that a penalty. Raheem Sterling had suffered as poor a European Championship as Hart but Guardiola had kept faith with him and now, as he cut the ball back past Van Aanholt, the Dutchman brought him down as he slid over. Aguero slammed the penalty home. A routine win beckoned but never quite came.
Teams
Manchester City: (4-2-3-1) Caballero; Sagna, Stones, Kolarov, Clichy (Iheanacho 80); Silva (Delph 64), Fernandinho; Sterling, De Bruyne, Nolito (Navas 59); Aguero.
Sunderland: (4-2-3-1) Mannone; Love, Kaboul, Kone, Van Aanholt; Rodwell, O'Shea; Gooch (Khazri 64), Whatmore (Januzaj 64), Borini; Defoe (McNair 83).
Referee: Robert Madley
Join our new commenting forum
Join thought-provoking conversations, follow other Independent readers and see their replies