Marauding Joao Cancelo is becoming Pep Guardiola's perfect full-back
Portuguese's all-encompassing role may be the most demanding in Man City's starting line-up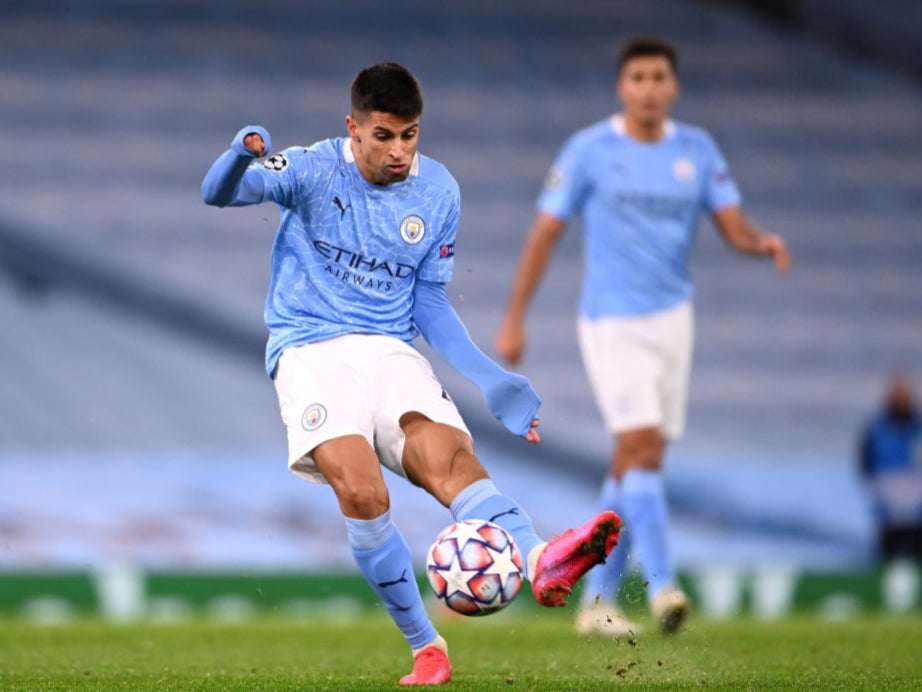 Joao Cancelo is a full-back who is not a full-back, but who is also an extremely good full-back.
That may be the only accurate way to sum up a performance in which Manchester City's left-back spent much of his time in the centre of midfield and yet locked down the left wing while creating goals with his right foot.
This is nothing new, of course. Whichever side of City's defence he is on, Cancelo has been playing exceptionally well in a fluid, dynamic interpretation of his role for months now.
Before that, Pep Guardiola's penchant for inverted full-backs who come inside and bring ballast to the midfield was well documented with Philip Lahm and David Alaba at Bayern Munich.
But Cancelo is not simply offering cover to protect against counter-attacks or even helping out in standard build-up play from deep. He is play-making too.
Kevin De Bruyne remains City's creator-in-chief and Riyad Mahrez performs admirably well in that regard when given an opportunity. Otherwise, Cancelo is the one creating the most chances among Guardiola's squad.
It has not always translated into raw output. Cancelo still has just two assists to his name in the Premier League and four in all competitions, one of which came against League Two's Cheltenham Town in the FA Cup.
The most recent of those assists, though, was the inch-perfect cross for Bernardo Silva's breakthrough in this Champions League last-16 matchup against Borussia Monchengladbach on Wednesday night and it was sublime.
Another step inside and exquisite right-footed cross in the second half once again dropped onto Bernardo's head. Gabriel Jesus converted for a second away goal that should all but settle the tie.
City had far too much for Gladbach ultimately and that was mostly down to Cancelo. "He's playing really well," Guardiola said of his left-back after the final whistle.
"The quality where he plays there and especially when he drives with the ball and passes the halfway line and can drive to the central defenders, he is a player with a huge quality."
It was not all fulsome praise. There was a note of criticism - a polite suggestion, perhaps, of how Cancelo could be even better when it comes to decision-making on the ball.
"He has to discriminate," Guardiola said. "Sometimes he always wants to do these kind of passes and these passes. Of course, when he has that feeling to put the ball you have to have the quality to put that ball, and he did it perfectly."
Out of possession too, Guardiola can see room for improvement. "Sometimes in that position, you have to control the risk," he noted.
Guardiola was likely thinking back to a couple of occasions in the first half, when Gladbach attempted to exploit Cancelo's unorthodox positioning through right-back Steffan Laimer. There was a late penalty appeal against him too, when Jonas Hoffmann fell to the turf under his challenge.
Yet each time, through either Cancelo's own speed and awareness, or thanks to the anticipatory powers of his team-mates in City's unshakeable defence, Gladbach failed to find a way through.
It used to be said that the holding midfield role in Guardiola's sides was the most demanding. Whatever we're calling Cancelo's role, it may be a new contender.
It requires playmaking ability, positional awareness, tactical intelligence and the physical capacity to cover huge areas of the pitch. Very few players in world football could fulfil such a job specification. Yet City appear to have found one in Cancelo.
Join our commenting forum
Join thought-provoking conversations, follow other Independent readers and see their replies