'I squared up to Jose Mourinho for trying to get my player in trouble,' says Jurgen Klopp as Liverpool concede late goal
There was touchline tension as these two great rivals clashed at Old Trafford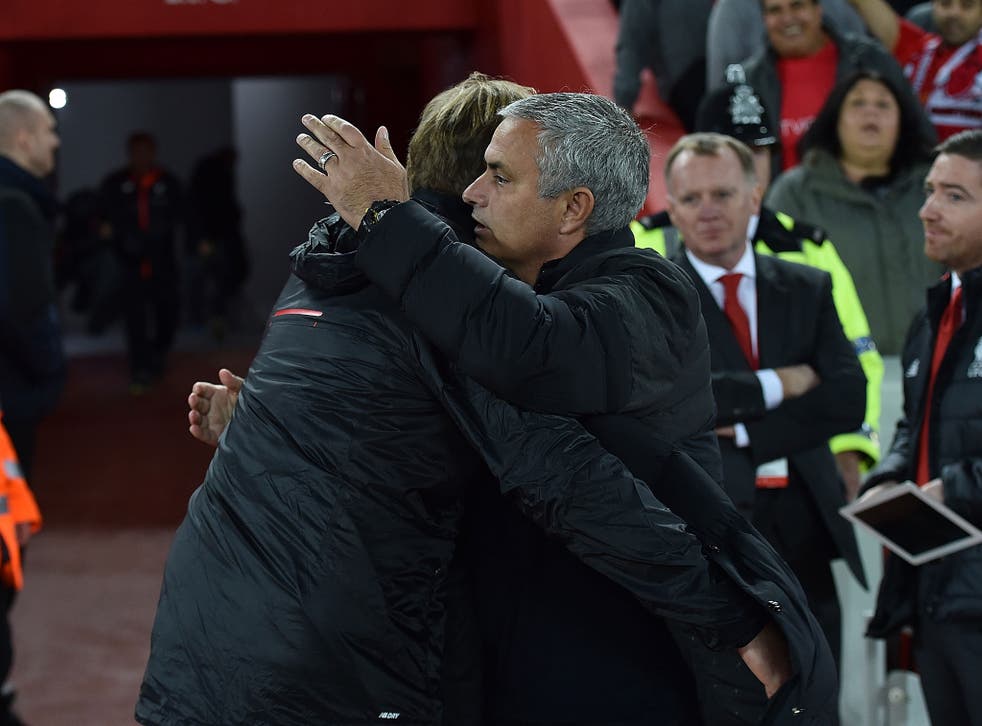 Liverpool manager Jurgen Klopp revealed after a typically incendiary end to his side's match at Old Trafford that he squared up to Jose Mourinho in the technical because the Portuguese was trying to get his player disciplined.
Klopp, who suggested before the game that Mourinho had failed to extend a welcome to the visiting side in his programme notes, was furious when the United manager tried to influence referee Michael Oliver after Roberto Firmino had retaliated, when Ander Herrera dragged him back from a counter attack by the back of his shirt.
"He wanted the minimum of a yellow card, I don't know," Klopp said of Mourinho. "I think the ref whistled before anything else happened. Roberto is a footballer from head to toe and he wanted to stay in the game. That was a yellow card for Herrera and nothing else. In the end it was a yellow card for the guy who wanted to play football. It could have been even worse if someone wants to see it again and all that stuff. We [Klopp and Mourinho] could not have the same opinion in this moment."
The blatant foul from Herrera, at a time when the lead Liverpool held until for 57 minutes had been cancelled out, led Firmino to shove Herrera in the chest.
Mourinho, whose side had the better chances, claimed that Klopp had accused him of trying to get Firmino sent off. "He thought I was asking for his player to be sent off," the United manager said. "I wasn't. There was no problem at all. I think the game was correct. I think the players gave everything but in an emotional and professional way so the referee did very well in that part of the game – emotional and in control of good professionals."
Klopp was grinning when he discussed Mourinho's programme notes but there was clearly needle.
"I read the programme notes and it is the first time that there was nothing about 'Welcome to Liverpool' or something like this," he said. "That's the first thing. Then I wanted a coffee and in the can was only tea. It's started already, yeah? It's all OK. It's football and we are ready for it.
Mourinho did not contest the penalty for handball which was awarded against Paul Pogba in the first half, though he did insinuate that penalties never go for his team, stating that united had been awarded only "one in 25 games."
Klopp, who declined to get involved in a discussion of whether substitute Wayne Rooney should have been dismissed for a high challenge on James Milner, suggested that it was United getting all the breaks. "A lot of people before the game would have thought we would get a knock [in this game] because United look like a rolling beetle and everything goes in their direction," he said. "We know about our problems and situations so seeing a performance like today was nice.
"We needed to be brave. We created the spaces we wanted. We scored the goal. In the end period of the game when United started playing long balls - Marouane Fellaini and Zlatan Ibrahimovic - after 80 minutes high intense football it is really hard.
"I hoped we would have a bit of luck, unfortunately not but all good. Tomorrow I can enjoy the result, but tonight only the performance.
"It is so intense. They play long balls, it was a wild game. There was a lot of action in the last few minutes. We were here to win the game which is why we are not 100% satisfied."
Join our new commenting forum
Join thought-provoking conversations, follow other Independent readers and see their replies