Manchester United captain Nemanja Vidic will not speak with fellow Serbs Serbs Aleksander Kolarov and Matija Nastasic ahead of clash with Manchester City
The two top sides in the Premier League meet on Monday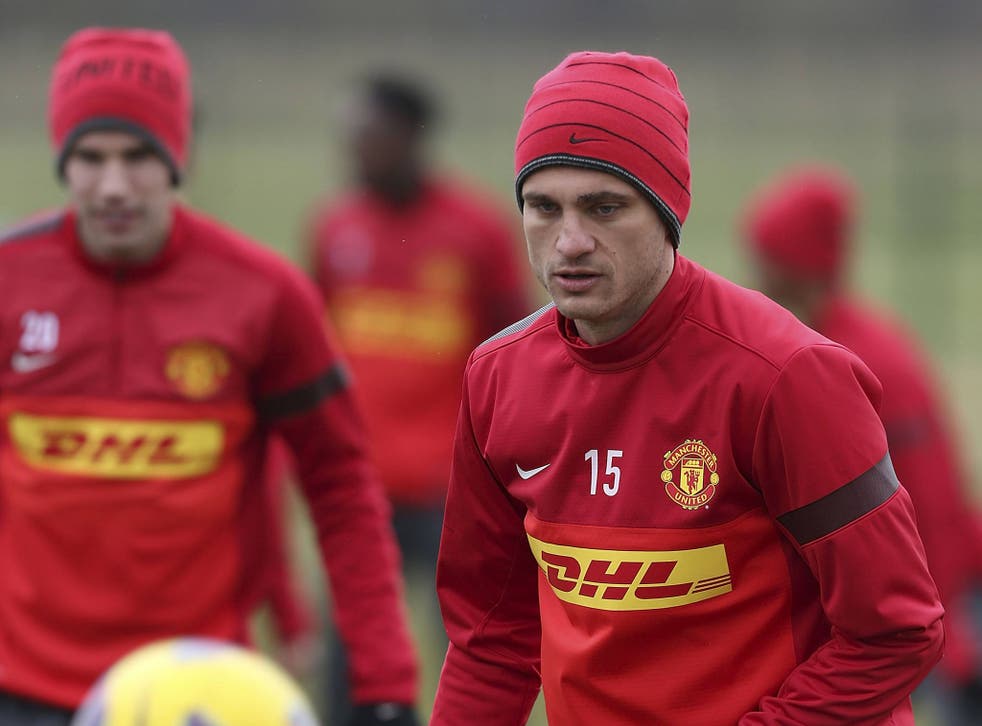 Nemanja Vidic will sever all lines of communication to fellow Serbs Aleksander Kolarov and Matija Nastasic ahead of Monday's Manchester derby.
The Manchester United skipper is close friends with the duo.
However, their commitment to the Blues cause makes it impossible for idle chit-chat, no matter how well the fellow countrymen get on.
For Vidic, the only way to deal with the situation is not to communicate at all.
"I never speak with an opponent before a game," he said.
"I am good friends Kolarov and Nastasic. But I don't like to talk.
"I like to go there and do it. On game day I think about the game, I don't waste energy before the game starts, otherwise you end up tired."
Fifteen points clear with seven games left, United are in the happy position of knowing even a draw would effectively clinch a record 20th championship.
Yet, after Monday's FA Cup defeat at Chelsea, a stalemate would represent a hollow victory given the championship is the only trophy available after growing hopes of a treble were ended by Real Madrid in the Champions League before Demba Ba's stunning winner ended the dream of an alternative Wembley visit.
Sir Alex Ferguson will want to get his team selection right, with many United fans believing the decision to include Park Ji-sung at the Etihad Stadium last term handed the initiative to Manchester City.
It leaves the Red Devils chief facing a big call at the back given Vidic, Rio Ferdinand and Jonny Evans all have claims on a starting berth.
Vidic is in a pretty strong position given recent statistics showed he has the highest win percentage of any United player who has made more than 60 appearances for the Old Trafford outfit.
That figure is creeping towards 72% following Saturday's victory at Sunderland.
And it is clear Vidic soaks up such facts with relish.
"Now we have the opportunity to see statistics with the analyst after every game," he said.
"You can see how many tackles or headers you have won. You can look at certain things and see where you can improve. Even the passing rate, you can see the percentage you have got right.
"But it is not just the stats, it is the clips as well. I love to watch them. Not every player looks but you have the chance to - and I do."
Wayne Rooney will continue to have treatment on the groin injury that ruled him out of both weekend games.
Startlingly, whilst there continues to be talk of Rooney leaving Old Trafford in the summer despite Ferguson's assurance that it will not happen, the 27-year-old has scored three goals in seven appearances since Robin van Persie got his last one.
And having netted in both England World Cup qualifiers as well, it would be a major surprise if Rooney wins his fitness fight, and is then overlooked by Ferguson.
PA
Join our new commenting forum
Join thought-provoking conversations, follow other Independent readers and see their replies