Manchester United manager Alex Ferguson reveals he's 'had a word' with Ashley Young amid diving accusations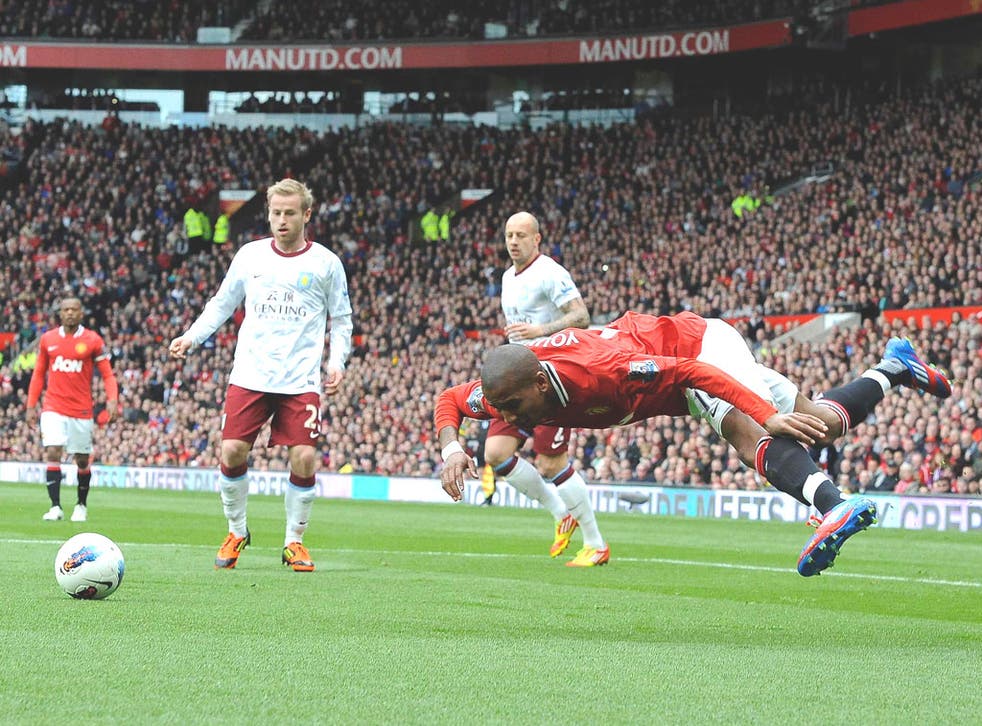 Sir Alex Ferguson has cited Ryan Giggs' paltry record at getting penalties as proof referees are reluctant to award spot-kicks when players stay on their feet.
After a fortnight of negative headlines, the Manchester United boss confirmed he had spoken to Ashley Young after he again went down too easily to win a penalty against former club Aston Villa at Old Trafford on Sunday.
Yet Ferguson also felt referee Mark Halsey was right to award the spot-kick for Ciaran Clark's tackle as the Villa defender did make contact with Young, just as QPR's Shaun Derry did the previous week.
And, after watching the Champions League semi-finals in Munich and at Chelsea this week, the Scot is coming to the conclusion that it is almost acceptable to hit the deck because otherwise, you will lose out.
"Ryan Giggs has been here for 20 years and got five penalties. Do you know why? Because his balance is so good," said Ferguson.
"Last week, if the player doesn't bring Ashley down he is going to score. It was a clear goalscoring opportunity.
"He did overdo the attempt to get a penalty but I watched Real Madrid and Bayern Munich the other night and it was absolutely ridiculous, players were diving and rolling about, nothing like what Young has been accused of.
"You see the other night in the Chelsea game, we are in an age where you expect it now."
Ferguson does believe there is an element of Young being made a scapegoat because of the United connection.
However, as with Ruud van Nistelrooy and Cristiano Ronaldo in the past, he has felt it necessary to speak with the winger about his conduct.
"People have reacted because it is Manchester United," said Ferguson.
"I have had a word with Ashley. He understands where we are coming from. Hopefully it makes a difference."
Young's actions have been part of a wider debate about refereeing standards, and whether big clubs are getting the majority of close decisions.
Ferguson has always insisted that is not true, a stance he is sticking to.
"If it is a penalty it is a penalty," he said.
"We didn't get one against Wigan during the week but we didn't scream from the rooftops about it. It happens.
"We got one given against us for Newcastle, we didn't scream about that either. You get bad decisions and good ones.
"Believe me, it does even itself out. Everyone is the same."
PA
Join our new commenting forum
Join thought-provoking conversations, follow other Independent readers and see their replies