Manchester United plane: 'Wrong One – Moyes Out' plane banner flies over Old Trafford despite fans' warm reception for manager ahead of Villa match
Moyes received rousing applause as he walked out at Old Trafford but two planes quickly appeared over the stadium for the Aston Villa match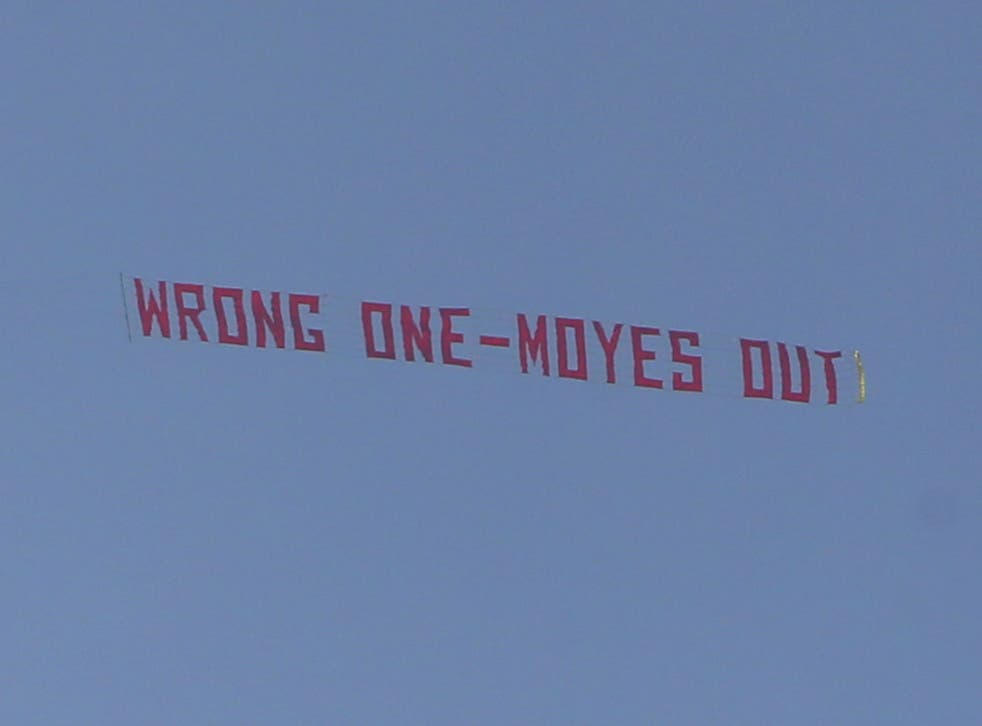 Manchester United's Premier League match with Aston Villa was merely two minutes old when the first of two planes appeared over Old Trafford calling for the sacking of manager David Moyes.
In the build-up to Saturday's early kick-off, Moyes had simply dismissed the planned flyover – the £840 act funded by angry United fans – and said that it had merely made him more determined to succeed, despite the banner reading "Wrong One – Moyes Out" in a response to the regular "The Chosen One" that remains on show inside the stadium.
In a show of defiance, Moyes walked out towards the dugout before the players came out, and unusual sight at the Theatre of Dreams when both Moyes and his predecessor Sir Alex Ferguson always walked out after the two sides entrance.
"You just have to remain focused on the game - and that's what we have done," Moyes told BT Sport before the match.
"It is going to happen but I think, for the people who have spent money on the plane, it would have been better served by putting it into Darren Fletcher's colitis charity instead."
But along with Ferguson, who was in the stands as has become usual, the home fans gave Moyes a rousing round of applause as he waved to the crowd and clapped their support.
Minutes later, a second plane appeared over the stadium after being organised by a high-street bookmakers, which read "Fergie back in 6-1".
Despite the early show of support for Moyes, the crowd were quickly silenced when Ashley Westwood curled in a free-kick from the edge of the area after United gave away possession in midfield, forcing Rafael to give away a free-kick which gave Villa the lead.
Wayne Rooney soon equalised with a glancing header that restored spirits among supporters, and continues his rich vein of form following his two goals at West Ham last weekend - the first a stunning 58-metre effort.
The England international the put United ahead from the penalty spot after Leandro Bacuna brought down Juan Mata in the area, and it was the Spaniard who added United's third - a scrappy goal that appeared to see Marouane Fellaini contribute from an offside position.
And it was left to substitute striker Javier Hernandez, on for Rooney, to wrap up the game as he tucked away a point-blank chance at the back post from Adnan Januzaj's cross, sealing the three points and ensuring Moyes could focus on the Champions League tie with Bayern Munich rather than matters above Old Trafford.
Join our new commenting forum
Join thought-provoking conversations, follow other Independent readers and see their replies