Manchester United pre-season tour: Louis van Gaal gives Ashley Young some reasons to be cheerful
Van Gaal's 3-5-2 formation puts a great importance on his wingers, and gives Young a chance to show he has a future at Old Trafford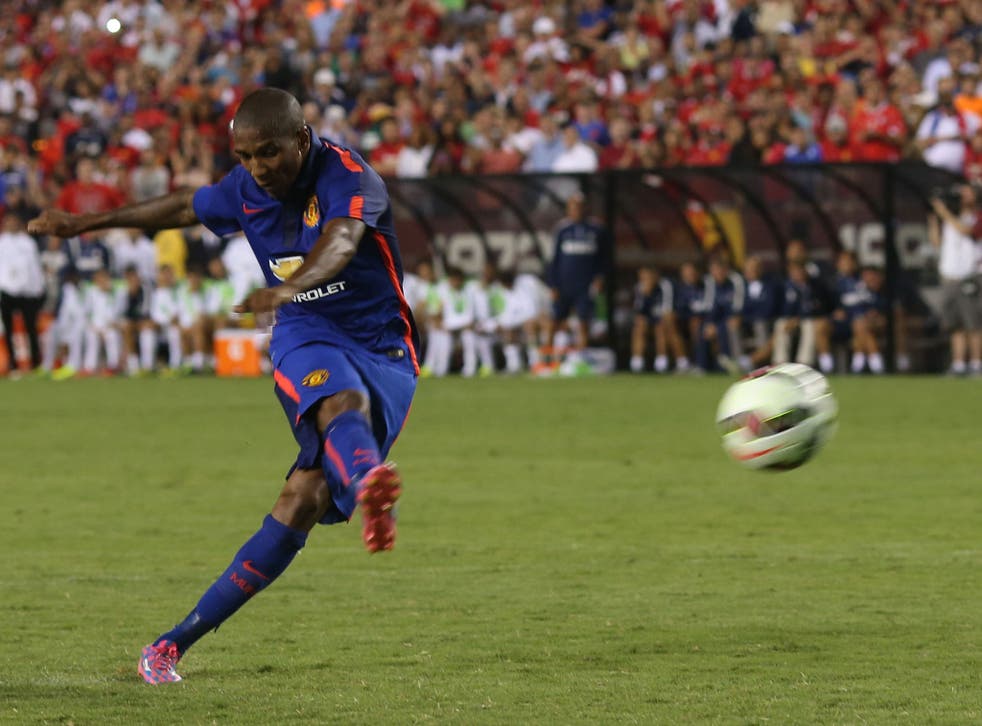 Behind the scenes, there have been a few jokes to test Ashley Young's sense of humour in recent days. "About this Tom Daley business…" he was asked by one of the non-playing members of Manchester United's entourage – a reference to the dying swan impressions Young has given on and off, over the past few years, when anyone had the temerity to tackle him inside the penalty area.
The 29-year-old does not give the impression of having a great ability to laugh at himself but has some grounds for satisfaction. His United career seemed to be heading for obscurity, with the controversies of his simulations early in the David Moyes era, preceding a poor last season.
But as United prepare to head home from the United States tour this week, Young has emerged as one of the unexpected winners of the fortnight: a player whom manager Louis van Gaal sees as a good fit for his new 3-4-1-2 system.
He fits it because, as Van Gaal views things, he can attack and defend to the level required for one of his wing backs. And he can also do it on both wings. Van Gaal, whose side play Real Madrid before a crowd of close on 110,000 here tonight, adores that kind of versatility.
Manchester United: Potential summer transfer targets

Show all 10
You might say that he is a manager more interested in players who can fit his system than he is in players. Though United are aware of Argentine Angel di Maria's availability at Real Madrid, Young would arguably be more valuable to the Dutchman because he is more likely to defend with vigour. "I don't need the 11 best. I need the best 11," Van Gaal once said. The wingers have a huge amount of work to do and a huge responsibility in this new system. With one of the three central defenders licensed to play deep in opposition territory – Jonny Evans was closer to Wayne Rooney than to Chris Smalling for periods against Internazionale in midweek – these wide flankers must be able to hurtle back to defend.
And yet they must have the capacity to probe defences and threaten. A glorified full-back with a good cross is just not enough. We have not seen much of Young the defender before and he has only played wing-back on one other occasion in an 11-year professional career but the signs are good, insofar as a pre-season tour can tell us anything.
"Ashley Young is a winger, but he is another type who can play wing-back and he did very well against Roma," Van Gaal said before the Internazionale game, in which he switched flanks at half time, threatening and probing more in the second half. "He can play left and right side, but we shall see."
All things in perspective. A useful few weeks has not turned Young into the soul of expression. He did not seem too keen to be asked to talk in the post-match mixed zone after United had won on penalties. "It's been good to play in the different positions," he said. "I can play in both wing-back positions and if the manager calls on me to do something I've got every confidence in myself."
It will be a different proposition when the season starts. Inter were so unambitious, one wondered why they had travelled halfway around the world to play here. But Young has grounds for optimism. "All people have a talent," runs one of Van Gaal's maxims. "But they often do not know which."
Join our new commenting forum
Join thought-provoking conversations, follow other Independent readers and see their replies