Manchester United remain in the Premier League title race, insists Arsenal manager Arsene Wenger
The Gunners' boss has urged his side to keep up their winning habits after stretching lead over the reigning champions to 12 points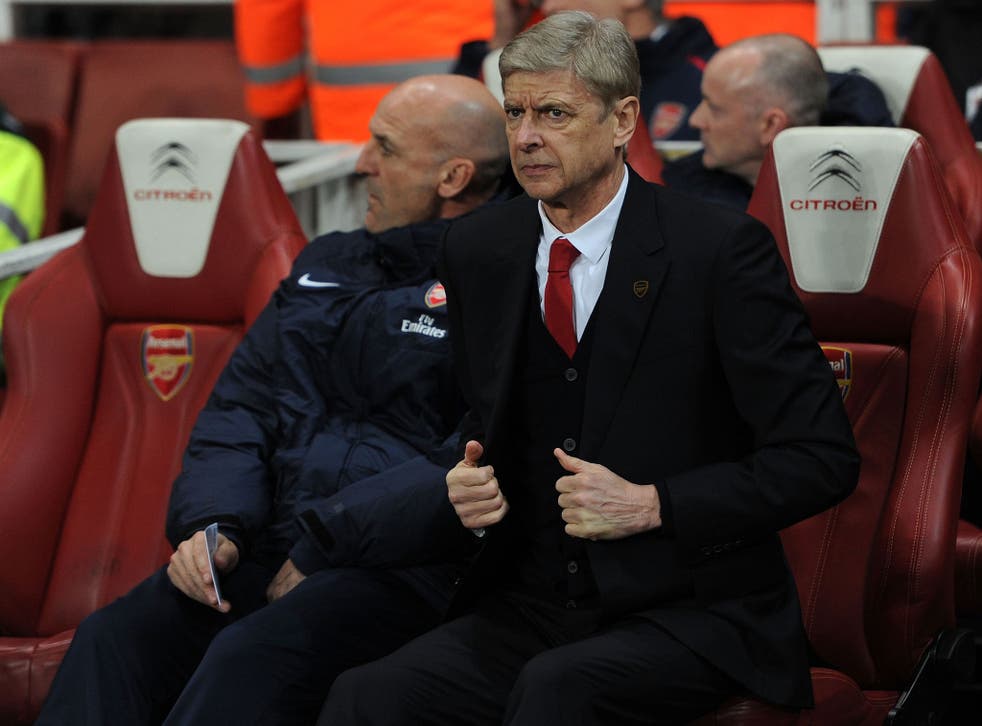 Arsenal manager Arsene Wenger knows it is still too early to write off any side's hope of winning the Barclays Premier League after his men maintained their four-point advantage with a 2-0 win over Hull at the Emirates Stadium.
Denmark striker Nicklas Bendtner scored his first Arsenal goal since March 2011, heading home after just 90 seconds to set the Gunners on their way, with Mesut Ozil extended the lead at the start of the second half, finishing off a fine passing exchange with Aaron Ramsey.
The Gunners' victory saw them maintain a four-point lead over second-placed Chelsea, who won 4-3 at relegation battlers Sunderland, and move further ahead of Manchester United, who lost at home to Everton.
Wenger, though, has seen enough in his long tenure not to draw any concrete conclusions of how the season will eventually pan out just yet.
"It is a surprising defeat [to Everton], but it is still early," Wenger said.
"We have seen that before, 12 points, only on us.
"We have just to keep winning to have a chance, and not worry too much about the others."
Bendtner's last league start for Arsenal was three seasons ago and he almost left the club in the summer following several unsuccessful loan spells and hitting the headlines with his off-field behaviour.
Wenger, though, feels the 6ft 3in forward has the attributes to produce consistent performances if he is fully focused.
"Look, [it is a gamble] if a guy has not played for a long time, and his last performance was not convincing against Chelsea, but he has worked hard in training and deserved a chance," said Wenger, who used the match to give leading France forward Olivier Giroud a breather and started with the likes of England trio Jack Wilshere, Theo Walcott and Kieran Gibbs all also on the bench.
"We know that when he has the mind of the game, he has the qualities.
"He has the stature, he has good technical quality, he has quite good pace.
"We had him as a boy of 15 or 16 and I made him sign a long contract twice, so that means I always believed in his qualities."
There is little respite ahead for Arsenal who host Everton on Sunday, then travel to Napoli for their final Champions League group match before a crunch clash at Manchester City on Saturday lunchtime.
"For us it is a very, very heavy schedule," Wenger lamented.
"It is not fair or unfair, it is just no co-ordination between the television choices because you would say that we could have played on Saturday against Everton and we could play Sunday or Monday against Man City.
"It looks strange that we play Saturday morning and our next (league) game after that is Monday night against Chelsea nine days later."
Hull boss Steve Bruce, who was involved in an exchange with some Arsenal supporters behind the dugout during the closing stages, accepted his side were always going to be up against it after conceding so quickly.
"Arsenal are confident enough and then when they go 1-0 up early on it becomes a difficult evening for us," said Bruce, whose side had recorded a home win over Liverpool on Sunday.
"I was delighted to get back into the game, but we then did the same thing in the second half. However, late on we rolled our sleeves up otherwise it could have been embarrassing."
PA
Join our new commenting forum
Join thought-provoking conversations, follow other Independent readers and see their replies