Manchester United's Luke Shaw happy to admit he carries no scars from broken leg
Full-back fit and firing again after injury that forced him to miss Euros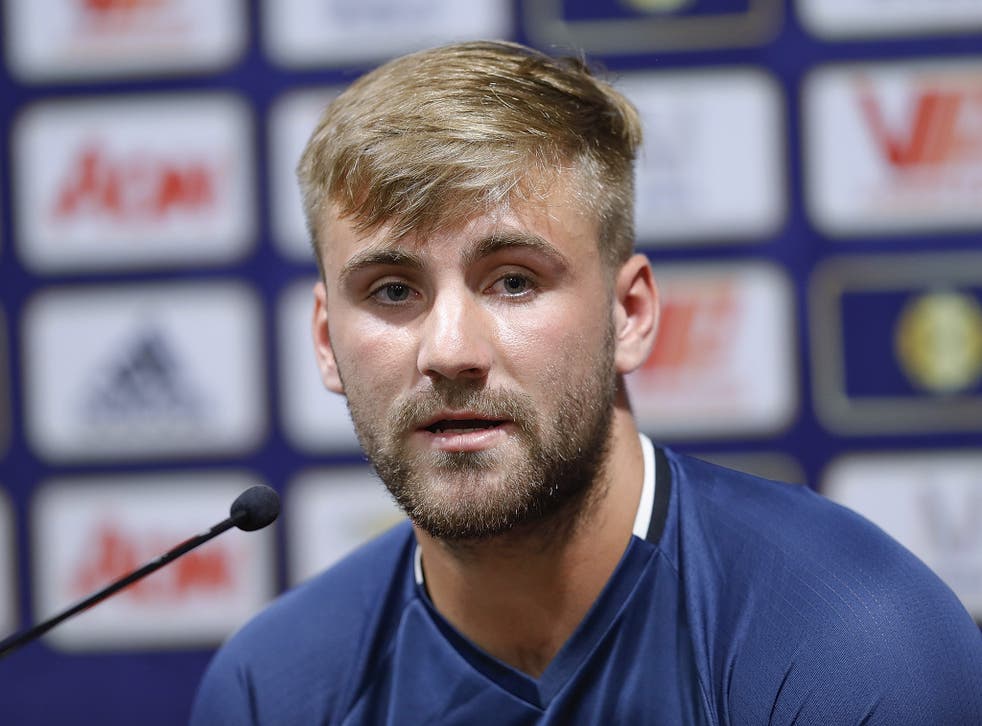 Luke Shaw sat in a room at St George's Park the other day, rolled up the compression calf stocking – a.k.a. footless sock – around his right leg, and showed a group of national newspaper reporters a scar.
It did not look much – no more than three inches in length – and Shaw, the Manchester United and England left-back, prefers it that way. That small vestige of his double leg fracture, an injury that might once have destroyed a career, belongs to the past, and he is looking forward. As Shaw, wearing shorts and flip-flops, puts it: "Of course I don't want people to know me as the left-back who broke his leg when he was young. I want them to know me for how I play on the pitch and for how many trophies I hopefully win."
Shaw was just embarking on his second season at Old Trafford when his right leg snapped in two places under the force of a challenge by PSV Eindhoven's Héctor Moreno in a Champions League fixture on 15 September last year. The images of the aftermath – of a shattered lower leg and a young footballer in an oxygen mask – make for gruesome viewing. It was, he admits, upsetting for his parents – "especially Dad" – yet Shaw himself is not squeamish about it.
"I wasn't bothered watching videos of it, or pictures of my leg. That might sound a bit weird but I feel comfortable talking about it because now I feel stronger than ever. It doesn't faze me. At first I did start thinking, 'Am I really like this?', but it's my leg at the end of the day.
"Obviously I went through a bad time but I came through that stronger as a person. There's no scars now really."
In person, Shaw is bubbly and relaxed. He wears a broad smile. Evidently it feels good to be back. "I thought maybe I wouldn't find my feet so quickly coming back from an injury like that, but it's strange – it feels like I haven't been gone," he says. "In games, I've gone past thinking where the challenges are coming from. I just play freely and enjoy being back on the pitch."
Shaw has not missed a minute of Manchester United's Premier League campaign and his next task is to regain his place as first-choice full-back in the England team as new manager Sam Allardyce's reign gets under way with the World Cup qualifier in Slovakia on Sunday. This time last year he was starting for England against San Marino and Switzerland. Instead Danny Rose was Roy Hodgson's starting left-back at Euro 2016. Shaw, though, is grateful he did not rush back.
"During the time I did think I'd be back for the Euros but when it was coming around I felt it was best not to rush it," he says. "I did speak to Roy on the phone during the time I was injured. I was [training] outside before it was announced [that he would not make it] but I wasn't training with the team. It was about a month left and I don't think the physios at United wanted me to go anyway.
"It was the best thing for me to not go and to get my fitness back over the summer," he adds. "I wished I was there but I look back at it now as a good decision I didn't go."
During his long time out, Shaw says he "watched a lot of football" – and he particularly enjoyed studying Marcelo, the Real Madrid full-back. "Right now I think Marcelo is the best left-back in the world," he says. "I love to attack and I think his attacking game is the best around. I like to focus on how he plays."
He also noted the progress made by Tottenham Hotspur left-back Rose, his replacement in the England side. "There've been a lot of good left-backs who have emerged over the last year and now especially Danny Rose who was the best left-back last season for me. The challenge for me is good. I want to be playing with the best, and fighting for a position against the best players. That's only going to push us both, and those who haven't been picked."
Shaw is not short of driving forces back at Old Trafford, where he is enjoying life under Jose Mourinho. Shaw actually declined the opportunity to join Mourinho at Chelsea when leaving Southampton for United in 2014 – something the Portuguese was quick to remind him of on their first encounter after Mourinho's appointment. "He said it to me first – I was just going to leave it [but] he had a joke at me about it. There are no hard feelings. I just thought that, at that point in my career, I had a better chance of playing at Manchester United. Patrice [Evra] was leaving and Jose, at that time, had a solid back four that I knew he liked."
Another big personality at the new-look United is Zlatan Ibrahimovic. "He doesn't miss anything," says Shaw. "He sees it all and, if you're not putting the effort in, he'll tell you." How exactly? "To me: 'Shaw.' He doesn't shout it but, when he says my name, I know what he means.
"A lot of people were wondering how he was, having seen him on videos, and whether he'd be the same person. But he's such a nice guy. Jose said it – he's always around the younger lads, bringing that experience. It's not just the younger ones – those getting older look at him as well and see what he's done in his career. [It's] his aura, his presence. But he's got good stories as well. Sitting at the dinner table, he tells a lot of jokes, but he wants the best from everyone as well."
As well as motoring up the left flank for United – and, he hopes, England – Shaw has one other goal for this comeback campaign: to resume his driving lessons and pass his test.
"When I turned 17 I was in the first team at Southampton, I was playing and training, and was always tired after training and wanted to rest," he explains. "I didn't have time to do lessons. I did one lesson and it didn't go too well – I stalled on a busy road and decided I didn't want to do this. But I'm learning now.
"I bought a car to push me to do more, but I've only recently got back into it. I live with my friend and he takes me in every morning and picks me up. I'm at the point now where I do really want to drive. I'm doing everything I can and, after the England trip, I'll have more lessons. I'm 21 – I should be driving."
Join our new commenting forum
Join thought-provoking conversations, follow other Independent readers and see their replies