Manchester United v Liverpool: Robin van Persie backed by David Moyes to inspire champions' revival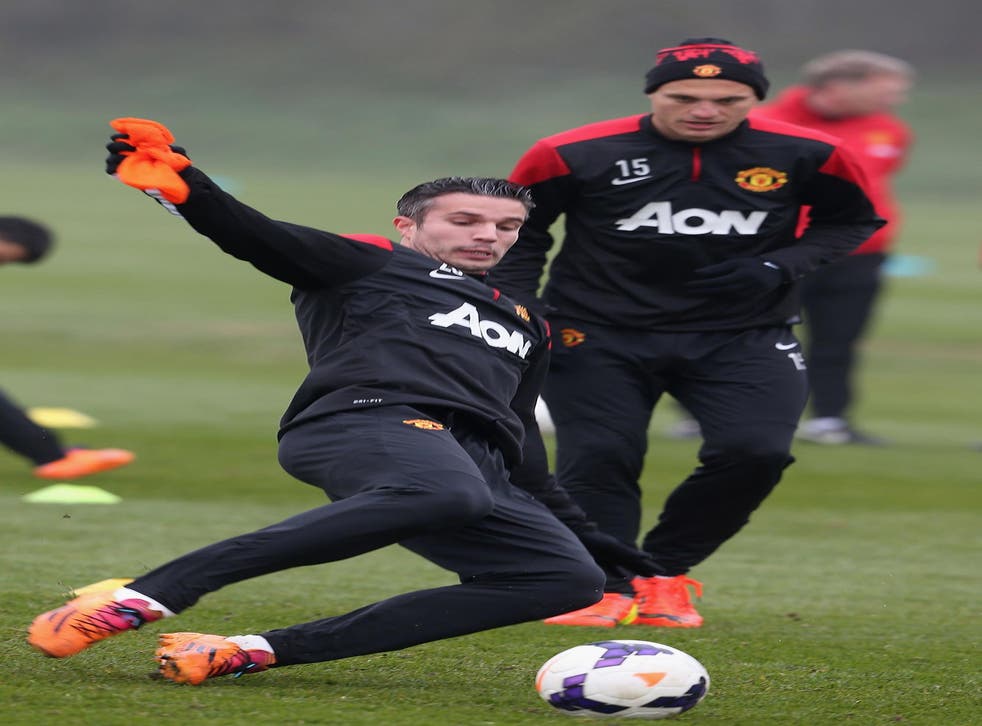 If, as David Moyes, the Manchester United manager, suggested, keeping hold of Luis Suarez has been the key to Liverpool's revival, then the confirmation that Robin van Persie wants to stay at Old Trafford may signal the start of the long-delayed rebirth of United.
Van Persie's response to persistent reports that he wanted to return to Arsenal and was dissatisfied with the tactics and set-up under Moyes was to give an interview – albeit to a club publication – insisting he wants to remain at Old Trafford.
There were plenty of indications he was ready to cut his ties with United and return to London. His agent, Kees Vos, was supposed to have met Arsène Wenger at the end of January. After the Champions League debacle against Olympiakos two weeks ago, he made off-the-cuff remarks to a Dutch television crew who had expressed surprise at how bad United were that "you haven't seen us much lately".
He then complained that other forwards – presumably referring to Wayne Rooney – were "taking my space". There was much talk of his body language during last Saturday's 3-0 win at West Bromwich Albion, a game that saw him substituted before he could pick up a second yellow card.
"If he wasn't playing well on the pitch, well that's something," said Moyes. "But he scored a lot of goals to come back [five in seven games after sustaining a hamstring injury in December]. You can't just live off rumours and some players prefer not to say anything.
"I thought Robin van Persie had his best game for a while against West Brom because he tackled people, he ran around. I told him what was required and he didn't half do it. He got close to the wire but that is the Robin van Persie we want.
"He is a brilliant individual player but he is also a team player and I thought he showed that last week. He played really well. I thought he had more of the ball against West Brom than he ever had.
"He had played for 90 minutes for Holland, he'd been booked and he'd been close[to another]. You would have been crazy not to sub him knowing the games and programme we have coming up."
In the space of 10 days, United face Liverpool in the fixture Sir Alex Ferguson always regarded as the most important of the season, followed by what will be a desperate attempt to overturn a two-goal deficit against Olympiakos. Then comes the Manchester derby. All are at Old Trafford, where United have been knocked out of the Capital One and FA Cups and lost four times in the league. As Moyes conceded: "Old Trafford has been our problem."
Van Persie may be the solution. He remains an unashamedly big-game player. The striker found the net home and away last season when United did the double over Liverpool and he scored the winner in what remains Manchester United's only significant victory against Premier League opposition under Moyes– the 1-0 defeat of Arsenal in November.
Apart from the 90 tortuous minutes in Athens, Moyes argued that Manchester United had played "quite well recently", although Liverpool have scaled heights far above that modest description and he concedes they are the favourites to win only their second game at Old Trafford in a decade.
"Liverpool got off to a really good start and that has been the catalyst for them," he said. "Liverpool keeping Suarez was a major decision for them in the summer and he has proved to be a really important factor. I don't know if you will find out much more about us over the next 10 days. You know what we are – a work in progress."
Join our new commenting forum
Join thought-provoking conversations, follow other Independent readers and see their replies