Manchester United vs Chelsea: Jose Mourinho - Every day I'd go home and moan to my wife about Louis van Gaal's methods
But Mourinho swallowed that frustration and now admits his debt to the manager who made him, write David Harrison and Victor Vago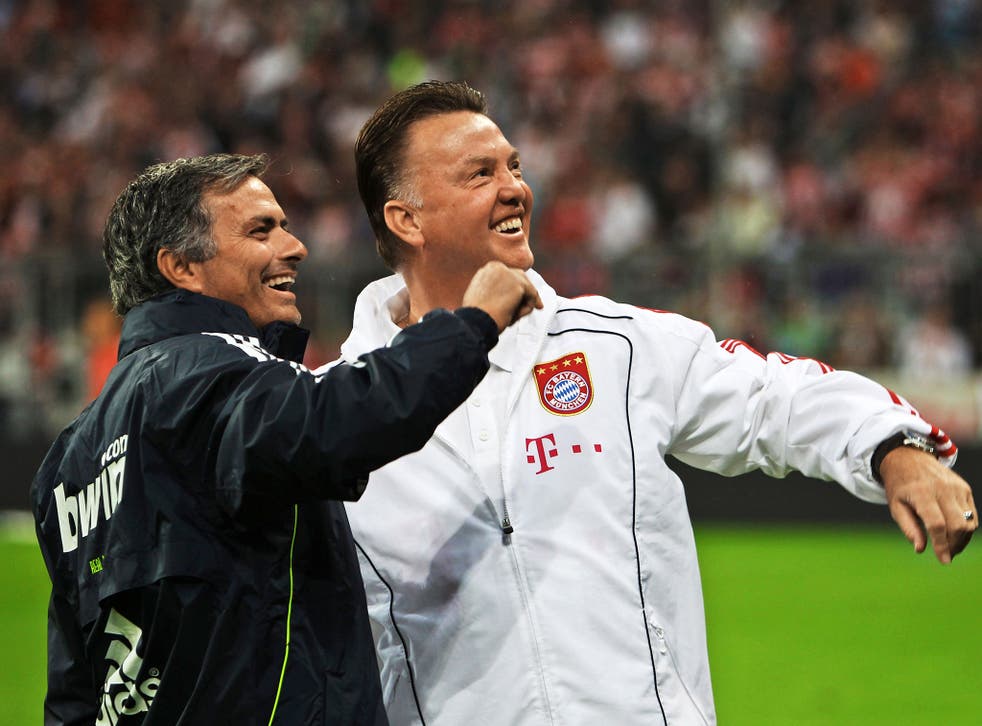 They were always seen as a bit of an Odd Couple. Louis van Gaal would argue and disagree with Jose Mourinho during their time as manager and coach at Barcelona yet the tension between the head coach and his assistant was both creative and successful.
There will be handshakes and mutual respect aplenty when the Dutchman and the Portuguese meet up when their Manchester United and Chelsea teams meet at Old Trafford today. But it was not always like that. Van Gaal's methods and style would drive Mourinho to distraction and despair.
"When we celebrated winning the title, it was recognised that everything that had been done during the year had been worth the trouble and that the coach was right," said Mourinho in his official biography. "But during the season, life at a club that has Van Gaal as its leader is neither easy nor pleasant."
The unpleasantness left Mourinho close to quitting on several occasions and if his wife, Matilde, had been more influential he would have left long before they celebrated two title triumphs at the Nou Camp. "Every day I would go home and moan to my wife that Van Gaal does it this way, but I would do it that way," said Mourinho." So she said: 'What are you waiting for? You want to be a head coach. Why don't you leave and do that?'"
Chelsea injury list and suspensions

Show all 3
The Chelsea boss tolerated the discord and eventually accepted it as a crucial part of his development as a coach and manager, and when he left to take over at Benfica in 2000, his education under the Dutch master was complete. "The break between us happened out of necessity and not out of choice, Mourinho said recently. "Why would I want to leave there? I would leave one day as a consequence of something. That's what happened, when Van Gaal took over as Dutch national coach. From there I took my own path."
It was Van Gaal who encouraged Mourinho to reject offers to be an assistant coach, including one from Newcastle. Van Gaal advised him not to accept anything unless it was as head coach, saying: "You're ready for that. You're going to be a star".
Mourinho originally became Van Gaal's protégé when Bobby Robson stood down as Barcelona's head coach in 1997. The pair didn't know each other and Mourinho expected to be sacked after refusing jobs to coach the B team or to be a part of Robson's recruitment department. On the day when he was about to pack his bags and leave, he got a surprise offer. "Van Gaal met me and said he wanted me by his side because of the influence I had in the previous coaching team," Mourinho recalled.
And now Mourinho can give an expert's view on what makes Van Gaal tick. "In Spain they started calling him obstinate, but he's not obstinate at all. Anyone who works with him understands that he's a person who discusses a lot, is open to an exchange of impressions and to criticism.
"He simply has very clear and well-defined ideas about what he wants. It's very difficult to make him change his mind, as he has absolute confidence in his methods. That's not the same thing as being blindly obstinate.There is room for divergence of opinion in a coaching team. Van Gaal loved it when we were debating a certain subject and someone disagrees. This affects it whether he cements his own idea or, because it's being discussed, it leads us to different solutions.
"He's perfect at managing the ability of the people who work with him. He has the perfect notion that, at the club, there are certain people who do things better and he delegates the right role to the right person. Van Gaal doesn't only concern himself with training and matches, but he also controls youth football, relations between the club and the press and the observation department.
"When I left Barcelona, the players were sorry about my departure and, cold as [Van Gaal] is, he joked, saying the career of a great assistant coach had ended and that the career of a great head coach was beginning."
Mourinho added: "It seems like only yesterday, but 15 years have gone by. I don't forget those years, neither does Van Gaal who was marvellous towards me. It was a special relationship for me and a pleasure to work with him."
Join our new commenting forum
Join thought-provoking conversations, follow other Independent readers and see their replies