Manchester United vs Crystal Palace: Radamel Falcao set to pay price as United seek balance
Falcao has scored only once for United since the club agreed a £6m signing-on fee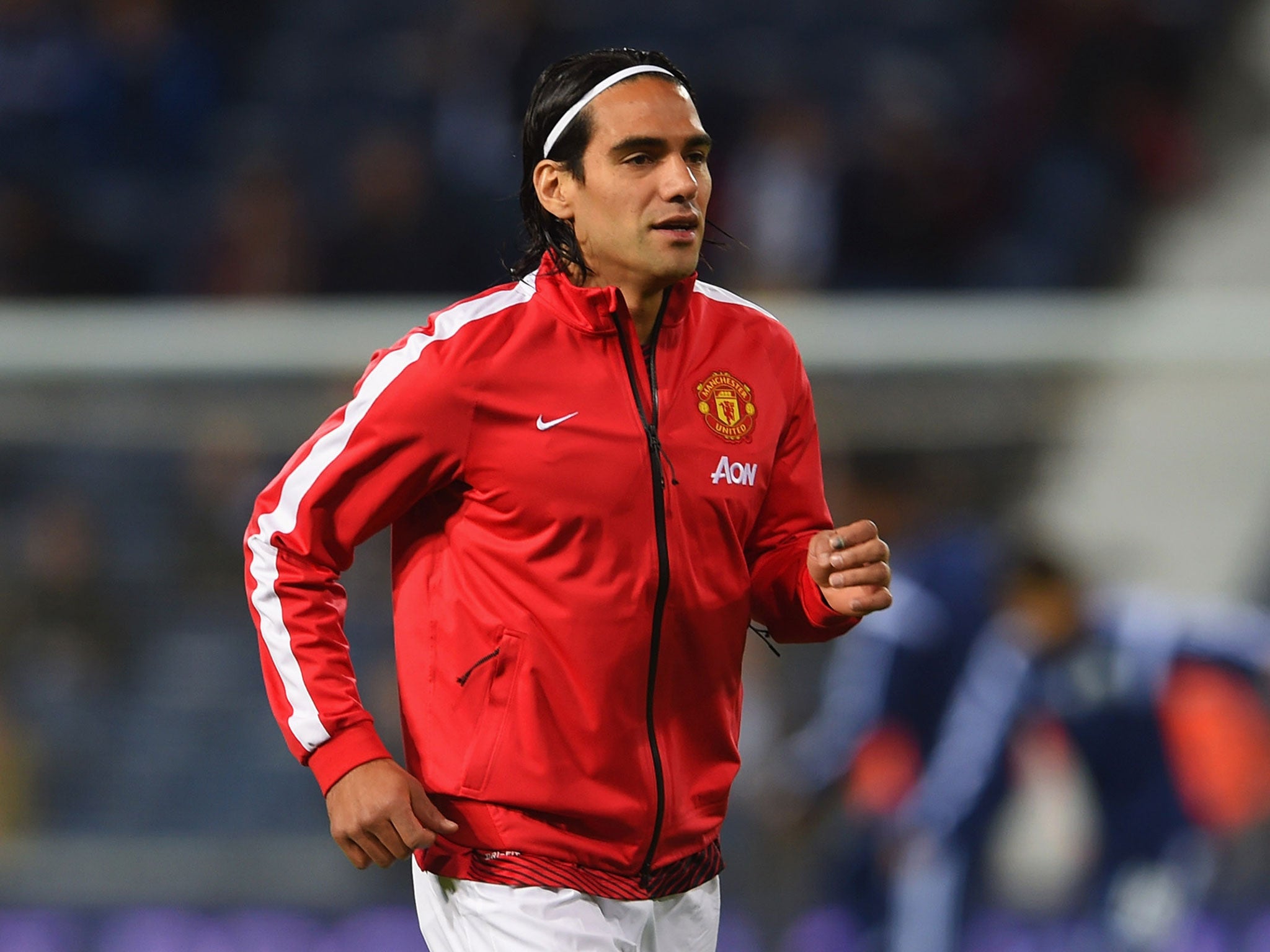 The Manchester United manager, Louis van Gaal, has revealed that Radamel Falcao is facing a fight to feature for the club because his third tactical "remodelling" of the side creates room for only one striker.
Falcao has scored only once for United since the club agreed a £6m signing-on fee and wages of around £265,000 a week and there are concerns about his fitness with a calf injury, which has kept him out of the side for the past three weeks. But Van Gaal also said his need for better "balance" in the side, which has been lacking defensive ballast, means Falcao faces a fight for a solitary striker's position, with Robin van Persie ahead of him in the ranks.
"I have to decide which striker," Van Gaal said. "It is not his fault. It is not his fault [that] with the other system I could play with two strikers but then the balance wasn't good. We had difficulties in the last half an hour [of a game.] That is why I have remodelled the structure of my team for the third time. Since then we have less goals in our favour but also less goals conceded and we have played against the better teams in the Premier League in that time on an equal level, more or less." Van Gaal has switched from 3-4-1-2, to a diamond midfield and, against Manchester City, a 4-4-1-1, which he seems to have decided to continue with.
Van Gaal was unable to state when Falcao would be back in the side and said that the defender Marcos Rojo's dislocated shoulder injury was of the type that could occur at any time. United have decided not to operate, which could mean the player is back within fewer than six weeks, but Van Gaal was uncertain. "The human body has been made by God, not by me," he said.
He expressed feelings of desolation about United's mere 13 points from 10 games – "I feel very lousy for the fans" – and suggested that it could be three years before he has turned things around at Old Trafford.
Manchester United - the latest match in pictures
Show all 124
"I cannot say when the results are coming," he said. "When I did it with Bayern Munich it was December 8 but it could be February 1 here but it doesn't matter because it is a three year process. I have signed for three years. I said from the beginning… that the process shall take more than one year – it will take three years, I hope, because that is always dependent on a lot of things. I think it shall be and we shall make it happen that we shall win a lot of matches in a row."
He did not reject the idea that United may buy in January to strengthen the side. "It is clear that a lot of things happened and you can better judge in bad times than good times," Van Gaal said. "Maybe you are right, but we have to do that [buy players]."
When it was put to Van Gaal that Van Persie could give him more, because the striker was "not himself" and not operating at the same level as previous seasons, Van Gaal said he could not make comparisons with the previous campaign. When he defended Van Persie, it was put to Van Gaal that he was suggesting the striker was playing at the top of his game, though he did not seem to understand the point. "That is so easy for you to say. It is too easy. I don't want to answer that it is very easy!" he replied. Van Gaal refused to sa whether Michael Carrick would be called upon to play at centre half against Crystal Palace on Saturday, with Phil Jones, Jonny Evans and Rojo injured and Chris Smalling suspended.
Join our commenting forum
Join thought-provoking conversations, follow other Independent readers and see their replies