Manchester United vs Southampton: Paul Pogba proves why - even at £89m - he isn't much of a risk for Jose Mourinho
Manchester United 2 Southampton 0: The Frenchman's class was evident on his Old Trafford homecoming as Zlatan Ibrahimovic stole the headlines with an assured display of his own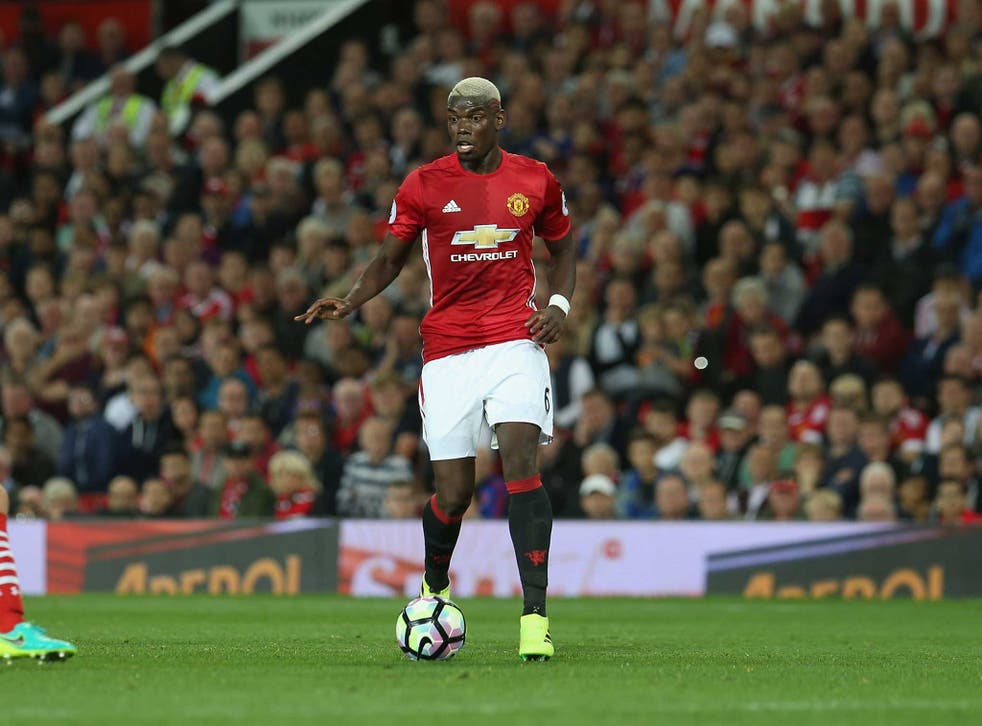 By the door that leads from the press room to the stands at Old Trafford there is a blown-up photograph of Bryan Robson signing for Manchester United. That British record fee was thought so excessive that it provoked Sir Matt Busby's resignation from the United board. The grand old man left more in sorrow than in anger. He could not accept that any footballer could be worth that kind of money.
Football has changed so radically since 1981 that the £1.5m Manchester United paid West Bromwich Albion would be worth £5m now, a quarter of the agent's fee United paid Mino Raiola, whose corrosive relationship with Sir Alex Ferguson was the chief reason Paul Pogba was allowed to leave Old Trafford in the summer of the London Olympics.
The £89m fee Manchester United paid to buy Pogba back from Juventus is a lower percentage of Manchester United's turnover than the cost of Robson. Like Robson, Pogba appears to be a footballer whose purchase carries little risk. It took until the 63rd minute when he headed over from close range for the Southampton fans to start the traditional chant of "what a waste of money". However whatever Pogba is, he is not a gamble.
The trappings of Pogba's arrival at Manchester United did not meet with universal approval around Old Trafford. "My own transfer did not include a film, a rap video or a photoshoot," said Paddy Crerand, who had been part of the United midfield that had driven its way to the 1968 European Cup.
Crerand went on to say that Pogba was the finest talent he had ever seen at the Manchester United academy. His beginning was not as spectacular as Zlatan Ibrahimovic and lacked the drama of Gareth Bale's first match for Real Madrid after becoming the last holder of the world transfer record. In his first game, against Villarreal, Bale came on as a substitute, scored, and was then himself brought off.
Ibrahimovic, another of Raiola's players, is at 34 a man in a hurry and in supreme form. Of the man he called "the world's best midfielder", Jose Mourinho, said much less should be expected in the early weeks of the season. His first few touches ranged from nondescript to a non-existent challenge on Nathan Redmond.
The nervousness was understandable. Michael Owen recalled that during Euro 2000, when under pressure for his place, he froze when trying to deal with a pass made straight to him. Despite the swagger and the rap video, Pogba would have felt the pressure of returning to Manchester United with the burden of a world record fee.
However, midway through the second half, as his long limbs ranged forward, you could see the star quality. Not since Roy Keane began to fade, his relationship with Ferguson souring as badly as Pogba's, have Manchester United possessed a true box-to-box midfielder.
What Mourinho's summer purchases have brought to Old Trafford is a sense of menace, something that was almost entirely lacking under Louis van Gaal, despite the flamboyant shopping for Angel di Maria and Radamel Falcao.
The cross that Wayne Rooney provided for Ibrahimovic's first goal, beautifully timed, hanging in the air, was that of a footballer with the confidence of having high-class players around him. You could say the same of Marouane Fellaini, someone who was not expected to survive Van Gaal's arrival, let alone Mourinho's.
His first two matches as Manchester United have seen him beat two teams, Bournemouth and Southampton, who won the corresponding fixture last season. Mourinho was wearing the same attire as on his first appearance at Old Trafford, the night in 2004 when as manager of Porto he slid down the touchline as Manchester United were knocked out of the Champions League. When he brought a loose ball under control by the side of the pitch, there was a rolling cheer around Old Trafford. Confidence has returned to the north's great stadium and no price can be put on that.
Register for free to continue reading
Registration is a free and easy way to support our truly independent journalism
By registering, you will also enjoy limited access to Premium articles, exclusive newsletters, commenting, and virtual events with our leading journalists
Already have an account? sign in
Register for free to continue reading
Registration is a free and easy way to support our truly independent journalism
By registering, you will also enjoy limited access to Premium articles, exclusive newsletters, commenting, and virtual events with our leading journalists
Already have an account? sign in
Join our new commenting forum
Join thought-provoking conversations, follow other Independent readers and see their replies