Mark Hughes only too aware of Manchester United's fallen status
Stoke manager says United are struggling to change but must always play with flair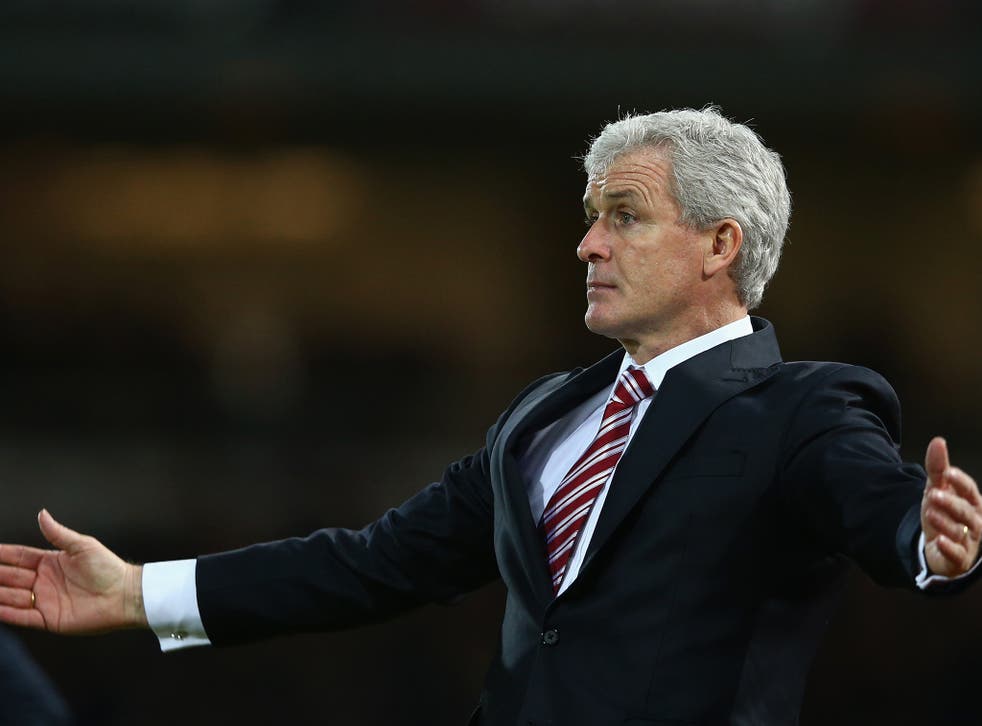 There is an unmistakable sense of what might have been with Mark Hughes when these Manchester United encounters crop up. In the past few years he has described subtly and without spite exactly how the light of the old Sir Alex Ferguson threat has gone out, from the perspective of those who now go up against his former team. And yet there was a time, not so long ago, when we thought it might have been him leading Old Trafford through the tumultuous post-Ferguson era.
It is a travesty – and an indictment of the way we throw away British talent – that Hughes' big managerial moment appears to have passed, though he has picked himself up from the indignity of his sacking by Manchester City and the embarrassment which followed at Queen's Park Rangers, to redefine the way Stoke City play in the white heat of the Premier League.
Last week brought the sixth anniversary of Hughes' dismissal by City and a look at the Premier League tables of then and now tells you something about the small margins between success and the scrapheap.
Manuel Pellegrini has mustered three points more than the total Hughes gathered from the equivalent first 17 games in 2008-09 and his side have scored the same 33 goals. Defensive failings were Hughes' fatal flaw at City, though only Arsenal, Tottenham and Manchester United have conceded fewer than Hughes' Stoke this season. City's defence, meanwhile, is nothing less than a scandal, considering the money lavished on Eliaquim Mangala and Nicolas Otamendi.
City thought they had found a better model of manager in 2009 and though Roberto Mancini did take them over the threshold to the Premier League title, he left a state of civil war behind. That perennial habit of clubs bringing in the diametric opposite of what they have just discarded then led City to the door of Pellegrini, a dour, colourless man whose side is built around the best of the players Mancini left behind.
At 52 years old, Hughes has a vast sense of perspective. He remembers very dark days at Old Trafford, too. He graduated into the first team there in 1983 when Ron Atkinson gave him his break, soon after the unprepossessing Dave Sexton era which was such a source of deep discontent.
He also suffered the ignominy of the 5-1 derby defeat by City at Maine Road in 1989, after his return from Barcelona and Bayern Munich. "Yes, I was part of that," he reflected ahead of today's match with Louis van Gaal's side at the Britannia Stadium. "That wasn't a good weekend, I seem to recall. It was a period right at the beginning of Sir Alex's tenure where it wasn't great for him either…"
The twists in Hughes' career lead him to accept the complexity of what United executive vice-chairman Ed Woodward is up against. "You've got to factor that… for years, they've had no change, and haven't really had to deal with change," he said.
"Even if players changed, the fabric of the club didn't for a long time. There was continuity there, even if players came and went. But now there are changes of manager and philosophy. There are different ways of thinking and working, and some people can deal with it better than others. That's right through the club as well. I've experienced that at clubs I've been at, where changes have been difficult for people."
But it is the question of how United might react to their three consecutive defeats which provokes an answer so clearly at odds with a Van Gaal creed which dictates that the manager is king and the players must simply do better.
"You've got to effect a change," Hughes said. "You've got to have a look at what you feel is not quite right and try to affect that or make it better. You try to get a positive out of a negative. If you've had a poor performance or result, you try to change that around for next week."
The patience that Ferguson was afforded has gone and will never be back, Hughes reflected. "There are so many platforms and so many people willing to spout an opinion on what they think people should do, or what they're not doing. It's just the day and age that we're dealing with. It's going to get worse as well. So it's about dealing with it."
But what is common to then and now is the expectation that United must play in a certain way. "They demanded that you played attacking football and got at teams; that you imposed yourself on opponents and took games away from them," he said, making clear that he feels such a requirement has not changed. "I think the stage that Old Trafford is places a demand on players that you need at times to really have a go."
Hughes talks, too, of the United "cracked badge weeks" they used to laugh about all those years ago, when so-called disarray provoked the newspapers to carry such artwork. To hear his wisdom makes you feel that the Welshman, with his understated persistence, would be an infinitely better leader for United than bombastic, vainglorious Van Gaal.
He is where he is, though and making plenty of it. "I feel very fortunate," Hughes said. "I've been here for two and a half years, and I think there's only [Arsène] Wenger who has been at a Premier League club for longer. That shows how crazy it is."
Join our new commenting forum
Join thought-provoking conversations, follow other Independent readers and see their replies