Match Report: Edin Dzeko late show seals win for 10-man Manchester City against West Bromwich Albion
West Bromwich Albion 1 Manchester City 2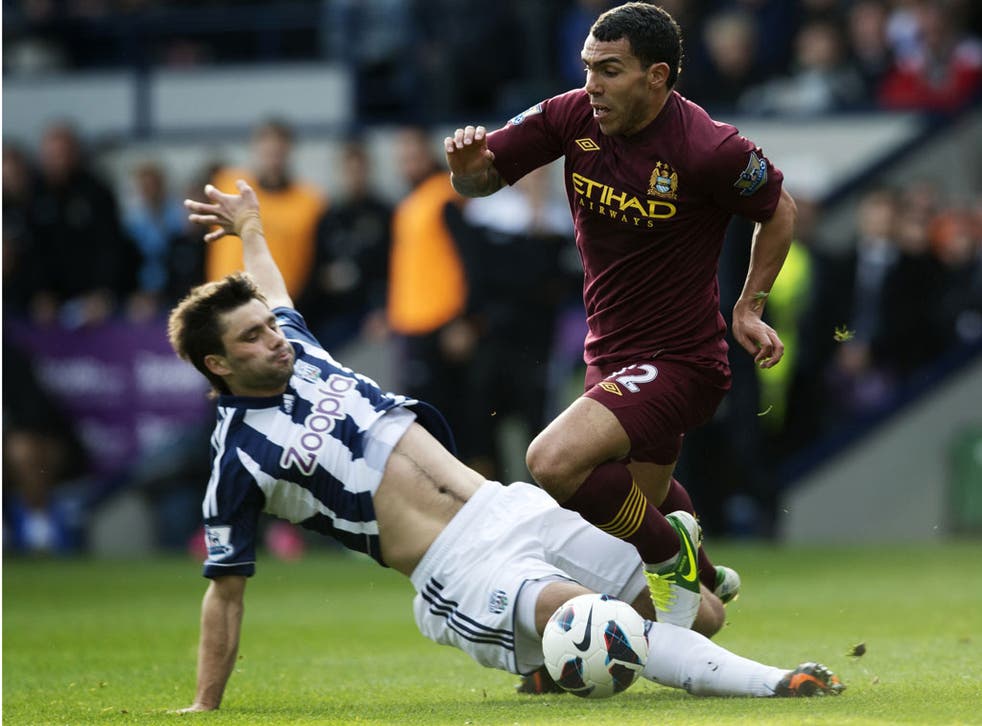 Roberto Mancini on his knees, Samir Nasri screaming at the referee to blow... welcome to the defence of your title, fellas.
Manchester City discovered in this marvellous, old footballing theatre the meaning of that Premier League victory back in May.
Mancini was close to immolation on the touchline as West Bromwich Albion swarmed the City box in search of a little home comfort at the death. This game had turned upside down in 12 lusty minutes. To give up the bounty then would have been too much.
Until the introduction of Edin Dzeko, City were chasing a game they had dominated despite playing with 10 men since the 20th minute following the dismissal of James Milner.
West Brom lined up at home with only Shane Long up front, nicked the lead against the run of play and looked set to pull off the ambush. Dzeko is a paid-up member of City lore following his role in bringing the title to the Etihad in that incredible denouemnent. Yesterday he was again blazing from the bench to script another fantasy finale.
First a header a minute after replacing Mario Balotelli, then a curling effort into the bottom corner, immediately after Joe Hart had tipped Romelu Lukaku's overhead kick over the bar, to send the blue-clad fans behind the goal into raptures. "That's why we are champions," they sang. Indeed so.
There was still four minutes of added time to endure and City lived every second twice over. Mancini was voiceless at the close so much of himself had he spent. It was left to first-team coach David Platt to explain the value of three mighty points on a day when Chelsea won at Tottenham and neighbours United swept past Stoke.
"You don't win the league without spirit," Platt said. "We dug in last season and won the last six games. It is nice to take three points. You can't drop that many if you want to win championships, but we don't feel we have nicked the result here."
Platt was right. City deserved the points. Milner's red card was justified for his lunging tackle on Long, but that did not affect the rhythm of the game. Steve Clarke, the West Brom manager, has covered a deal of ground at the Hawthorns this season. The next leap must be to ditch the deference when the big teams come to town.
West Brom were only a threat after Peter Odemwingie's introduction on the hour. It was his misfire that rolled into the path of Long to sidefoot his side into a fortunate lead.
The game was always fractious with five bookings alongside Milner's red. One of those was collected by Balotelli, who was engaged in full "Super Mario" mood. Platt let slip that City considered his withdrawal at half-time, so stoked was he. But in this form Balotelli is too good to be cast aside. Yaya Touré was another in epic mode, a monster in ballet shoes rampaging up the middle with that characteristic swagger.
Yet despite all this City needed a Mancini masterstroke, replacing Balotelli with Dzeko with 12 minutes remaining. Sixty seconds later city were level. "Dzeko is always a goal threat," Platt said. "Among the goals he has scored for City, there are a lot of heavy, important ones in there. To win the league Aguero's goal will always be the one, but his was the equaliser that made it possible,"
West Brom, the first team to stop City scoring on the road in this fixture last season, chose to emulate the England team and cede ground and space to the visitors, the footballing equivalent of doffing your cap. Clarke felt it was justified.
"I thought we played well, stood up to Man City," he said. "They showed when they went to 10 men why they are champions. We play the way we play. I don't think selection was the reason we didn't get anything from the game. Maybe it was a bad decision to go chasing the winner and it was disappointing to lose like that in the end."
As well as late drama, the game threw up some international pointers. The first relates to Milner, who, while he was on the pitch, was deployed in a position that best suits his talents. Mancini played him alongside Gareth Barry in front of the City back four, where his industry and pluck allowed him to shine until exposed for the sending off by a rare error from Vincent Kompany.
Mancini was effectively telling Roy Hodgson that Milner is no winger. If the England manager was watching he will have noted also a storming display at right-back from Micah Richards. Resolute in defence, vibrant in attack, there can be no reason for his continued in international exclusion.
West Bromwich (4-2-3-1): Foster; Tamas, McAuley, Olsson, Ridgewell; Mulumbu, Yacob; Morrison (Gera, 72), Dorrans (Odemwinge, 63), Fortune; Long (Lukaku, 82)
Manchester City (4-2-1-3): Hart; Richards, Kompany, Lescott, Clichy; Barry (Dzeko, 78), Milner, Y.Touré, Tevez (Kolarov, 82), Nasri, Balotelli (Aguero, 63)
Referee: Mark Clattenburg
Man of the match: Dzeko (Manchester City)
Match rating: 7/10
Join our new commenting forum
Join thought-provoking conversations, follow other Independent readers and see their replies