Match Report: Fernando Torres shows evidence that Rafael Benitez effect is working for Chelsea with win at Sunderland
Sunderland 1 Chelsea 3: Under-fire striker scores twice to silence critics after confidence boost from his new manager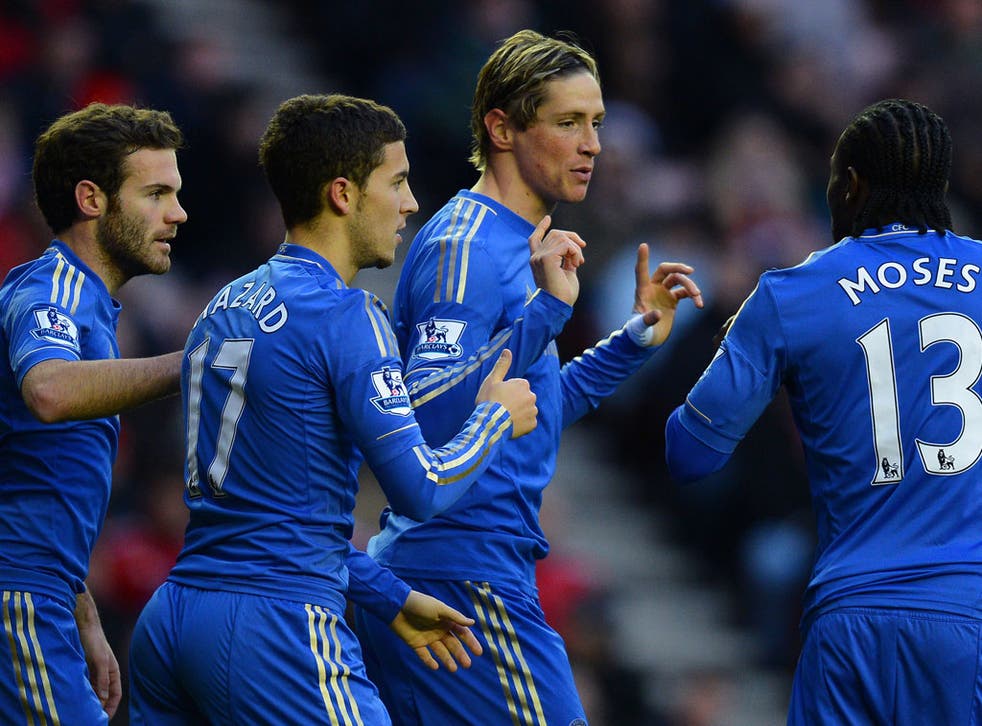 Four minutes before half-time, Fernando Torres misplaced a pass. There were no embarrassed groans from the Chelsea fans sat high behind the Sunderland goal. There were no jeers or catcalls from the home fans, who were angry at just about everything else. There were no songs mocking the amount Torres has cost, and there have been plenty of them since he moved from Anfield to Stamford Bridge for £50 million nearly two years ago.
It was as big an indication as there has been that the soundtrack to his Chelsea career is beginning to change. He scored twice against Nordsjaelland on Wednesday but again, the backdrop was to failure; failure to mount a reasonable defence of their Champions' League title, the failure of Nordsjaelland to be any good. Only in the stat count from Rafa Benitez, Chelsea's manager, was there any indication that they had played well, more than 30 shots he stated.
They were really good again yesterday. Torres was really good as well. Benitez put three Chelsea players alongside Torres and it worked. At times they really were 4-2-4.
Torres has had support from the boardroom since his move, he has had varying degrees of support from inside the Chelsea dugout, but yesterday he had support on the pitch, in the structure of the team.
The theory has been that he needs to be isolated to play well, to have the freedom to play on the last defender, but that argument looked nonsense against Sunderland. Victor Moses was just about a right winger, Juan Mata his strike partner and Eden Hazard a left winger. Every single Sunderland defender was occupied from the first minute, when Seb Larsson grabbed hold of the shirt of Hazard following a superb pass from Mata. It should have been a penalty, but it was a sign of intention.
The 3,000 Chelsea fans repeatedly sang their new manager's name: "We don't care about Rafa, he don't care about us." It rang from the 10th minute right through to the final, closing stages of the game.
Torres was the most clinical player on the pitch. His opening goal, which came after 11 minutes, was excellent. It was also indicative of Chelsea at their most fluent. Moses played a fine pass down the Chelsea left to Hazard. The Belgian had the time to bring the ball back on to his right foot and he crossed perfectly for Torres, who arrived at pace to volley cleverly into Simon Mignolet's goal.
Chelsea were then excellent but Sunderland fought well. For a period during the first half, Adam Johnson gave glimpses of the sort of qualities he was signed to produce. It roused the crowd, a point Martin O'Neill, the hosts' managers, referred to after a defeat that moved his side into the bottom three.
But Chelsea showed a lot of the characteristics that could yet make the challenge for the Premier League title an affair that exists outside of Manchester. They stood strong and, in the second of the two minutes of first-half injury time, Torres scored again. Benitez must have said the word confidence about 10 times after this victory. When Larsson needlessly slid in and fouled Ramires on the corner of the Sunderland penalty area, there were three possible penalty takers for Chelsea – David Luiz, Hazard and Torres. Intriguingly, revealed Benitez, it is the players' choice whenever a penalty is awarded as to who takes it.
Hazard had missed one in mid-week which moved him off top spot, but it was still a sign of his growing belief that Torres took hold of the ball to calmly stroke the penalty into the Sunderland goal. The Spaniard had previously never taken a penalty for an English side. Three minutes into the second half, when Phil Bardsley's heavy touch took the ball into the path of Torres, 18 yards from Mignolet's goal, Torres immediately cracked a shot off the Sunderland crossbar and, from the rebound, Mata scored Chelsea's third.
"I have said before if the team played well and create chances for Fernando he will score goals," said Benitez. "The team were doing really well in the first half.
"We showed the character and we can create chances. Yes, you could see players with confidence, he was one of those players. He knows the movement I want from him. We are watching a Fernando with more confidence.
"The team are more confident, with the quality we have, we will win more games. We need to show on the pitch what we are showing on the training pitch. We are creating a lot of chances. That is positive for the future. We will create chances and score goals."
Sunderland did score, in the 66th minute, when Johnson smashed a shot past Petr Cech. They rallied and the players were applauded off by their supporters despite the defeat. They will need that kind of backing on Tuesday night, when they face fellow strugglers Reading.
"We played very strongly," said O'Neill. "The players put a in a big effort and it was appreciated by the crowd. We were defeated but it feels like we've taken something from the game to take into Tuesday's game."
Sunderland (4-4-1-1): Mignolet; Bardsley (Colback, 67), O'Shea, Cuellar, Rose; Johnson, Larsson (Saha, 82), Gardner, McClean; Sessegnon; Wickham.
Chelsea (4-2-3-1): Cech; Ivanovic, Cahill, Luiz, Cole; Ramires, Romeu (Oscar, 20); Moses (Bertrand, 62), Mata, Hazard (Lampard, 79); Torres.
Referee: Mark Halsey.
Man of the match: Torres (Chelsea)
Match rating: 7/10
Join our new commenting forum
Join thought-provoking conversations, follow other Independent readers and see their replies