Match Report: Rafa Benitez looks spent after Yaya Touré and Carlos Tevez settle 'El Cashico'
Manchester City 2 Chelsea 0
Ian Herbert
Monday 25 February 2013 01:00 Comments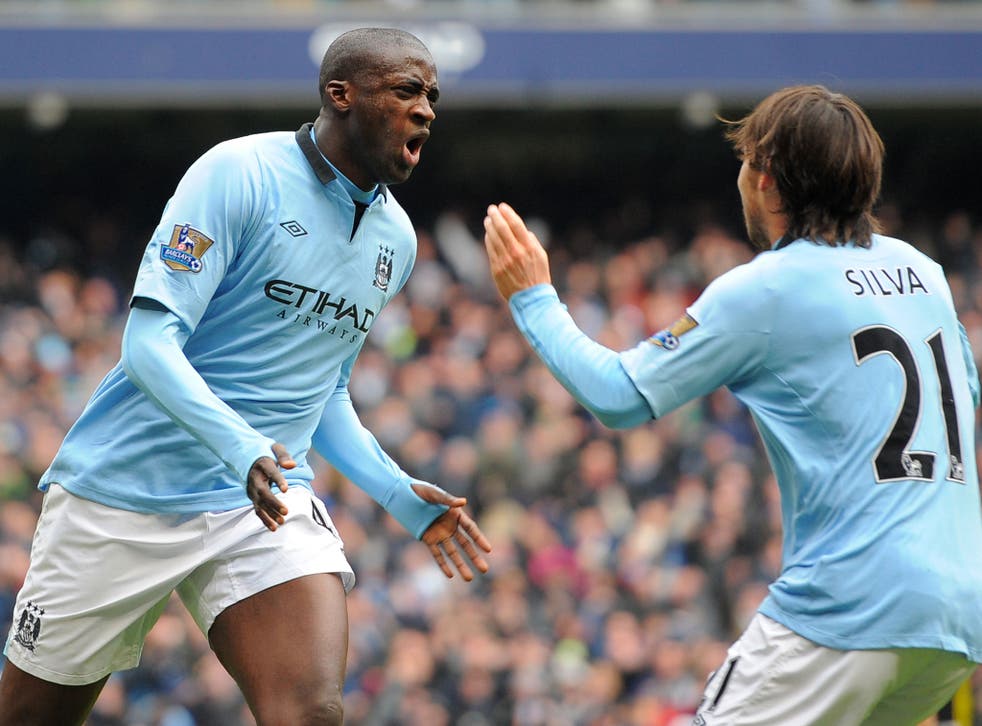 Rafael Benitez, who looked tired, was asked if he was tired.
"I was not running today so I am fine," he replied, though his body language said more than words possibly could. Liverpool remembers him for the elaborate hand gestures, redolent at times of someone working an airport runway, shaping the patterns which he had always planned down to the last detail.
But that was a club where Benitez knew he belonged. In the game which keeps Manchester City in the title race and allows their fans a few more renditions of "stand up for the champions" – sung with real vigour yesterday – the Spaniard's side looked as interim as he does, lacking in the defensive rigour he will have drummed into them, slow to track back, overwhelmed in midfield, bankrupt of ideas.
Benitez had said in his blog ahead of the match that "at the end of the season we will all be fighting each other" but it does not look like opposition clubs will be part of that warfare, on the basis of this.
Eden Hazard and Frank Lampard didn't afford the manager so much as a cursory glance when, justifiably on the basis of their contributions, he substituted them. None of his players, in fact, displayed stomach for a fixture bereft of the edge it has carried in recent seasons, when the nation's two most moneyed clubs have collided with impact.
That's what comes to the club that invests no more than temporary status in a manager who, as things have turned out, is delivering a lower ratio of points for Chelsea than Roberto Di Matteo: 25 from 15 games, compared with the Italian's 24 from 12.
The fixture list adds to the burden of Chelsea, for whom fourth place is not guaranteed with fifth-placed Arsenal a mere two points behind. The log jam informed Benitez's decision to leave John Terry out and pulling David Luiz back from midfield, where he has impressed, to central defence, where yesterday he did not.
The only sense of animation from Chelsea's dugout came from assistant coach Steve Holland, up on his feet waving an imaginary red card when Joe Hart had clattered Demba Ba to the ground for the penalty kick which was Chelsea's second shot on goal.
Mancini, who has been slaughtered for the same gesture, might not have allowed it to pass had Lampard's kick not been saved. Instead the City manager was relaxed enough to preface his press conference with a short tribute to Pope Benedict, on his last Sunday in his job, and "say thank you to this Pope for what he did in eight years ago. Thank you very much."
This was a day when Mancini's players revealed why the manager still has a faint prayer when he talks about the title, for all of Chelsea's anaemia. Yaya Touré, David Silva, James Milner and Sergio Aguero were all excellent and Carlos Tevez powerful from the bench. If that group had only found the same gear through the dark months of the season City would have less of a mountain to climb, though we should not forget Manchester United's points accumulation in considering the shape of the title race. Only three sides have garnered more points than United after 27 games of a First Division or Premier League season.
Jack Rodwell, starting his first game in almost six months, was another source of City optimism, excellent with his threatening first-half presence in the box and a shot which Petr Cech touched over. Without the goalkeeper and Gary Cahill, who made three crucial early blocks, the game could have been over by the break.
Benitez said the penalty miss – awarded after an impetuous Hart clattered Ba as he made to receive Branislav Ivanovic's lofted ball from the right – was a turning point and justifiably felt there should have been a yellow card at least. Mancini insisted that both Hart and Kolo Touré were at fault for failing to deal with the long ball which caused the trouble in the first place.
Almost immediately after the save, Yaya Touré flashed a glimpse of the exquisite movement which defies his size, ghosting past John Obi Mikel in the Chelsea area and curling a right-footed shot before Cahill could block, when Silva's neat footwork had worked some space to lay the pass.
Tevez, on for Rodwell before the hour, wrapped up the inevitable with a fine finish after Ageuro and Silva linked to lay on the chance. "I'm not the chairman of Chelsea, I like Benitez because he is a good man and has showed he is also a good manager," Mancini, offering no public sympathy for the plight of a stand-in.
The Spaniard will need that quality if he is to deliver any consolations from a difficult, sometimes desperate campaign.
Register for free to continue reading
Registration is a free and easy way to support our truly independent journalism
By registering, you will also enjoy limited access to Premium articles, exclusive newsletters, commenting, and virtual events with our leading journalists
Already have an account? sign in
Join our new commenting forum
Join thought-provoking conversations, follow other Independent readers and see their replies