Match Report: Rafael Benitez in denial as Moussa Sissoko and Newcastle United expose the truth about Chelsea
Newcastle United 3 Chelsea 2: Newcastle are sparked into life by their new French connection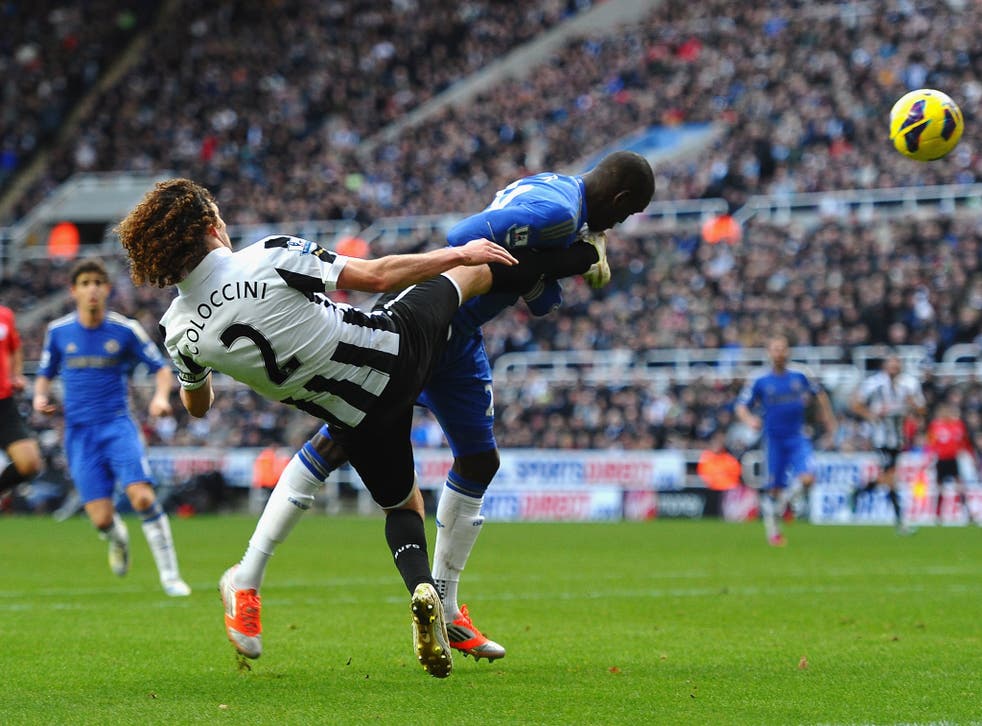 You can, at least, not fault the defiance of Rafa Benitez. He again proved immovable, unlike his side. "We could have won every single game we draw or we lost, every single game," he insisted after yesterday's defeat. "In all the games we had chances and played good football in the majority of them. When we couldn't we still had chances to win."
To watch the highlights of this match, click here
Fact: Chelsea have picked up 22 points from a possible 39 during his reign, two points less than Roberto di Matteo picked up from one less game this season.
"We are trying to finish in the top four, or top three, and we can," added Benitez. "We are still looking up towards Manchester City. With some players coming back I think we have more options. When we are in form and doing well we can beat anyone."
Fact: Chelsea have won three games out of their previous 10 in all competitions.
"I was really pleased with the reaction of the players," said the interim manager of Chelsea. "That is the main thing for me. The players showed character in the second half. It means something is right. If we cannot control these games, it is something we will have to improve."
Fact: they were gun-ho, leaving gaping holes all over their defence and allowing Newcastle to fight back from a lost position.
With Rafa there is always a "but".
Frank Lampard's goal tally reached double figures for the 10th season running, a quite phenomenal achievement, with a breathtaking strike in the 54th minute
"I'm here to talk about the game," said Benitez when asked about the fact Lampard is set to leave Stamford Bridge in the summer.
There was, and indeed still is, some sympathy for Benitez. His looked a losing hand when he succeeded Di Matteo.
Yesterday, a crucial decision went against him. Demba Ba had seen a shot saved by Tim Krul when the ball came back to him in the Newcastle penalty area. He headed the rebound narrowly wide. As he lowered his head, Fabricio Coloccini's desperate attempt at a saving tackle saw him smash his former team-mate in the face.
"We couldn't change the situation of Demba Ba," he added. "It was a penalty and a red card for me. In the middle of the park [it would be] carry on, go back, free-kick. In the penalty area [it would be] carry on, go back, penalty and red card. It would have changed the game. We lost one player with a broken nose.
"It is something we have to consider. In other circumstances everybody would be talking about this. I want to remind you that that happened. Sometimes we don't remember these things. After watching the replay it is very clear. A player with a nose broken and bleeding for five minutes I think is good evidence. Demba has a broken nose and we will have to wait and see."
Ba received lengthy treatment. Eventually, with his face taped up, he returned to the game. It was short- lived. By the time he was forced to leave the field, to cruel jeers from the majority of Newcastle supporters, his new club were behind. Davide Santon had crossed from the left and Jonas Gutierrez stole in ahead of a flat-footed John Terry to glance a header past Petr Cech.
Lampard had missed a fine opportunity after just quarter-of-an-hour but on 55 minutes made amends in style, crashing a 25-yard shot past Krul. At that point Benitez was correct. Chelsea took control. A second, delightful goal would come their way just past the hour, Fernando Torres, who entered as Ba went off, laid the ball to Juan Mata and the finish was precise, curling into the top corner of the Newcastle goal.
At this point Benitez needed his new team for once to speak up for his endless work on the training ground. They did not.
Moussa Sissoko, the January signing from Toulouse, had become an increasing presence in the game. In the 68th minute, when fellow home debutant Yoan Gouffran broke free of an absent Chelsea defence and saw his shot parried by Cech, Sissoko was there to equalise.
That was the end for the visitors. Newcastle had new energy. In the 90th minute Sissoko passed to Santon, took the return and drilled a fierce, low drive into Cech's goal.
"It is undoubtedly the game of the season," said Alan Pardew. "It was fabulous. I do not think we will better that. When you play the top sides, it is important to knock them out of their stride.
"We got the goal and in the second half Chelsea came out and showed why they had such fabulous players. We struggled for 15 minutes. They were two unbelievable goals. It can knock the stuffing out of sides but we didn't let that happen. We had intelligence. We got a breakaway and then we were back in the game. It was a fantastic winning goal. It nearly took the roof off. The whole team was magnificent. Sissoko? I don't really need to say too much. His performance spoke for itself."
Something Benitez's Chelsea still cannot do.
Join our new commenting forum
Join thought-provoking conversations, follow other Independent readers and see their replies