Match Report: Santi Cazorla's in a spot of bother after being caught in dive storm
Arsenal 2 West Bromwich Albion 0: Referee incurs anger of Albion manager Clarke for failing to see theatrics of Spaniard or Oxlade-Chamberlain's foul before awarding penalties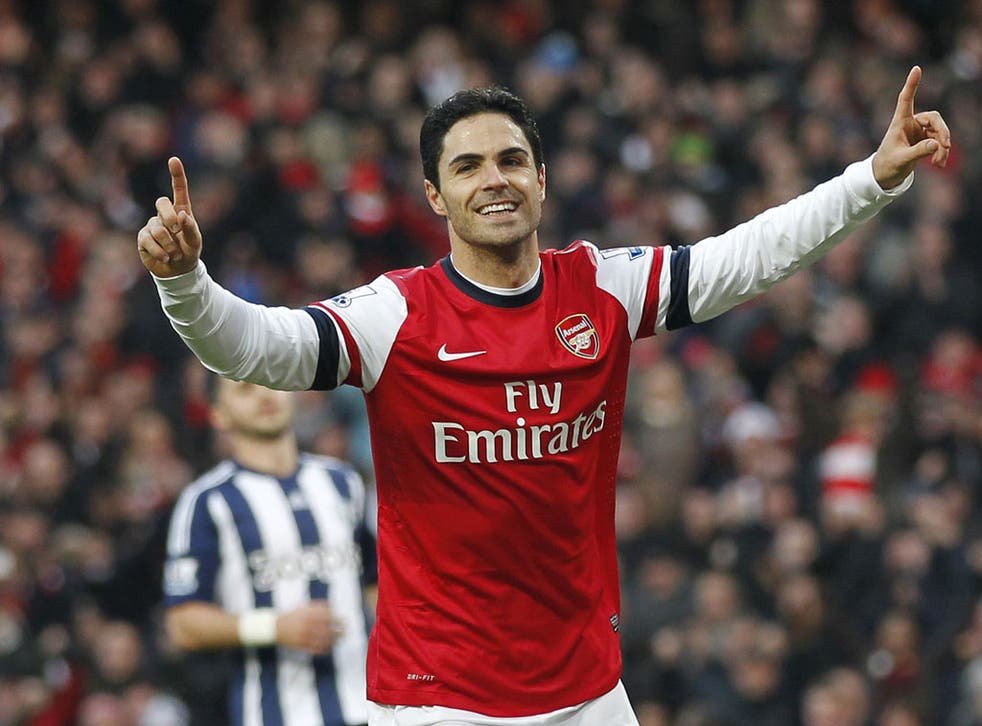 Christmas came early here on a chill midwinter afternoon, with Mike Jones as Santa and a man called Santi, unusually, playing the grateful recipient. Having made Arsenal a present of one penalty kick when Santi Cazorla dived outrageously over the foot of Steven Reid, referee Jones granted the home team a second one, even though Alex Oxlade-Chamberlain had nudged another unfortunate defender out of the way before being fouled.
Mikel Arteta chipped both kicks down the centre of the goal with nerve as cool as the weather and Arsenal supporters were left to reflect on their club's supposed crisis from sixth place in the Premier League table. Whatever that table shows, they are clearly a better side than West Bromwich Albion, who will almost certainly have further to fall from the heights of the top three that they surprisingly reached a fortnight ago. Three subsequent defeats have brought about a dose of reality. Yesterday they lacked creativity and consequently were unable to service the normally brighter Irish striker Shane Long.
In contrast Arsenal, almost unfairly, had the Anglo-Spanish combination of Jack Wilshere and Cazorla operating close to their peak; and probably cursing the ineptitude in front of them as they carved out the chances. With Arteta requiring little assistance in holding up Albion's attempts to move the ball forward, Wilshere was able to attack at will from one of the nominally more defensive midfield berths as well as spreading play effectively to both flanks. His one bad moment was sliding a shot wide when set up by the otherwise hapless Gervinho.
Albion's plan to frustrate the home side and their crowd looked workable for most of the opening half an hour but fell apart after the crucial incident in the 27th minute. Cazorla twisted in on the left hand-side of the penalty area and as Reid, the right-back, moved to tackle him he fell to the floor. Later he would tell Arsène Wenger he had been touched and lost his balance but from almost every replayed angle there was no contact at all, let alone enough to bring a solidly built footballer to the floor.
It was enough to provoke the West Bromwich manager Steve Clarke to abandon his policy since taking the job of not criticising referees. "There was zero contact, it was not even close," he said. "It was a bad decision and it changed the shape of the afternoon. We knew the longer the game went on the more pressure would come on Arsenal, and that decision changed it. Cheating is too strong a word but the culture in the game now is for players to go down more easily than years ago."
There were two other decisions that upset Clarke almost as much and with some justification. Towards half-time there was a strange incident in which Per Mertesacker handled a long free-kick in his own penalty area while under pressure from Jonas Olsson but Arsenal were given a free-kick. "I've looked at it again and for the life of me I can't see a free-kick," Clarke said. "Then in the lead-up to the second penalty, Goran Popov was fouled."
That appeared to be a push by the forceful Oxlade-Chamberlain, who was then clearly brought down by Chris Brunt to offer Arteta his second opportunity and put the game well beyond Albion. Clarke felt his team "had chances" although there were not many of them, and the few tended to be from set-pieces rather than open play.
Brunt produced the only real effort of the first half, curling a fraction over the angle with his less-favoured right foot after Youssouf Mulumbu was crowded out. In between the two goals, Gareth McAuley glanced a header wide from one of Brunt's well placed free-kicks and later another one was headed feebly wide by Romelu Lukaku.
For Arsenal, Olivier Giroud, Gervinho and the substitute Lukas Podolski were all wasteful, the German committing the worst miss just before the finish when Wilshere set him up only a few yards out.
Gervinho, rapidly becoming the least popular player at the Emirates – at least when Aaron Ramsey does not play – sent a feeble stab from equally close-range straight at goalkeeper.
Wenger was understandably pleased with his two youngest men. "Jack [Wilshere] is getting closer to the player we know he is," he said. "Today he made a big step. You could see in training that he's gained a little zip." As for Oxlade-Chamberlain, who should go on to become an important player for England alongside his club-mate: "He's on the same trend as Jack, getting better, stronger, more mature, especially more determined."
Clarke believes that the next seven or eight games will shape West Bromwich's season, which applies to most teams in this next hectic month and a half.
Arsenal (4-2-3-1) Szczesny; Sagna, Mertesacker, Vermaelen, Gibbs; Arteta, Wilshere; Oxlade-Chamberlain (Coquelin , 77), Cazorla (Podolski, 87), Gervinho (Rosicky, 81); Giroud.
West Bromwich (4-2-3-1) Myhill; Reid, McAuley, Olsson, Ridgewell (Popov, 6); Mulumbu, Morrison; Odemwingie (Lukaku, 62), Gera (Rosenberg, 75), Brunt; Long.
Referee: Mike Jones
Man of the match: Wilshere (Arsenal)
Match rating: 5/10
Join our new commenting forum
Join thought-provoking conversations, follow other Independent readers and see their replies