Mauricio Pochettino to Chelsea: Tottenham manager added to Blues wish list
Spurs manager's fine season, record of bringing on home-grown talent and less abrasive nature than Mourinho impress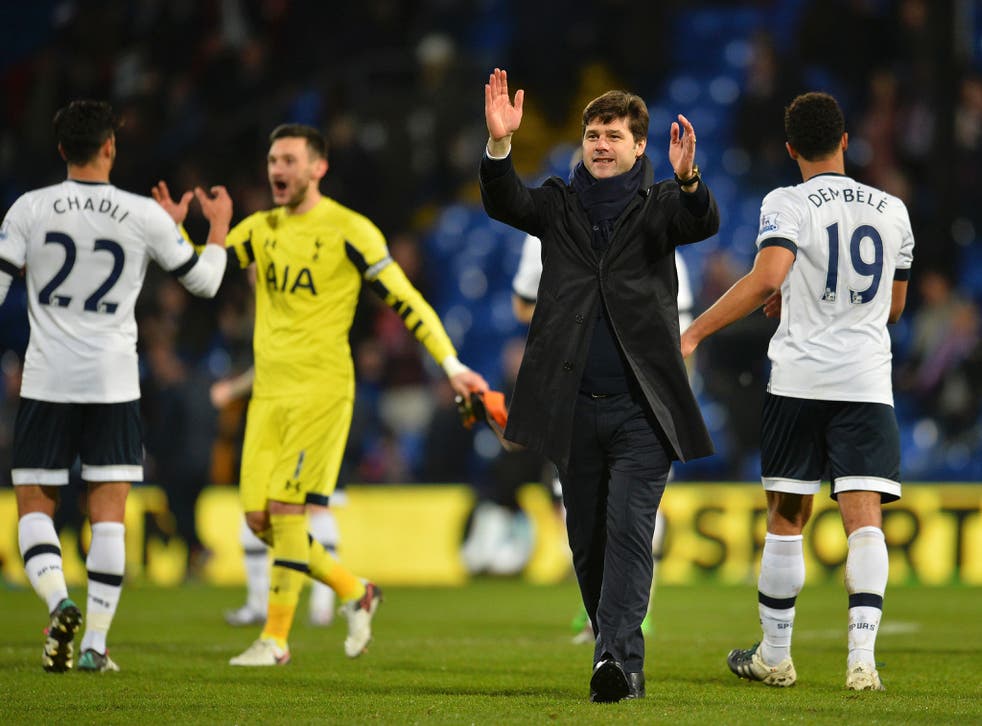 The Tottenham Hotspur manager, Mauricio Pochettino, has emerged as a strong and credible contender to take over at Chelsea next season, as the club's search for the individual to succeed Guus Hiddink centres on five names.
The Italy manager, Antonio Conte, features strongly, as The Independent revealed last month, but it is understood 43-year-old Pochettino's demonstration that he can flourish in the Premier League, while helping young home-grown players to develop, has put him in strong contention.
Other contenders, five months from the time Chelsea must look to replace temporary manager Hiddink, are thought to be the Argentine Jorge Sampaoli, who quit his job as Chile manager this month after a dispute with the national federation, the Atletico Madrid manager, Diego Simeone, and the France manager, Didier Deschamps.
Chelsea, however, faced other uncertainties on Tuesday night. Their recruitment of young talent was under scrutiny after it emerged Burkina Faso international Bertrand Traoré played for their Under-18s side when aged 16, in an apparent breach of Fifa regulations. Football's world governing body would not confirm whether an investigation was under way, though Chelsea could face the same transfer embargo as Real Madrid and Atletico Madrid if found guilty of wrongdoing.
The club's search for a manager is the prime preoccupation, however, with Pochettino's attraction residing with his far less abrasive image than Jose Mourinho and his willingness to provide more opportunities for young players than the Portuguese.
Chelsea always valued former manager Mourinho's warrior spirit and the ability to deliver trophies remains the main prerequisite. But the Stamford Bridge hierarchy's desire for a less confrontational edge to the club pre-dated Mourinho's return in 2013 and Pochettino, with his understated intensity, would bring that. He may also resolve a contradiction at the heart of Chelsea's youth policy. They pay substantially more in wages for young players but offer minimal pathways into the first team.
Vaishali discusses Chelsea's January transfer window NEW
Conte is a serial winner who offers experience of handling elite players, though he, like Deschamps, would have heavy European Championship commitments until early July. Conte guided Juventus to three consecutive Serie A titles, while Sampaoli took Chile to their first Copa America trophy last year.
Tottenham's reluctance to let Pochettino leave would be the most substantial impediment, especially if he manages to steer Spurs into the Champions League.
Chelsea had to meet the Tottenham chairman Daniel Levy's demands for £5m compensation to get sporting director Frank Arnesen in 2005 and Pochettino will be only be two years into a five-year contract this summer.
But with several big clubs likely to be chasing a small pool of elite managers this summer, there are likely to be some lucrative offers for the Argentine.
It is probable that Manchester United will also be seeking a new manager, with several sources now suggesting the Old Trafford club will seek to get to the end of the season and then amicably part company with Louis van Gaal.
Van Gaal is bemused by suggestions that he has offered his resignation in recent days. He told the club in December that if there was any moment when they decided they wanted to part company with him then he would not make it difficult for them and would not demand any compensation. But though there has been an adverse reaction following two moribund home performances, there has been no further talk of a departure.
As for Traoré, there were a number of clubs interested in signing him when it was announced in August 2010 the teenager – one month before his 15th birthday – would sign for Chelsea. He attended school in London and played in a Chelsea Under-18s match at Arsenal on 23 October 2011, when he was 16.
International transfers are permitted only for players over the age of 18. Under-18s can move to a club in a different country only if their parents move there for non-footballing reasons, if they are from another nation within the EU and aged between 16 and 18, or if they live within 100km (62.5 miles) of the club.
Chelsea were supplied with a number of questions yesterday in an attempt to clarify their position but said only: "Bertrand Traoré was registered by Chelsea FC in January 2014 in compliance with FA and Premier League rules. Prior to that date, he was party to an option agreement which enabled the club to acquire his registration in January 2014. The option agreement was registered with, and approved by, both the FA and the Premier League."
Join our new commenting forum
Join thought-provoking conversations, follow other Independent readers and see their replies