Per Mertesacker: Arsenal got a wake-up call from Southampton defeat
Arsenal have been excellent so far in 2015, scoring 15 goals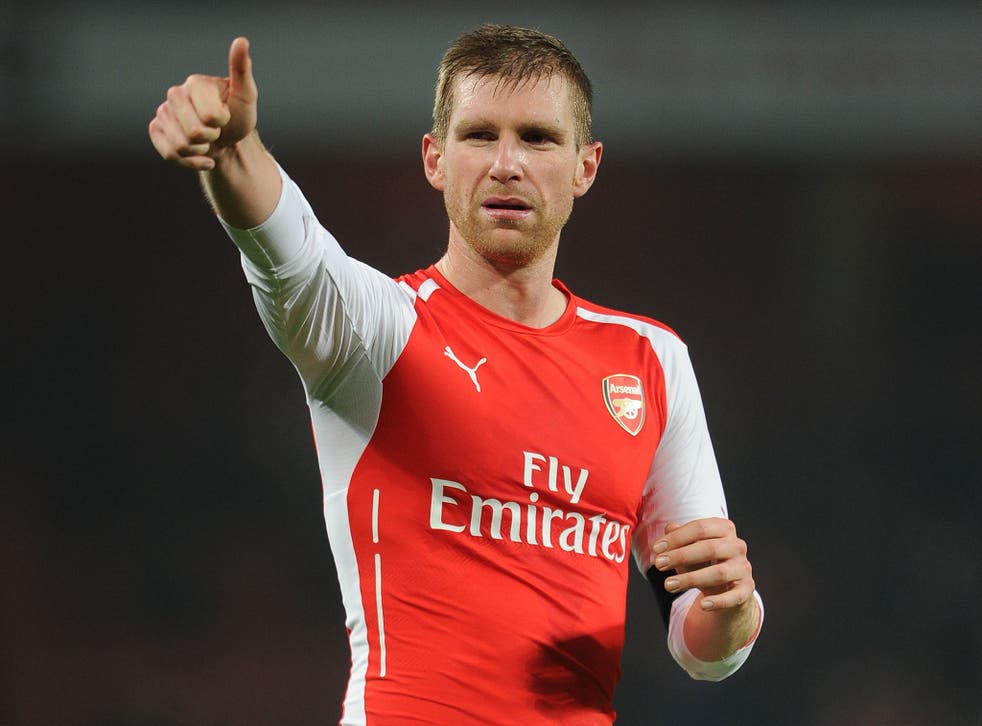 Bad defeats can have good results, as Arsenal are busy showing. They have now won five straight games, finally finding some real rhythm, allowing them to take on the serious half of the season with hope of delivering another trophy.
Per Mertesacker, the stand-in captain, puts it down to the players' reaction to their "wake-up call" 2-0 defeat at Southampton on New Year's Day. Apart from that, Arsenal have been excellent so far in 2015, scoring 15 goals, conceding just two and even doing what no one thought they could, taking three points from the Etihad Stadium. If it took being outplayed at St Mary's, maybe that was for the best.
"Southampton was a major setback, a bad start to the year," admitted Mertesacker after Sunday's 5-0 thrashing of Aston Villa at the Emirates. "After that, we promised ourselves to come out of the comfort zone, and be a bit more focused."
Beyond the matters of personnel – Francis Coquelin is now established as the holding player in midfield, David Ospina has taken over in goal – there are a new discipline, unity and drive to this often-fragile side.
"What comes first is defensive work, and not just for the back four," Mertesacker explained. "That was the main thing for us to focus on. And after that we played more convincingly, especially defensively. You can see the benefit when everyone realises that, and everyone realised it very quickly after we lost to Southampton."
Arsenal had not been playing poorly before the Southampton game but they were well beaten. Since then, they have kept four clean sheets out of five, including, uncharacteristically, at Manchester City. "Maybe sometimes you need a wake-up call to realise what was really important," Mertesacker said. "We worked a lot on our defensive shape. We look much better, and the best game defensively was against Manchester City, that was a bit of a change."
"We talked consistently about how to find our best way, but you have to show it on the pitch, otherwise everybody will doubt you and you cannot see any benefit."
After years of playing their expansive game and losing at City, the change of tack worked. "In the last years, we went there and wanted to convince everybody that we can go and play our own way, so that was a bit of a change," Mertesacker added. "Sometimes we have to do something else that was unexpected."
While the team improves defensively, they also have far more to come going forward. Theo Walcott and Mesut Özil both started and scored on Sunday after lengthy absences. Özil was especially impressive – with a brilliant flick to set up Olivier Giroud's opener – and Mertesacker thinks he is close to finding his best form.
"We played together at Werder Bremen as well as for the national team," the centre-half said. "He was always that promising talent and now he is showing it a lot more. He has had so much experience in his young career."
Özil's goal was just his 10th for Arsenal, though, and Mertesacker believes he can do better. "Sometimes I wish he is more selfish in front of goal, you can see when he breaks through the lines, he should have scored instead of looking for another player. He is dangerous, has pace and is always a threat."
Join our new commenting forum
Join thought-provoking conversations, follow other Independent readers and see their replies