Nemanja Matic interview: My family were in tears when we left Lisbon
Although it was hard for his wife, Serb is happy they're back in Chelsea where this time he feels ready, he tells Glenn Moore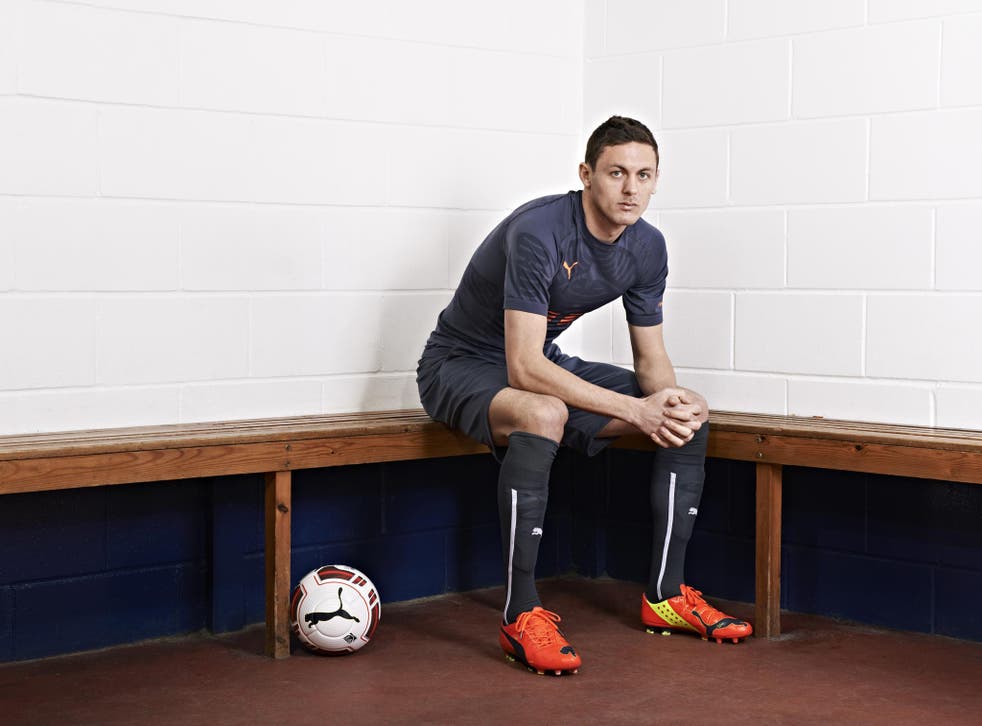 It is the story, for many, of the modern world. Nemanja Matic is 25. Already he has worked in five countries, having left his Serbian homeland as a teenager.
He speaks four languages and has proved an adaptable, hard-working employee. Apart from the fact his career as a footballer means he is famous, and rich, his could be the story of many an itinerant immigrant, getting on his bike, in Norman Tebbit's infamous phrase, to further his prospects.
But it has come at a price. When he told his family he was rejoining Chelsea last August there were tears, not because they feared he would again be unable to break into the team, but because they were very happy in Portugal, where they lived outside Lisbon near the upmarket beach resort of Cascais.
"When I was alone, [moving] was nothing special because I would just change apartment," he said. "Now I have a family, a wife and a three-year-old son, it is very difficult. They are used to living in one place. Then I come and say 'we are moving'. To be honest, they cried when we left Portugal."
There is a wry grin when he is asked if his family are enjoying the English weather. London's shopping, it seems, provides solace for his wife, as she adapts to new surroundings. His son, however, remains confused by the proliferation of red buses. Matic explains: "Benfica's team bus is red. When he sees a red bus he thinks I'm on it."
Few industries have embraced immigration as enthusiastically as football, perhaps only the hospitality and agricultural trades. Footballers are, of course, far more lavishly remunerated than fruit-pickers and waitresses, but while wealth makes life easier, it does not insulate people from unhappiness.
Matic, however, seems not to have a care in the world as we chat at AFC Wimbledon's Kingsmeadow ground, where he is promoting the launch of the PUMA evoPOWER 1 football boot. And why should he? Since he returned to Chelsea in January they have eased seven points clear in the Premier League, in which they play Aston Villa today, and look set for the last eight of the Champions League. Matic has swiftly emerged as a key figure. Making his second debut he bested Yaya Touré as Chelsea won at Manchester City and has barely put a foot wrong since.
Matic's performances have vindicated Chelsea's decision to pay £21m for a player they had sold for £5m just three years earlier. This volte face was permissible because the manager who bought him, Jose Mourinho, was not the one who sold him (Carlo Ancelotti), and the player was the same as the one they sold in name only.
Matic was an attacking midfielder, just past his 21st birthday, when he joined Chelsea the first time, from Slovakian club Kosice, for £1.5m in August 2009.
"I was very young," he recalls. "In my position that time were big players, Ballack, Lampard and Essien. I came here injured – I was four months out – so it was difficult for me. The Premier League is not easy for young players because it is very hard, very tough. Most of the players are very tall. In Portugal I used to play against small players and I won every ball. Here it is more difficult.
"From a Slovakian team to come to the Premier League is not easy. For me it was like a dream, but I was young and it was a good experience."
However, in 18 months he played only three matches before being loaned to Vitesse Arnhem. "When you leave a big club and go on loan to a small club in Holland it is not easy. But I am a footballer and I have to be professional about my job. I think, 'OK, if I cannot play at Chelsea, I have to find some club where I can play'. For a young player, the most important thing is to play."
After five months in Arnhem it was time to pack his bags again. "My agent told me Benfica wanted me to go there [as part of Chelsea's purchase of David Luiz]. I say, 'OK, Benfica is a big club, for me it is good if I play there'."
He adds: "I think I did not make a mistake." Indeed, it was in Portugal that his career was transformed, by coach Jorge Jesus. The Portuguese may not be popular with Tim Sherwood after Thursday's touchline spat at White Hart Lane, but he has a fan in Matic, having seen something in the tall Serb that various Chelsea managers had not.
"When I went to Benfica I played like a No 10 in the team. The coach told me, 'You are going to play like a defensive midfielder'. I said, 'Me?' He said, 'Yes, I think you can play better in that position'.
"I never played that position before. In the start I didn't play so well, but he believed in me, he believed in my quality, and kept saying, 'Just do what I ask and slowly you will play better and better'. I did.
"I worked every day tactically with him to improve. I think I've improved a lot, and also physically I train very hard every day. After training, I stay every day to work alone in the gym."
He was also given videos to study, primarily of his predecessor as Benfica's defensive midfielder: Javi Garcia – who had left for Manchester City.
And then Chelsea called, again. Did he have doubts? Not at all. "I spoke with my agent one minute and that is it. I decide it is good for me to come back. You ask me about money? I didn't know what my contract was going to be. I just said, 'OK, I go there'. We made a deal and I am happy. For me, I want to improve, to play good football in a good league; the money is not the most important thing.
"I decided to come back because I feel now is the right moment to play Premier League, now I feel I am prepared. Chelsea is a big club and I want to use this chance to play for a big club in a big league and work with a coach like Mourinho. He was one of the reasons I came back because probably he is the best coach in the world and it's good to work with him. I think I can improve a lot."
Which is good news for Chelsea fans, but a frightening prospect for his opponents.
Nemanja Matic wears the PUMA evoPOWER 1, available from ProDirectSoccer.com. #StartBelieving at PUMAFootballClub.com
Join our new commenting forum
Join thought-provoking conversations, follow other Independent readers and see their replies