Newcastle standing at a crossroads ahead of crunch clash with Huddersfield as Rafa Benitez eyes survival
Beat Huddersfield at another sold-out St James's Park and the Magpies have the best part of two feet in next year's Premier League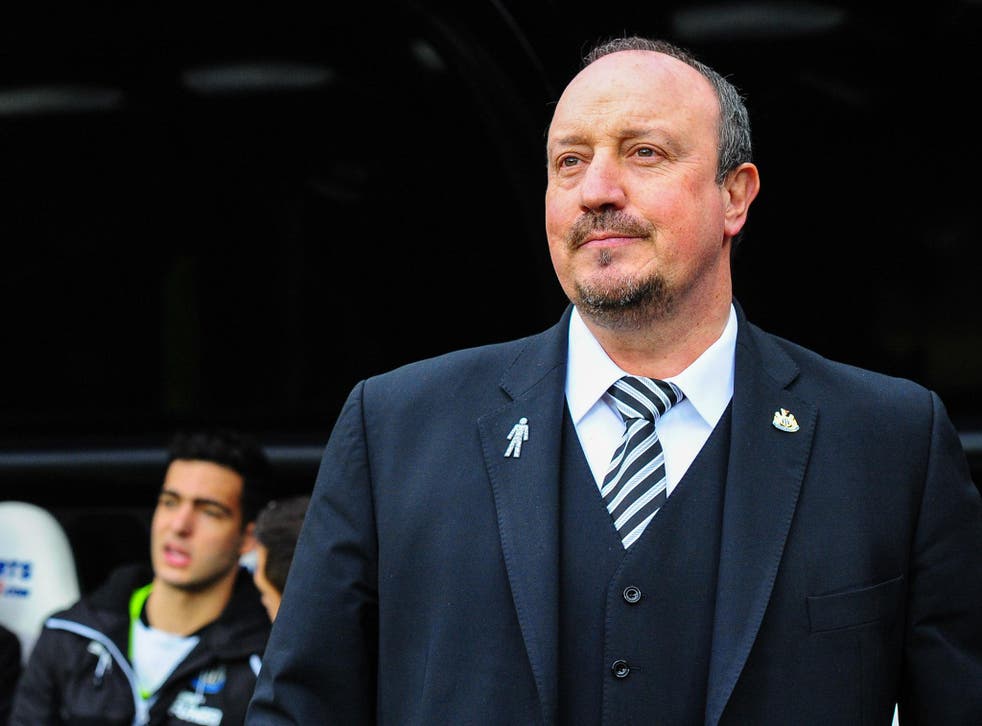 There was a trip to the ice rink with his daughter, a huge round of selfies, family time, but in the back of Rafa Benitez's mind was the desire to watch videos of Huddersfield Town.
It is approaching three weeks since Newcastle United played a competitive game of football, and at this time of year, that is too long for the Spanish manager. He was effusive in the build-up to perhaps the defining game in Newcastle's season. Beat Huddersfield at another sold-out St James's Park and the Magpies have the best part of two feet in next year's Premier League. Lose, and a possible implosion will be on the cards.
As per usual, he has studied videos of the opposition, something he started doing in his teens. Huddersfield could sit deep, or they could press high as an energetic team. That could leave gaps and the team that has evolved through this campaign now has the tools to exploit such opportunities.
Kenedy's admission that he would like to extend his time at the club beyond the end of this season, when his loan from Chelsea expires, has been warmly received (although it is thought there is no agreement in principle in place). He has altered the dynamic of the team, scoring twice and having 14 shots in six games.
"When you talk about Kenedy, the deliveries, the passes, the free-kicks, the corners, he gives us something apart from the goals," said Benitez. "He was giving us something different that was helping the rest of the team."
He has also played a key part in the two victories, against Manchester United and Southampton that has so dramatically changed the mood of a city. Martin Drubavka's arrival has also been important (he has yet to concede a goal at St James'), and finally, against Huddersfield, it is expected that Islam Slimani will wear black and white for the first time, with Joselu injured. The impact of that player's arrival, Benitez argued, was the improvement in Dwight Gayle, who has scored twice and assisted two goals in his last four games.
The signing of good players who have had an impact has certainly added a spring to Benitez's step. It lends power to his arm. When Newcastle lost to Huddersfield back in August, there was a fractious feel to the club as an internal battle over the transfer market wore on.
In a disjointed season, Newcastle recovered, did well, moved to fourth, were then subject to the distracted talk of a takeover bid from Amanda Staveley, went on a winless run, but in recent weeks have returned with a new sense of unity. Benitez, to his credit, has kept calm through all those turns.
"Maybe the takeover talk was a distraction for him (Jamaal Lascelles), maybe for some players, but still, for me it is not an excuse," he added. "The reason we were not doing well is because we made mistakes, or because the other team was better than us. I was surprised he said this, but maybe it was for some players. "
What he was emphatic about was the greater pressure Newcastle have faced than either Brighton or Huddersfield this season, who were promoted with them from the Championship. Five of the last nine promoted clubs have been immediately relegated from the Premier League. Three points separate the three clubs, with eight games remaining.
"Of these three teams, we were in the most danger. Why? Because it's a top side, massive city, massive stadium, experience in the Premier League, so everybody was expecting we could be here or there [indicating a higher position in the table].
"We are considered an established Premier League team. They had nothing to lose at the beginning. Our first game against Huddersfield was the first game at home and you could see the atmosphere for them.
"I was watching the last game and they have nothing to lose. They are so happy, so pleased to be there and they are doing really well, so it's a win-win situation always for them.
"It's massive for everyone (to stay up in the first season) because of the difference between the TV money now. Every time, the money at the top is more and more. If you are at the bottom, the distance is getting bigger and bigger, so it's really important to stay in the Premier League.
"We cannot end the season here but it is a massive match against Huddersfield. I don't agree that if we win we are safe, but if we win, it will be a big step forward."
Join our new commenting forum
Join thought-provoking conversations, follow other Independent readers and see their replies