Nigel Pearson blasts Match of the Day's Gary Lineker, Danny Murphy and Jermaine Jenas for reaction to James McArthur incident
Leicester manager takes swipe at presenter after receiving criticism for clash with McArthur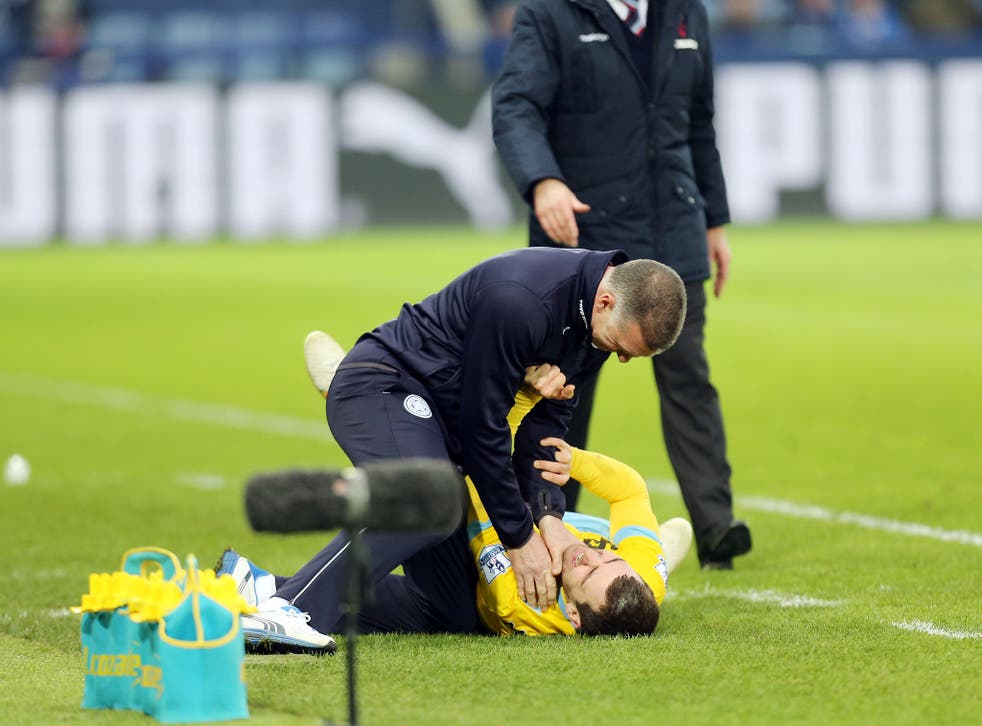 Nigel Pearson may have refused to shed any light on Monday on his reported sacking and reinstatement as Leicester City manager but he did get embroiled in a war of words with the club's former striker Gary Lineker over comments on Match of the Day about his behaviour during Saturday's 1-0 defeat by Crystal Palace.
When reports emerged on Sunday evening that the 51-year-old had been dismissed, it appeared he had paid the price for not just a third straight league loss that deepened his club's relegation worries but also his touchline tangle with the Palace midfielder, James McArthur – an incident for which he was criticised by the pundits on Saturday night's Match of the Day.
Lineker, presenting the programme along with Jermaine Jenas and Danny Murphy, described the incident as "strange" while Jenas said: "His whole reaction shocked me a little bit." Pearson went on to aim an apparent dig at Lineker and Murphy over newspaper allegations of their involvement in a tax-break scheme. "I thought they were slightly disruptive, yes," Pearson said. "I don't care what they think of me. I pay my tax bills."
Speaking at his press conference ahead of Leicester's visit to Arsenal tonight, Pearson said: "In an ideal world I would rather the story not be out there but it is out there and I have to deal with it." He added: "I understand the interest and you wanting to ask questions, but I have loyalties to the people I work for, my staff and the players, which really is more important to me than trying to clarify things for a story which was based on speculation."
It was hardly a denial, and nor was an apology forthcoming regarding his flashpoint with McArthur, when he appeared to grab the Palace player by the throat after he crashed into him on the touchline and both fell to the ground. Pearson called it a "non-event" and added: "It is not helpful when the three fountains of knowledge on Match of the Day make a mountain of a molehill. The lad is OK, it was light-hearted. How it was reported yesterday is totally inaccurate.
"I have had both my knees replaced. I did take quite a nasty tumble but we are fine. He is a likeable lad and good luck to him. And I think he dealt with it very well himself afterwards and was quick to point out there was nothing malicious going on."
Lineker later hit back on Twitter, his response providing an intriguing insight into the matter when he wrote, in an exchange with a football writer: "If I was [a fountain of knowledge] I'd tell you that he was sacked by one of the owners' family and reinstated by another, but then I'm not."
Lineker further responded to the claims with a Tweet (below)
Lineker began his career at Leicester and remains a fan of the club and his suggestion appears quite feasible, bearing in mind the whereabouts on Saturday of the members of the Srivaddhanaprabha family, Leicester's Thai owners. Vichai Srivaddhanaprabha, the club's billionaire owner and chairman, was making a rare visit to the King Power Stadium, while his son Aiyawatt "Top" Srivaddhanaprabha, the vice-chairman involved in the day-to-day running of the club, was on business in Bangkok, along with the chief executive, Susan Whelan. In these circumstances, Vichai Srivaddhanaprabha might well have decided to sack Pearson before being persuaded to reinstate him by his son.
When asked about the long wait between the rumours of his sacking appearing and the club's denial on Sunday, Pearson said: "The timescale was a lot different for me, let's put it like that." He added: "I have always had a very good working relationship with the owner and am sure I will, moving forward." Pearson was also asked if he had received reassurances about his job. He said: "I've had conversations, absolutely."
Join our new commenting forum
Join thought-provoking conversations, follow other Independent readers and see their replies