On-loan goalkeeper Thibaut Courtois still believes in Chelsea youth policy
Goalkeeper on loan in Spain is one of many young stars relishing future at Stamford Bridge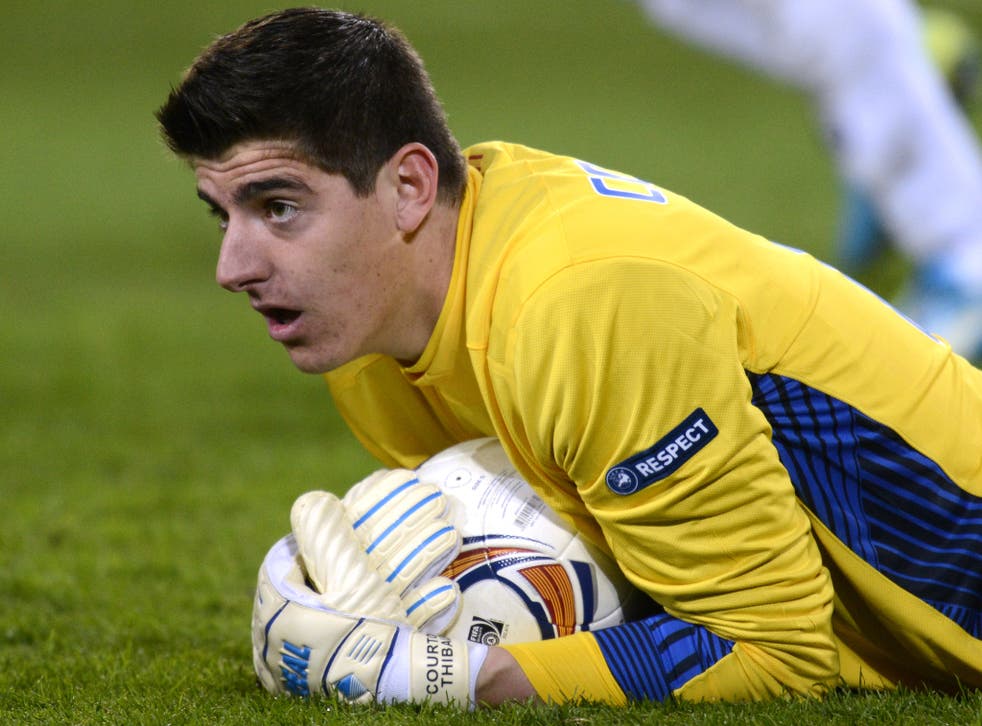 In the bowels of the Bernabeu in the early hours of last Saturday morning, Atletico Madrid players were filing on to the team bus that would take them to their post-Spanish Cup victory celebrations.
The 6ft 5in frame of goalkeeper Thibaut Courtois had stopped to speak first in Spanish, then in French and finally in English about where he will be playing next season.
Jose Mourinho, who has never hidden his preference for big, commanding keepers, had moments earlier declared: "His club will decide where he plays next season; and his club is Chelsea."
When Courtois, who only turned 21 last week, addressed the burning question he focused not so much on when he will return to Stamford Bridge, more on just how good Chelsea's young side will be when he finally arrives. "Chelsea have the young players that maybe in two or three years' time can win everything," he says.
Two days after Courtois made it three major trophies inside two seasons at Atletico Madrid, his friend Romelu Lukaku scored a hat-trick for West Bromwich Albion against Manchester United. Born a year and two days after Courtois, he is another who is ready to be recalled when Chelsea see fit.
The club also have Kevin de Bruyne, 21, on loan at Werder Bremen and Brazilian Lucas Piazon, 19, at Malaga.
When Courtois returns he will have fellow Belgian international Eden Hazard, 22, waiting for him as part of a squad that includes Oriol Romeu, 21, Oscar, 21, Ryan Bertrand, 23, Victor Moses, 22, and Juan Mata, 25.
"I signed with Chelsea, not just because it is a big club but also because of its commitment to young players," Courtois says. "I want to be part of Chelsea history."
When exactly he can start doing that will be down to the new manager. "There are lots of rumours; well, one rumour in particular," he says, regarding the identity of the new man in charge at Stamford Bridge.
Mourinho was the manager he left trophyless with two extraordinary extra-time saves in the Spanish Cup final. "He is a fantastic young goalkeeper with massive potential," Real Madrid's outgoing coach said.
It has been well documented that Courtois wants to stay another season in Spain but that desire comes only from the fear that if he returns to London next season he will spend too many games on the bench in what is a World Cup year.
"If the new manager says, 'I want Courtois as my first choice', that is how it will be," he says. "But Petr Cech is a world-class goalkeeper who plays every game at such a high level.
"Chelsea have always been very fair with me and they are also smart people and they know that I need to play. I don't know where that will be but I do know I have proved myself in the two years I have been here [in Madrid].
Until they are reunited, Chelsea's Belgians are in phone contact. He says: "If Lukaku scores a goal then I send him a message and if Hazard wins something then I congratulate him.
"I had to charge my phone as soon as I got off the pitch after the final, otherwise it was not going to make it through the night. It was some week with Chelsea winning the Europa League and then me getting a Spanish Cup-winner's medal."
Mature beyond his years, Courtois did let his guard slip in the celebrations that followed the Cup win, offending some Real Madrid fans with an insult when he took the microphone to address the celebrating Atletico Madrid supporters.
He will only have gone up in Atletico supporters' estimations for that. They have dubbed him "San Courtois" – a play on the "Saint Iker" nickname of Real Madrid's keeper Casillas.
The young Belgian is in line to win La Liga's Zamora prize for the keeper who has conceded the fewest goals this season. He said: "They will put 'Courtois' on the trophy but really I would prefer that they put Atletico Madrid because there have been games when we have defended so well I have hardly touched the ball."
His team-mates do not want him to leave. As the Atletico full-back Felipe Luis passed him en route to the team bus after that victorious final he reached up to pat him on the head and shouted: "He is the best in the world". Most commentators in Spain agree that he soon could be. And, as Mourinho has already pointed out, he belongs to Chelsea.
Register for free to continue reading
Registration is a free and easy way to support our truly independent journalism
By registering, you will also enjoy limited access to Premium articles, exclusive newsletters, commenting, and virtual events with our leading journalists
Already have an account? sign in
Register for free to continue reading
Registration is a free and easy way to support our truly independent journalism
By registering, you will also enjoy limited access to Premium articles, exclusive newsletters, commenting, and virtual events with our leading journalists
Already have an account? sign in
Join our new commenting forum
Join thought-provoking conversations, follow other Independent readers and see their replies