Harry Kane surprises Nigel Pearson after hat-trick hits Leicester's Premier League survival hopes hard in Tottenham victory
Pochettino feels Kane's humility and personality has been crucial to his development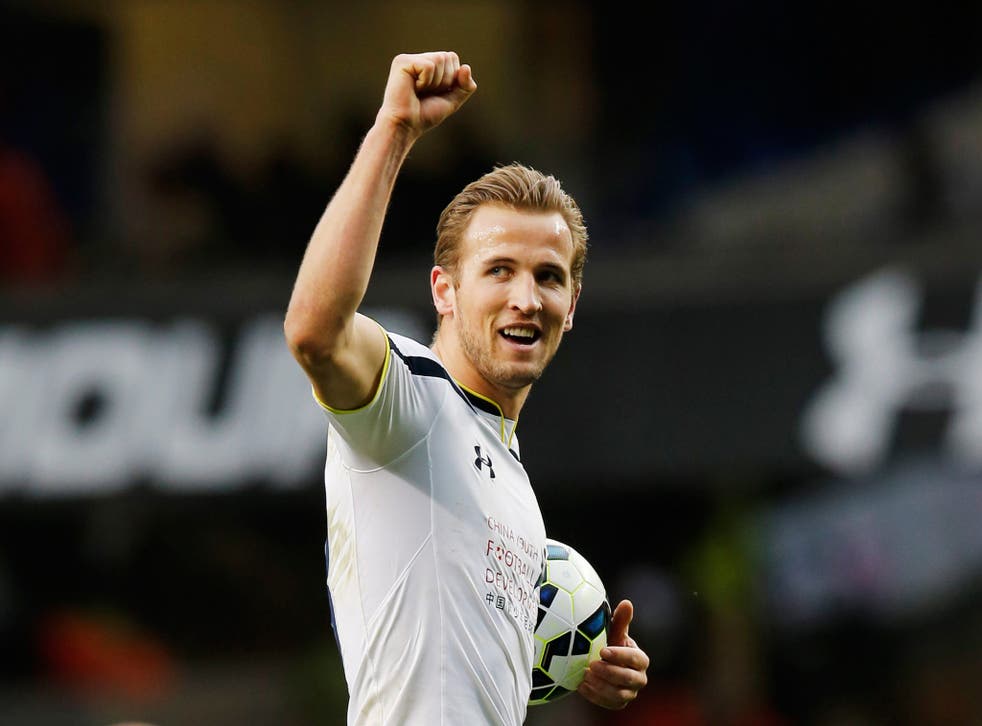 The question is no longer whether Harry Kane is worth a place in the England squad, but whether he is worth a place in the team. His club manager Mauricio Pochettino certainly believes so, describing Kane as one of the country's best-performing players this season.
It was certainly hard to dispute that on Saturday as the 21-year-old hit a first league hat-trick, just about securing a somewhat chaotic 4-3 win for Tottenham Hotspur over Leicester City. The identity of the opposition only emphasised the remarkable nature of Kane's rise given that it is just two years since he spent an underwhelming loan spell under Nigel Pearson in which he scored just twice in 15 games.
Pochettino, meanwhile, feels Kane's humility and personality has been crucial to his development.
"I think Harry is, today, a player who people prize a lot," Pochettino said. "I think that this season Harry has a big impact in English football. I think he's one of the better English players so far.
Tottenham Hotspur: The latest match pictures

Show all 77
"It's true he deserves his present [of a call-up], because Harry Kane is Harry Kane. He works hard, he's improved his game, is always available in training. Harry Kane deserves his moment. He's a very humble person. From the beginning of the season, I think he impressed us, his human side.
"His mentality always was to improve, never complains. I think it's a perfect mentality to develop his skill. He has the right mentality.
"It's always our job to try and improve our players, but Harry Kane is Harry Kane because he's Harry Kane!"
It's quite a different Harry Kane, however, to the player that Pearson had on loan at Leicester two years ago. The City manager attributed that to the difficult situation Leicester were in at the time.
"He was two years younger for a start," Pearson said. "You've got to put it into context that we were not in a good run at that point.
"It's never easy for a young player on loan to come into a side that's not on the top of their game, and have the impact you may want, but he did very well in his time with us, but I don't suppose anybody at that point would have seen the rise he's had.
"You could see very good technical ability, very good lad as well. His rise has been exceptional."
Pearson, who could face action from the Football Association for calling referee Mike Dean "arrogant", believed Leicester only had bad luck on Saturday in their quest to move off the bottom of the Premier League table. Although Kane put Spurs into a 2-0 lead after just 15 minutes, the away side fought back through strikes from Jamie Vardy and Wes Morgan, only for a contentious penalty to be given on 64 minutes by Dean for a tussle between David Nugent and Danny Rose.
Kane completed his hat-trick with the spot-kick, before Jeff Schlupp scored an own-goal, and Nugent claimed a late consolation. Pochettino was furious with his defence, and admitted it is the main area in which Spurs need to improve.
Register for free to continue reading
Registration is a free and easy way to support our truly independent journalism
By registering, you will also enjoy limited access to Premium articles, exclusive newsletters, commenting, and virtual events with our leading journalists
Already have an account? sign in
Register for free to continue reading
Registration is a free and easy way to support our truly independent journalism
By registering, you will also enjoy limited access to Premium articles, exclusive newsletters, commenting, and virtual events with our leading journalists
Already have an account? sign in
Join our new commenting forum
Join thought-provoking conversations, follow other Independent readers and see their replies