Pep Guardiola at a loss to explain how 'suffering' Manchester City leave him staring at his worst ever defeat
Guardiola refused to confirm if City remain in the title race after experiencing the heaviest defeat of his career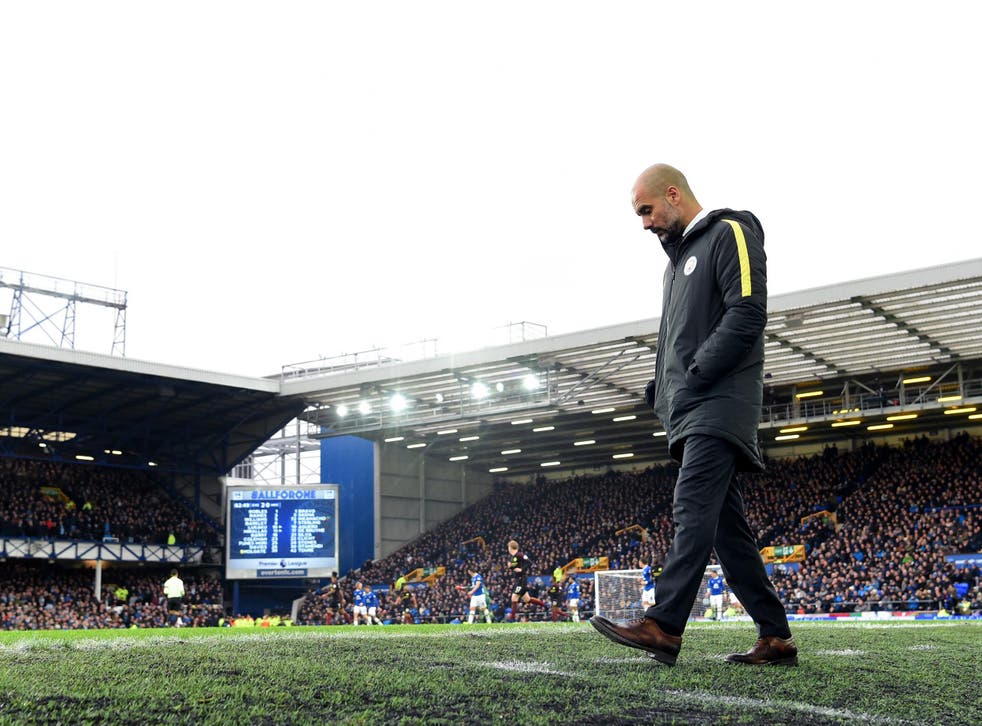 A bewildered Pep Guardiola admitted he cannot explain why Manchester City are conceding so many goals after their latest hammering at Everton.
The defeat represented Guardiola's heaviest in his eight-year career as a manager. Romelu Lukaku opened the scoring for Everton. Their second from Kevin Mirallas came at a vital time, just moments into the second half. Teenagers Tom Davies and Ademola Lookman sealed Everton's biggest victory over City in 31 years.
The result means City are now 10 points behind Chelsea at the top of the Premier League table. Though Guardiola would not concede that City are out of the title race, there was an impression that he recognises there is much he needs to change.
"Ten points is a lot of points, of course," he said. "We have to see. I spoke to my players over the last three weeks or month: focus on the next game and try to do our best. Then at the end of the season we will evaluate our levels and performances: how was the coaching, how the players were."
City had chances before Everton took the lead. Guardiola believes his team are currently being punished for a lack of ruthlessness.
"It depends how we create," he said. "If you score two or three goals in the first half, the consistency would be good. The West Ham game, we had two or three chances before we scored – like we did here. In the West Ham game we were not punished. Football depends the way you attack, being clinical; and having midfield players that are confident. If they don't score, that can affect the way you think. It would be a huge mistake to blame one person for this. It is the first time in my life I have conceded a lot of goals; that never happened before. That is why I have to know the reason why."
He continued: "Last season every team was inconsistent. This season the teams at the top are incredibly strong. Against Tottenham, they were much better but in the other games (where City have lost), I don't feel the opponents have been much better. In football, like in basketball and tennis, you have to put the ball inside the net and to stop the opponent from doing that. You have to find a balance between how you create and how you defend; then it is much easier for the players.
"They suffer [at the moment]. But like I said many times, that will make us stronger in the future. Maybe not this season."
Everton vs Manchester City player ratings

Show all 22
Ronald Koeman, the Everton manager, used to be Guardiola's roommate at Barcelona. The questions directed at him revolved around the performance of 18-year-old Davies, who was named as man-of-the-match. He described Everton's afternoon as "perfect."
"He's playing on a high level," Koeman said of Davies. "He has an impact for the team and ok you don't expect Tom will score every weekend but the level he showed, and real composure on the ball, that aggression, we need that - we need that from every player, if not, we can't win against City because there is a difference in individual and football qualities in ball possession."
"It's not all about the young players," Koeman added. "I like to bring in young players but of course you cannot play 11 20-year-old boys this afternoon. But they are for the future. If like Tom, like [Mason] Holgate, if they bring the performance and the level then I will be the first to put them on the list.
"Each Evertonian likes the way we played today and we are on a good run. Two wins, two clean sheets in the Premier League. That's what we like to expect."
Register for free to continue reading
Registration is a free and easy way to support our truly independent journalism
By registering, you will also enjoy limited access to Premium articles, exclusive newsletters, commenting, and virtual events with our leading journalists
Already have an account? sign in
Register for free to continue reading
Registration is a free and easy way to support our truly independent journalism
By registering, you will also enjoy limited access to Premium articles, exclusive newsletters, commenting, and virtual events with our leading journalists
Already have an account? sign in
Join our new commenting forum
Join thought-provoking conversations, follow other Independent readers and see their replies