Pep Guardiola out to prove he doesn't need Lionel Messi to succeed as he starts new Manchester City challenge
Guardiola says his motives for taking the City job are to challenge himself as a Premier League manager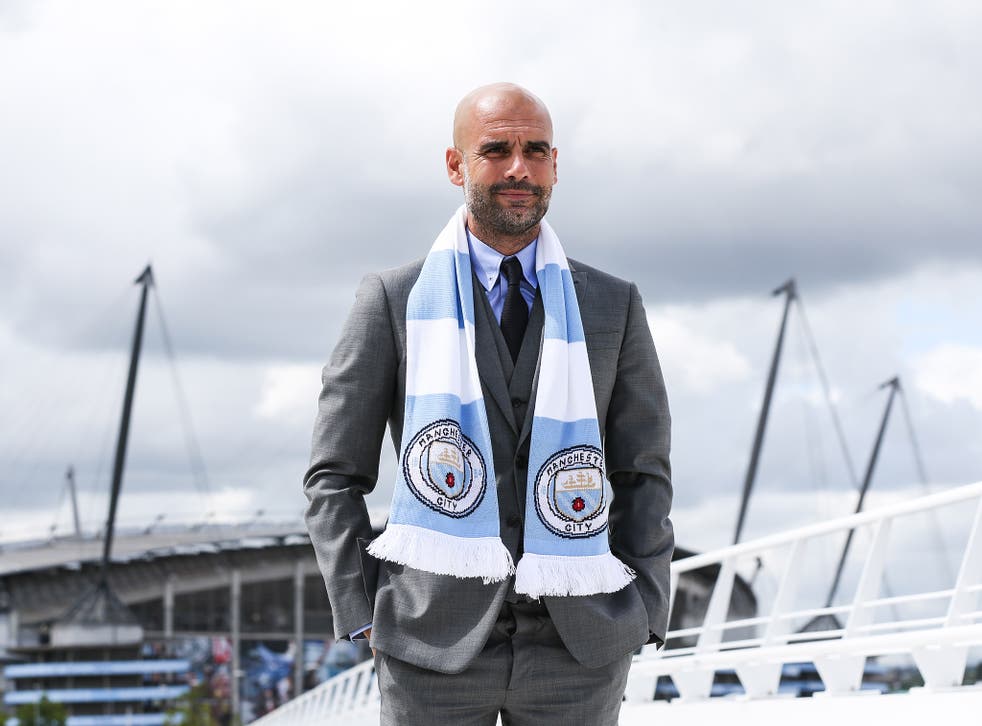 Pep Guardiola, the new Manchester City, declared on Friday that he was in the Premier League to prove he did not need Lionel Messi or an experienced group of players like Bayern Munich's to be a winner.
Guardiola said in an impressive inaugural press conference at City's academy that it would take time for him to learn how best to operate as a Premier League manager. But in a delivery which struck a balance between humility and confidence, he insisted that he believed he would be vindicated for his decision to leave a "comfortable" place for the tougher challenge of the Etihad.
"That's why I'm here. To prove myself," Guardiola said. "I was in Barcelona where I had absolutely everything: the best player ever (Messi) and one team where most of the players grew up from the academy (Bayern) so I knew them. Bayern Munich, a club who have a lot of experience as well for many, many things. Here is another test for my career. It would've been comfortable to stay where I was."
The 45-year-old admitted that he did not have all of the answers about what was needed to succeed in the English top flight. "I will need time to discover," he said. "It will be more physical. Half way through the season I may be able to answer the question better."
He referenced several of the touchstones of the weekly Premier League toil: matches against Sam Allardyce and Boxing Day fixtures – the latter of which he mentioned twice.
"I never played on the Boxing Day," said Guardiola, whose side face the trip to Hull City on England's east coast on that day. "I never go the stadium when it is windy and freezing. That's why it's a target for me –a personal ambition to me to say I want to prove myself.
"I never played in the Premier League before and Sunderland and Big Sam I play the first one. That is why I am here to see how it is and I have to adapt to the qualities of my players."
The Catalonian admitted that he could not say what he might achieve in the next three years. "It depends on what happens," he said. "Hopefully we will play well win games and fans are happy with us. I can't tell you. It's all about getting to know at the moment. I've been working eight or nine days with the team. I've got big expectations, I hope things go as well as they can."
Predictably, the new manager brushed away questions about Jose Mourinho – the manager with whom he has clashed and is now across the city at Old Trafford. "I don't see it as a question," he said, when asked if that worried him. "We are both here, Jose and I. He wants to win and I want to win."
Guardiola offered strong encouragement to Raheem Sterling, who has faced severe criticism after his disappointing European Championships, prompting the new manager to telephone him, offering words of encouragement. "I heard the last week or ten days what happened with Sterling," Guardiola said. "Obviously, he has a little bit of problem with the money they [Manchester City] paid, in the mind of the people. I am looking forward to helping him."
He also said that his relationship with Yaya Toure, whom he sold when Barcelona manager, was good, but was less effusive in his talk of helping galvanise him.
"I know Yaya from a long time," Guardiola said. "He did very, very well in Barcelona and here as well. He is a huge star and all the players who are here now come to me. After that, we will see what happens. Yaya is here. I connect to him."
Join our new commenting forum
Join thought-provoking conversations, follow other Independent readers and see their replies