'I'd like Mike Riley to explain the penalty rules,' demands Pep Guardiola as Manchester City squander more points
Pochettino admitted City were the better side on the night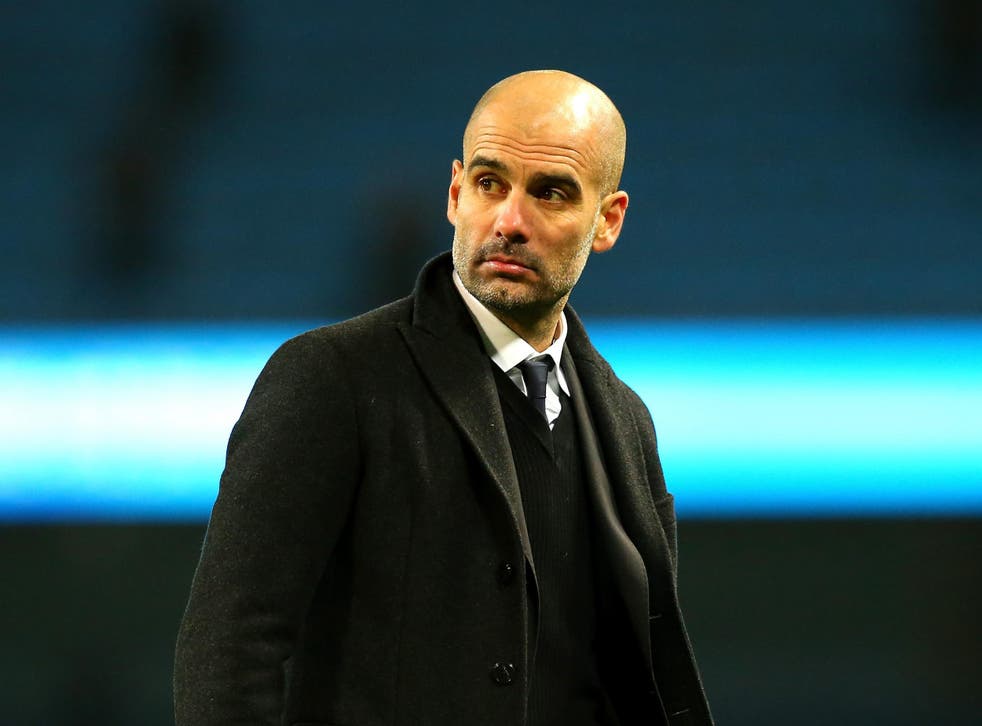 Manchester City manager Pep Guardiola said that he would like an explanation about the English rules from referees' leader Mike Riley, after insisting that his side had been denied penalty which could have seen them beat Tottenham Hotspur.
The Spaniard's opposite number Mauricio Pochettino flatly rejected his complaint that Raheem Sterling was blatantly pushed by Kyle Walker as he ran through on goal after 76 minutes, just before Spurs scored their equaliser in the 2-2 draw. Pochettino said it was important to understand that "in England it's different; we are in a different world here."
But Guardiola will take some persuading. He was deeply unhappy about the push in Sterling's back, which might have been punished had the player gone to ground, rather than continue to shoot. Walker admitted after the game that he did push the player.
"What did Walker say? And for Gundogan against Chelsea?" Guadiola asked, return to City's indignation that a penalty hadn't been given in the 3-1 home defeat to Antonio Conte's side last month, when Ilkay Gundogan going down in the area as he shaped to shoot and N'Golo Kante moved to intervene.
"It is the same argument as against Chelsea," Guardiola added. "We lost as we missed a lot of chances. When that happens the influence of the referee is higher. When you score a lot of goals the referee doesn't matter.
"The rules here are the rules. So maybe one day Mike Riley will explain to me. When he is pushed, I don't understand. Again, we lost as we missed a lot of chances, if we score a lot of chances the referee doesn't matter. When it happens, at the right moment the right decision is important. Sometimes it is not like this."
Guardiola did not dwell on the fact that his goalkeeper, Claudio Bravo, has now conceded six goals from six shots in the last two games, against Everton and Manchester City, and that in total City have now shipped 16 goals from 24 shots. A mere six of those 24 shots have brought saves from the Spaniard. Instead, he expressed frustration that their dominance was not rewarded with victory. Mauricio Pochettino admitted after he game that his side had been second best.
It was put to Guardiola that criticism Sterling has encountered for going to ground too easily in the past may have prevented him from doing so on this occasion, when it might have been advisable. "I don't know what people said about Raheem," he said. "I know you like honest people and I think people from other countries, we try to be honest as well. I am sad for the players again because when we play shit I will say we are playing shit. It is a pity as they don't deserve that."
Pochettino said: "It's a huge point for us. I think Manchester City were better than us over 90 minutes. The first half we didn't play the way we wanted to play, so I think it is an important massive point for us."
Of the Sterling incident, he said: "For me it wasn't a penalty, like the first goal Sane scored was handball. It's a good balance because in the two actions, that is England. If we review all the actions you can see that touch from behind happens a lot and the referee never says anything about that.
"For me it wasn't a penalty, in England it is different, you're different, you are in a different world here. I think we can't complain about the referee, it is true Man City were better than us, I need to be honest, but it is true in football that sometimes you are better and don't win."
Though two Hugo Lloris errors brought City's goals, Pochettino said: "I think Hugo kept us in the game in the first half. He was very good and made one or two great saves. And I think I have not changed my opinion of him, he is one of the best goalkeepers. That is football, for me it is an action that can happen. But we made a very good performance to come back."
Pochettino also suggested that Toby Alderweireld's hamstring injury, which saw him leave the field in the second half, "doesn't look bad."
Join our new commenting forum
Join thought-provoking conversations, follow other Independent readers and see their replies