Pep Guardiola says that it is referees that have a problem with diving, not Raheem Sterling
Sterling was denied what seemed to be a blatant penalty in the victory at West Ham and also had a strong case turned down at Liverpool in the Champions League last month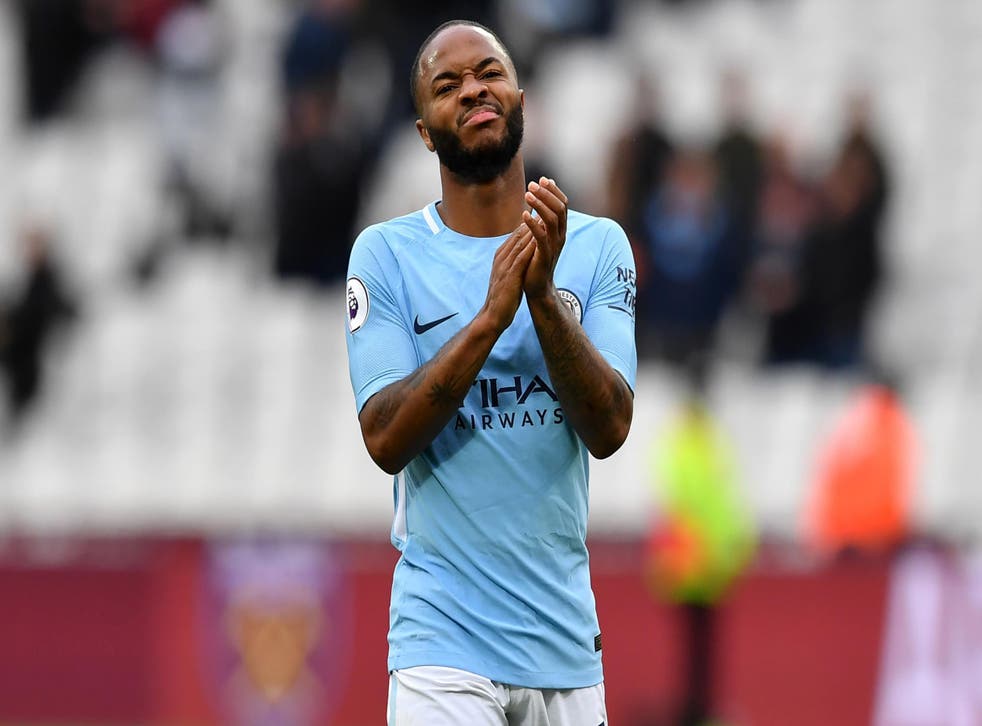 Pep Guardiola has said Raheem Sterling does not have a problem with diving - but referees do.
Sterling was denied a stonewall penalty against West Ham last weekend, the latest in a series of incidents this season, including a strong case for a spot-kick turned down at Liverpool in their Champions League quarter-final clash last month.
Guardiola believes Sterling is being hampered by an unwarranted reputation for diving - and City objected when Arsenal boss Arsene Wenger accused him of going down too easily earlier this season - but he hopes he will not let it affect him.
The City manager said: "Of course the people talk too much, say he is diving, and when people say that, people believe that.
"But he is a guy who is quite honest in those terms. He is smart, he is intelligent. He is a guy who never kicks the opponent.
"There was a penalty at Anfield, penalty at West Ham but the referees didn't decide to give them.
"But that is not Raheem Sterling's problem, it is a problem for the referees.
"But he has to accept it and handle it. If one person makes the wrong decision - stand up, go forward, next one. The next action is the most important thing."
Despite this and some criticism over his finishing, Sterling has still enjoyed an outstanding campaign with the Premier League champions.
The England forward has scored 23 goals and made 12 assists in all competitions. It is by far the 23-year-old's best return but Guardiola expects him to improve further.
He said: "He has made a fantastic season. Hopefully he can maintain it for the national team at the World Cup.
"But what I liked the most is the feeling that he can do better. The numbers this season have been top in terms of assists and goals, and the influence in our attack. I think in terms of mentality and belief he made a good step forward compared to last season.
"We'll see if he can maintain that level and I think he can do it."
City will be presented with the Premier League trophy after Sunday's clash with Huddersfield at the Etihad Stadium. Captain Vincent Kompany will be the man to lift it for the third time in his career.
The influential defender has been ravaged by injury in recent years and missed much of the first half of the current campaign. Guardiola hopes these recurring problems do not hasten the end of his City career.
Guardiola said: "Vincent, when he is fit, is one of the best central defenders I have ever seen in my life, for personality, for winning duels, what happens in the box.
"With Vincent, staying here depends on him and his physical condition. I think he will be honest with himself to say, 'I'm ready to play'.
"Manchester City is not going to drop him but when you play just eight, 10 or 12 games a season it is not too much.
"It depends on him but I think the feeling is he is getting better in those terms and hopefully next season he can be fitter longer, because we need him."
PA
Register for free to continue reading
Registration is a free and easy way to support our truly independent journalism
By registering, you will also enjoy limited access to Premium articles, exclusive newsletters, commenting, and virtual events with our leading journalists
Already have an account? sign in
Register for free to continue reading
Registration is a free and easy way to support our truly independent journalism
By registering, you will also enjoy limited access to Premium articles, exclusive newsletters, commenting, and virtual events with our leading journalists
Already have an account? sign in
Join our new commenting forum
Join thought-provoking conversations, follow other Independent readers and see their replies