Pep Guardiola should ask himself, is Manchester City the right club?
Guardiola has the contacts at the Etihad to make that his most likely destination in the summer. But if he watched Arsenal beat Pellegrini's team, he may now prefer a spell at the Emirates, writes Mark Ogden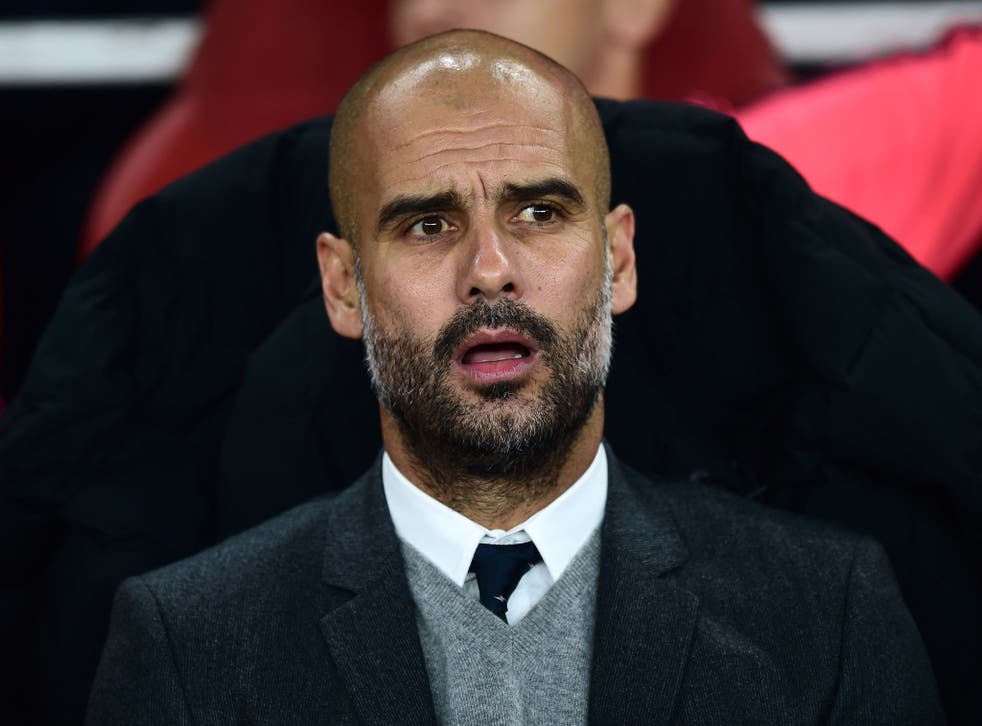 Officially, of course, there has been no direct contact between Manchester City and Pep Guardiola, but on the basis that the soon-to-be-former Bayern Munich coach is close friends with City's director of football, Txiki Begiristain, it is safe to assume the pair talk about more than just the Bavarian climate.
So how will the conversation go?
"Look, Pep, all Bacary Sagna, Eliaquim Mangala and Aleksandar Kolarov need is a bit of fine-tuning to make them defend properly. And we know that Jesus Navas hasn't scored for 15 months and that Yaya Touré only plays for 20 minutes nowadays, but you're the best coach in the world, so everything will be great. OK?"
If Guardiola spent Monday evening watching City surrender to Arsenal at the Emirates, any thoughts, or even pre-agreements, which involve swapping the Allianz for the Etihad next summer may have been tempered by the sight of Manuel Pellegrini's team being overrun, outfought and beaten by Arsène Wenger's players.
Begiristain, whose seven years as Barcelona's director of football coincided with the club's evolution into arguably the greatest team ever seen – under Frank Rijkaard and then Guardiola – is the key to City's ambitions to lure Guardiola to the blue half of Manchester. However, Monday offered proof that, if he accepts the challenge, Guardiola will be facing an entirely new test of his talents at the Etihad.
It promises to be a job that will offer far fewer of the certainties that have accompanied his previous roles like a three-year warranty on a high-end sportscar. Barça were beaten Champions League semi-finalists and the third best team in La Liga when he succeeded Rijkaard in 2008, but there was also the not insignificant matter of a 21-year-old called Lionel Messi waiting to display his talents to the world. And after four glittering years at the Nou Camp, which delivered three La Liga titles, two Champions Leagues and a couple of Club World Cups, Guardiola inherited a treble-winning Bayern Munich from Jupp Heynckes, taking charge of a gilded team who were already on the path to taking dominance to a new level in Germany.
By announcing on Sunday his decision to leave Bayern at the end of this season, Guardiola confirmed that he would be pursuing a new challenge in 2016. That challenge will be in England. But might Monday night at the Emirates have nudged the 44-year-old towards Arsenal, not City?
Arsenal vs Manchester City player ratings

Show all 22
City possess the personal relationships and financial clout to claim the lead in the race to appoint Guardiola, but Manchester United and Chelsea also have their merits.
United have the history, the opportunity to revive Sir Alex Ferguson's crumbling empire and a stage at Old Trafford which is one of football's great cathedrals, yet Louis van Gaal's team is a collection of fading stars and youngsters of dubious quality, so there is clearly risk attached to taking that job.
Chelsea offer London and all the kudos that comes with managing the capital's most glamorous club. Guardiola's wife, Cristina Serra, is also understood to be drawn by the lure of living in one of the world's great cities, but the volatility of Chelsea owner Roman Abramovich, another team in need of rebuilding, and the prospect of life outside the Champions League next season weigh against a move to Stamford Bridge.
So that leaves Arsenal, the club who last unveiled a new manager in October 1996 and who, at present, have no desire to make a change before Wenger celebrates his 20th anniversary in charge next year. But if Guardiola was to have his pick of the Premier League's super clubs, Arsenal showcased themselves as the perfect destination with their defeat of City. They are a developing team, blessed with the Guardiola flair and a crop of exciting young players, whose developing maturity could well carry them to the title. Defensively, Arsenal remain a work in progress, but Alexis Sanchez and Mesut Özil help make up for those deficiencies in the attacking third.
But if Wenger remains in charge, Guardiola may have to take the plunge next summer and City could prove to be the next best option, because they are in a better shape than United and their owners are not compromised by Abramovich's impatience.
For the first time in his career, though, Guardiola will be faced with a rebuilding job if he takes charge at City. Pellegrini's team is heavily unbalanced, with the old guard of Joe Hart, Vincent Kompany (when fit), David Silva, Touré and Sergio Aguero continuing to be the crucial elements they were four years ago. Kevin De Bruyne and Raheem Sterling offer promise, but their high points this season have been set against their anonymity against stronger opponents. Navas is not good enough for a team with City's ambitions, nor Wilfried Bony nor Mangala, while Fernandinho, Touré and Pablo Zabaleta are all in their thirties.
Mark Ogden - What to expect from Man City this January transfer window
There is certainly no Messi, Xavi or Thomas Müller waiting to welcome Guardiola to the Etihad, so the Catalan would be faced with imposing his brand of high-intensity, high possession football on a squad with ageing generals, inadequate foot soldiers and young recruits who could go either way.
Pellegrini has been unable to get the best out of them, with this season's results – City have not won away in the league since September – highlighting the failings of an underperforming squad, so whoever replaces the Chilean will have work to do.
Guardiola is a blue-chip manager and recruiting him has become the vanity project of numerous wealthy club owners, but he also knows his value and how the wrong decision could lead to his unblemished reputation being tarnished.
Answering the call of Begiristain and City is one thing, but after watching the Arsenal defeat, Guardiola may feel as though he has just agreed to help a friend fix a flat tyre, only to find that the engine needs replacing too.
Join our new commenting forum
Join thought-provoking conversations, follow other Independent readers and see their replies