How Facebook could change the face of Premier League broadcasting - and why the television giants should be scared
Broadcasters should be quaking in their boots as the social network begins to move into live sports broadcasting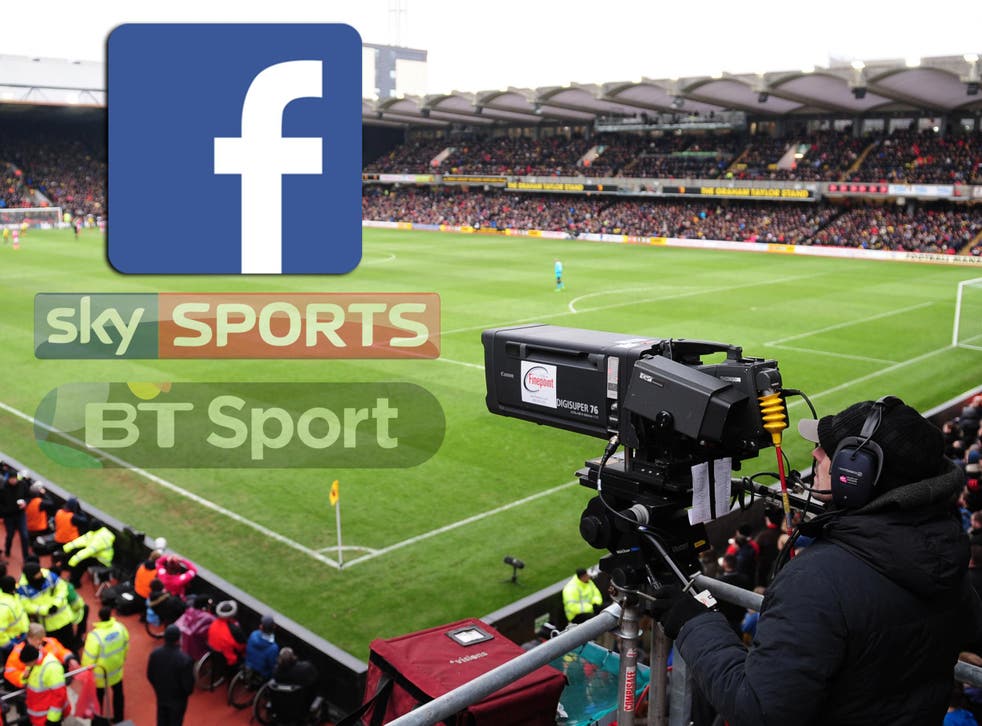 There was a time when the television was king, and it was not so long ago. Some would argue, given that the Premier League rakes in around £8.5billion for the TV broadcasting rights to 'their' product, that the crown has barely slipped from atop the television set, even if it is now a curved, 70-inch LED screen rather than a box of cathode ray tubes taking up an area fit for a small shipping container in the corner of the living room.
These televisions are changing and the times are too. No longer are consumers – or, as I prefer to call them, people – plugged into the aerial to watch four channels. There are hundreds of options, and catch-up TV, and any manner of streaming services that now beam their shows straight to your television. Or, maybe not your television. Perhaps it is your phone, or your tablet or your watch. Potentially your glasses.
The rather laboured point here is that we are in the midst of this digital revolution and, for the most part, people realise that.
But let's go back to that £8.5billion and ask ourselves whether these broadcasters – the likes of Sky and BT who are making cuts to afford such huge outlays - will still want to fork out such obscene amounts of cash when fewer and fewer people are consuming entertainment, sports and virtually anything in the way they used to?
Of course they can diversify. BT's app is excellent and Sky Go allows subscribers to tune in on the go but with the rise of technologically-literate people we have seen more illegal streaming and the broadcasters, squeezed for every last penny by the bidding process, are stretched. The cuts across Sky's other sports coverage are blamed by under-pressure staff on that Premier League overspend.
Some people within the game fear that the current bubble, the one which funds the huge wages and transfer fees they pay, will burst when it comes to television revenues.
And yet, quite contrarily, there is some evidence that it could be the digital revolution that saves them.
You may not have noticed Facebook creeping into the sports streaming business but it is a push that has accelerated in recent weeks.
La Liga will now stream one game a week via the Silicon Valley-based social network. Ligue 1 is understood to be negotiating a similar deal while Mexico's Liga MX, a huge area of interest for the US market, has also signed up. Twitter are already rivalling them in the live-streaming space with Periscope and broadcast one game from the NFL every week while Facebook are set to continue expanding their own sporting portfolio.
Major League Baseball is reported to be the next major league to get involved and, based on the early experiments, streaming on these sites could be the perfect tonic for broadcasters and rights holders, who reach more viewers, as well as fans.
Minor sports have experimented with broadcasting in this way too, with table tennis and netball reaching new audiences but the question for the money men is how to make football work.
According to data seen by The Independent, Wayne Rooney's testimonial raked in 3.7million viewers worldwide – the top five countries being the UK, USA, Italy, Ireland and Mexico. Now, this game was unique as it was a star-studded friendly game associated with one of football's leading player brands. Similarly, it wouldn't be possible for Facebook to simply broadcast Premier League games, for example, to a global audience.
This is because the Premier League, when they sell the broadcasting rights around the planet, do so on a exclusive, territorial basis, not a technological one. That is to say that the rights currently split between Sky and BT are solely for the UK, while in Spain you can only watch on Movistar and in the USA it is NBC.
Indeed, a smart move by the Premier League to partner with IMG media over a decade ago to create Premier League Productions, a service that helps distribute the games to overseas broadcasters but also provides magazine shows, documentaries and more – all dubbed or subtitled for local audiences around the world – helps overseas rights-holders guarantee high production values and, in that sense, keep it ahead of La Liga as the world's best-marketed league.
The original intention of this was to encourage telecommunications companies, rather than just traditional broadcasters, not to be daunted by taking on the Premier League product and, as in the UK with BT as well as Movistar in Spain and others elsewhere, they took the bait.
But the way that the Premier League sells these packages would not prevent digital media companies and social networks from getting in on the action when those tenders next come up for grabs. In short, the league would not need to change a thing for these tech giants to swoop in.
Should Facebook decide to enter the Premier League bidding war – or Twitter, Amazon, Google or Apple, for that matter – it has never been so easy for them to distribute the product. And, more importantly, they have the money to do so.
When BT blew the Premier League TV war open in 2012, the figures (a 77% increase on the previous deal) were described as "staggering" by the BBC. BT, a mammoth company threatened by the loss of broadband and landline customers, dug into their big pot of available cash and splashed out.
Facebook, equipped with the technology and boasting the cash to be able to muscle in on the market, could, in turn, do to BT what BT did to Sky five years ago and muscle in on the UK market.
The only question is whether they want to, but they appeared to answer that fairly clearly in a statement to The Independent:
"Sports are inherently social, with the power to build and connect communities around the world. This aligns closely with our mission, and we feel Facebook is a natural home for sports content, including live games.
"Early experiments with these events on Facebook have delivered great results for fans, broadcasters and rights holders. People around the world are tuning into matches ranging from football to table tennis, while broadcasters and rights holders are reaching new audiences and experimenting with interactive, social and mobile-first productions.
"We plan to bring fans more live games from a variety of sports in the Video tab, and will collaborate closely with our partners to do so in a way that supports their business goals."
If you add in the amount of data Facebook has on its users and how they could serve targeted adverts in a far more effective way than television broadcasters ever could, the revenue on offer could well outstrip what BT and Sky can make.
It is a proposition that may be too good for the Silicon Valley giant to ignore.
Join our new commenting forum
Join thought-provoking conversations, follow other Independent readers and see their replies