Promoted trio face a dogfight to avoid the swift drop back
Leicester, Burnley and QPR need their strikers to fire or it will be a long season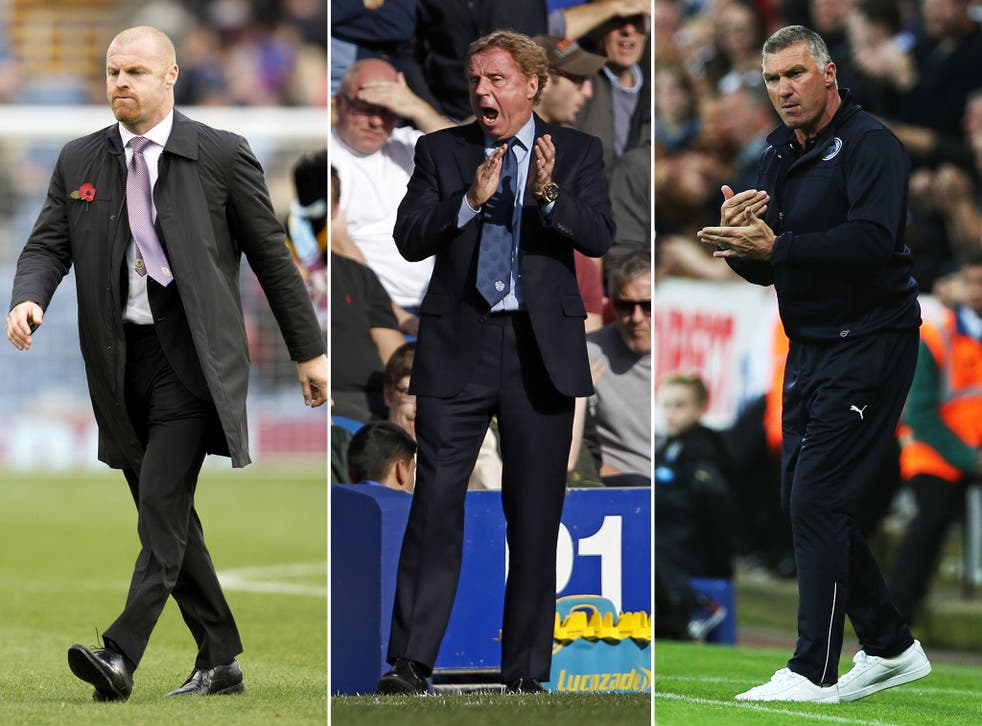 It seems more like a war of attrition than ever, surviving in football's promised land once you have made it there. The three promoted sides find themselves in the relegation zone heading into a weekend which – with two of them fighting it out against each other – may tell us a little more about who has the steel to survive.
If the current state of affairs – Leicester City bottom with Queen's Park Rangers and Burnley just above them, ahead of the latter two's meeting at Loftus Road this afternoon – is the one that prevails after 24 May, it will be the first time since 1997-98 that the three sides who arrived in the summer – Barnsley, Crystal Palace and Bolton Wanderers in that instance – headed straight back where they came from.
In the case of Leicester and Burnley, that would serve to reinforce the view that the strategy both have adopted, of spending relatively little, is unworkable. Burnley laid out £8m net this summer; Leicester £10m. As usual, Rangers spent substantially more – £21m – though their own predicament seems in part to be a reflection on a manager, Harry Redknapp, whose heart is not really in it.
These issues generally come down to the quality of a team's defence – 11 of the 15 sides who have been sent down from the top flight in the last five years have had among the worst three defences in the division. Being able to defend competently is more important than having the right attacking players, and QPR and Leicester have leaked more goals than any of the teams above them.
But the focus on who might make the cut is beginning to coalesce around the strikers. The last five years of Premier League football have demonstrated that if you are going to survive with one of the division's worst three defences, then you need to score at least 40 goals.
Only Hull City managed to buck that trend, when they escaped despite conceding 64 goals and scoring 39 in that season of two halves under Phil Brown's management in 2008-09. QPR and Leicester are on course to score the magic 40. Burnley are not.
There is a deep symbolism about Rangers possessing the most potent goalscorer of any in the current bottom three – the division's fourth highest scorer, Charlie Austin. The 25-year-old was sold to Redknapp by Burnley at the start of last season, when the east Lancashire side were struggling to make ends meet as the end of the parachute payments from their previous season in the Premier League – 2009-10 – loomed large. He scored 45 goals in 90 games for Burnley, so the sale seemed to suggest they had given up on ever making it back. Austin started this season slowly, but his five goals in the last six games have given Rangers some hope.
Burnley did not do so badly for a side who sold the family silver. While Manchester City were celebrating financial results this week which showed losses down to a mere £23m, including £205m wages, the Clarets were quietly revealing they turned a £300,000 profit, before £7.9m player promotion bonuses were subtracted, in the season they regained their place in the top flight.
The goals of Danny Ings and Sam Vokes got them promoted and it was the absence of that injured pair in the early months of this season which proved crippling. Burnley scored a solitary goal in their first seven games and the real worry for manager Sean Dyche was whether Ings – missing for four weeks with a hamstring injury – would be able to deliver in the Premier League.
The answer seems to be "yes". After requiring five games to break his top-flight duck, he has scored four in the last six games, as Burnley have gone four games undefeated, though it was his performance and two goals for England Under–21s against Portugal at Turf Moor last month which really seems to have sent his confidence soaring.
"You could tell it did him the world of good," says one who knows him well. Ings is a confidence player and the expectation around him feels daunting at times. Vokes, who has not played since sustaining a serious knee injury in March, made his first appearance for the club's development squad in midweek and his return cannot come soon enough. None of Dyche's back–up attacking options – Ashley Barnes, Marvin Sordell or £1.5m Lukas Jutkiewicz – have looked anywhere near the level so far.
As Burnley have rallied – surfacing from the relegation zone with the draw against Newcastle in midweek, before Hull's point at Everton dropped them back in – so Leicester have slumped. They arrived as champions and looked like they wanted to be football royalty, ploughing the lion's share of their summer budget into a player who they thought could get them goals. Leonardo Ulloa, who cost £8m rising to £10m depending on performances from Brighton, promptly scored five, netting against Everton, Arsenal and Manchester United (twice), but has not managed one in the nine games since Louis van Gaal's team was sent packing in September.
That is how a first season in the Premier League can catch you: the late-summer euphoria of a place among the elite, and then the cold reality of the slog setting in. Leicester covered 30 per cent more ground against United than in the game which followed – the 2–0 defeat at Crystal Palace. Jamie Vardy, the striker Nigel Pearson signed from Fleetwood Town, looked good in the Championship. Brendan Rodgers wanted to buy him for Swansea City, too. But the Premier League seems a step too far for him to date. Just one goal.
While QPR bought tried-and-tested Premier League players in the summer – Steven Caulker, Rio Ferdinand and Leroy Fer – they have reverted to what they had before: the return of Richard Dunne, Joey Barton and Rob Green has helped stablise them.
Rangers have frankly not been the same team since Steve McClaren left Redknapp's coaching staff to take over at Derby in October last year. They may renew the pursuit of Jermain Defoe, who has fallen out with his employers at Toronto FC in Major League Soccer – and will probably face competition from Leicester. Meanwhile, Burnley have been linked with Nottingham Forest midfielder Henri Lansbury.
It will be a triumph for self-sustainability and the powers of intelligent man-management if Burnley can avoid the drop. Out of the three manager, Dyche looks the one most capable of inculcating the self-belief needed.
Rangers' failure to garner a single point away from home is testament to the poor side they are – and one prone to internal strife. It rather escaped national attention that owner Tony Fernandes publicly censured both Adel Taarabt and Redknapp after the tit-for-tat spat following the manager's claims that the midfielder was "three stone overweight". There has been no new contract for Redknapp.
Pearson looks uncomfortable as well. He is a prickly character, and at the centre of a club investigation after an altercation in which he told a Leicester fan not to bother attending games, as tempers rose during Tuesday's defeat to Liverpool.
It is attritional down there. It will be a fight to the last. And which two sides play each on 24 May? Leicester and QPR.
Join our new commenting forum
Join thought-provoking conversations, follow other Independent readers and see their replies