Rafael Benitez begins to woo 'sweetheart' Real Madrid
Chelsea's interim manager has been linked as a replacement for Jose Mourino at the Bernabeu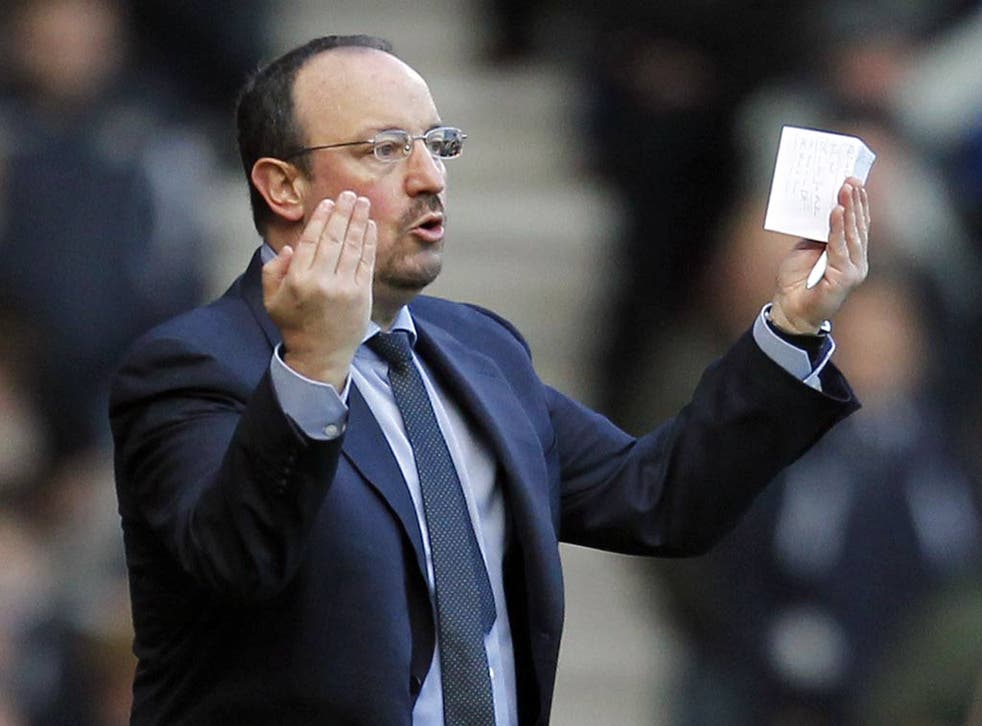 Chelsea interim manager Rafael Benitez has spoken of his love for Real Madrid, describing the club where he began his career as his "sweetheart".
Benitez is expected to leave Chelsea this summer and has been tipped to replace Real manager Jose Mourinho, who is also thought to be on his way out of his current post.
In an interview on Radio Nacional de Espana, Benitez spoke about how his success at Liverpool had made life difficult for him at Stamford Bridge and how he was interested in taking over from Vicente Del Bosque as head coach of Spain when the 62-year-old ends his association with La Roja.
Benitez also discussed his love for Los Blancos. Benitez joined his home-town club when he was just 13-years-old and he went on to play for the reserve team before returning to form part of Del Bosque's coaching staff during his time at the Santiago Bernabeu.
Given that Mourinho still has three years left on his deal, Benitez was reluctant to speak too much about Real but he did agree that the club holds a special place in his heart.
"I have a contract (with Chelsea) until the end of the season and I am going to do everything possible for this club to have the best success," Benitez said.
"Real Madrid have a determined manager with a contract and this deserves respect. As a manager, you always have your sweetheart. I have a link with the fans and they have treated me well.
"I arrived at (Real) Madrid when I was 13 years old and I'm from Madrid. But I don't want to get involved in this speculation because my words aren't always interpreted."
Benitez's stock may not be so high among the Blues fans who have objected to his appointment, but in Spain the 52-year-old's reputation is strong after his time at Valencia, where he won two Primera Division titles and a UEFA Cup. The Spaniard, of course, also led Liverpool to Champions League glory in 2005.
Benitez is one of the front-runners to replace Del Bosque when his reign as national head coach comes to an end and the former Inter Milan boss admits he would be interested in taking the job.
"I have a good relationship with Vicente," Benitez said of the Spain boss, whose contract expires next summer.
"But I can't rule out one day becoming national coach when Vicente leaves.
"It's something I will look at in the future, although for this I have to continue in elite football and keep doing things well."
Benitez has been subjected to a torrent of abuse since he took up his position at Stamford Bridge last November. Chelsea's fans sing the name of the man he replaced - Roberto Di Matteo - at every game and banners calling for their temporary boss to leave have appeared at times among the Chelsea support.
Benitez thinks the reason the Stamford Bridge faithful have not take to him during his three months in charge is because of his success at Liverpool, where he also won the FA Cup in 2006.
He added: "The biggest problem is that I was manager of Liverpool and I am paying for the success I had at Liverpool.
"Nevertheless, I will keep working hard with professionalism, I am focused on achieving success with Chelsea. I am the happiest man in the world when we win a game.
"We are a team in transition and we are the team which has played the most games in all of Europe.
"You cannot do everything you want to do on a tactical level when you only have so much time."
PA
Join our new commenting forum
Join thought-provoking conversations, follow other Independent readers and see their replies