Reina: De Gea can call me for pep talk
Liverpool goalkeeper puts clubs' bitter rivalry to one side and offers services to United's struggling No 1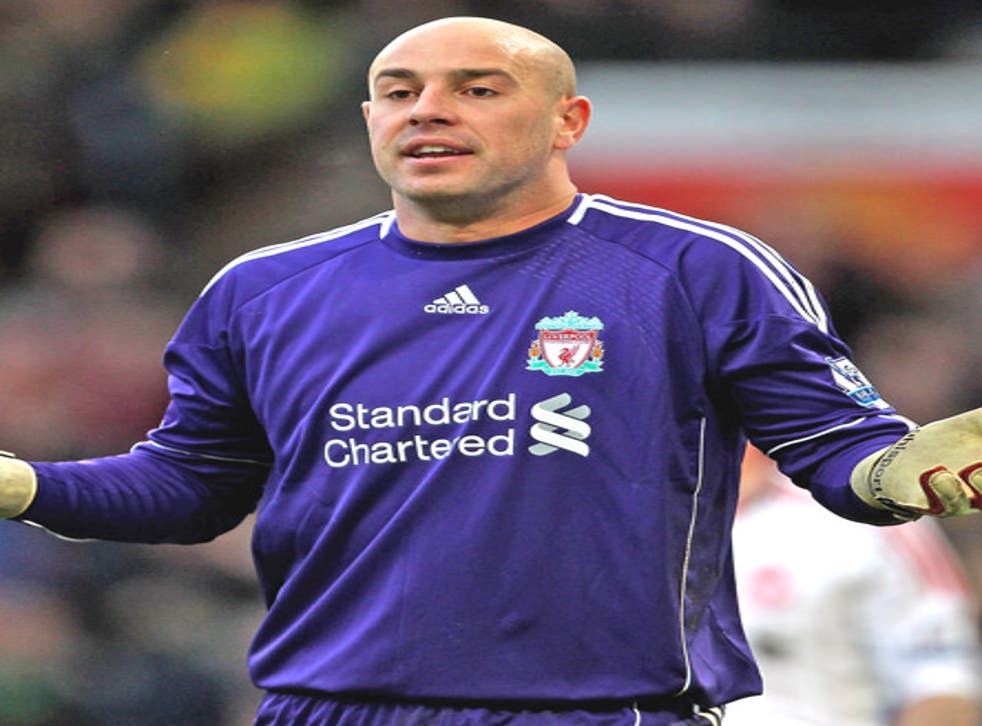 It will be a first for Manchester United-Liverpool rivalry if it happens but Pepe Reina has told David de Gea he only has to pick up the phone if he needs some support as he struggles to adapt to the Premier League.
Reina knows how hard adapting to English football can be but he has backed De Gea to come good once he settles at Old Trafford. Speaking to Spanish radio station COPE he said: "It is typical that the critics smell blood when there is a mistake. He is a boy who cost a lot of money and he is very young but if Mr Ferguson has put his trust in him by signing him then it seems logical that he will settle and be a quality signing for them.
"I think he will be fine. With the cool head he has, in a couple of months he will be fine. Once he settles into his house and gets used to his new environment. It is hard to adapt for all of us and he is not going to be different."
Asked if he would cross the divide to help his rival, Reina added: "I don't know him personally – we have played against each other a few times but I don't have a problem with whatever he needs. I imagine that he can get my telephone number from any friend that we have in common."
Asked if he was contacted by United as they searched for Edwin Van der Sar's replacement, his somewhat evasive answer suggested there was a moment at the end of last year when a move to Old Trafford became a possibility. He said: "That doesn't matter now. I imagine they had a group of keepers that they were looking at and in the end the one they ended up pushing for was De Gea and I think that they have not got it wrong, far from it, he is going to give great service."
Reina said his future was now very much at Liverpool but warned supporters that a push for the title may have to wait for another 12 months. He said: "Before the end of the year we all made up our minds that I was not going to leave and that I would stay at Liverpool. I am very happy and my family is very happy here.
"The people are really behind the team and there are certain things that are respected here which means a lot. It is a club with a big history of winning things, with legendary players. And it's about trying to continue those traditions and following those legends. I am happy with them and they are happy with me.
"It's difficult (to win the league this year) because we have been some distance from those aspirations for a long time. Now the priority is to return to the top four and keep improving. It's fundamental that the team gets back into Europe and then next year make the jump to challenge for the title."
Reina warned that not being involved in European competition will not necessarily be a blessing. He said: "During 11 years as a professional I have always been in the situation of playing in midweek so it's new for me. We have to train more and we can prepare more for games but I would rather be playing in midweek and be competing – with that competition in itself preparing you for the next games."
Join our new commenting forum
Join thought-provoking conversations, follow other Independent readers and see their replies