Roberto Martinez travels to America for talks with Liverpool, reveals Wigan owner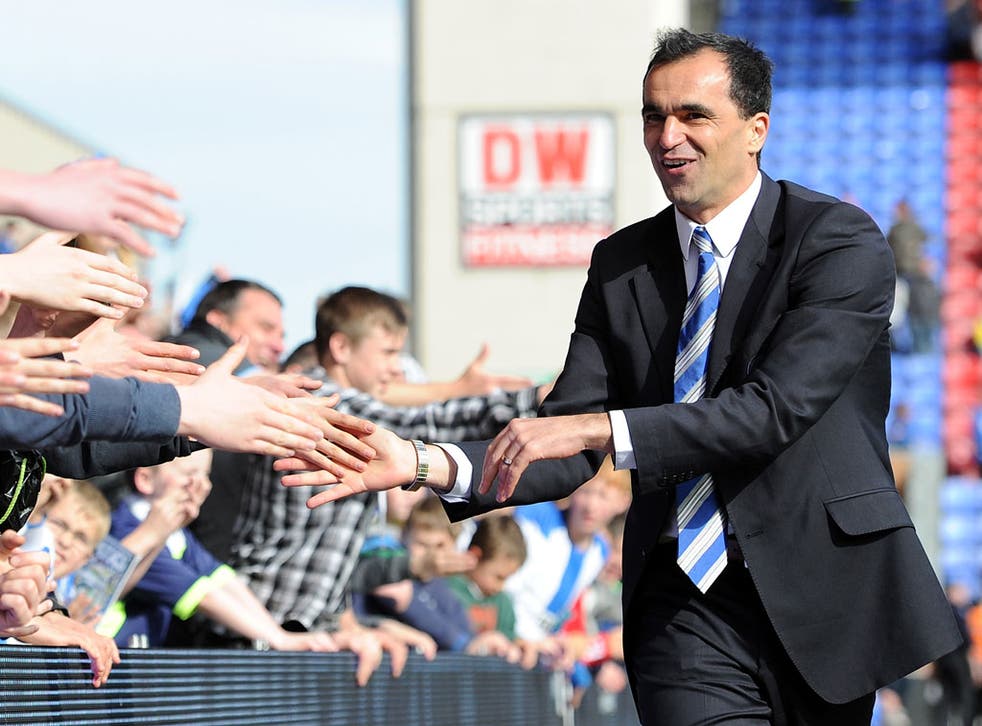 Roberto Martinez took a small step closer to the vacant Liverpool manager's job after meeting with the club's owners in America today, according to Wigan chairman Dave Whelan.
The Spaniard is currently on a family holiday in the Caribbean but took a short flight to Miami where he was expected to meet Fenway Sports Group's top executives.
Martinez's current employer Whelan revealed details of the trip after speaking to his manager earlier.
"I got a phone call this morning and Roberto was on his way to America, he's flying down to Miami and is meeting Liverpool now," he told ESPN.
"I didn't ask him what he has decided to do but I told him I wanted it sorted out sooner rather than later."
Whelan added on Sky Sports News: "He has to listen to what they are offering. He is just doing what I gave him permission to do.
"This visit to America is a brief intrusion into his holiday but it is something he has to do."
Martinez has emerged as a front-runner after reports suggested former Porto and Chelsea manager Andre Villas-Boas had fallen out of the reckoning.
FSG have spent the last week since sacking manager Kenny Dalglish scouring the globe for a replacement.
Although their widespread trawl has attracted some criticism after a couple of knock-backs, it is part of the strategy they have chosen to implement as part of a re-organisation of the structure at Anfield which will see the appointment of a technical director above the new manager.
That approach has been criticised by Whelan, who added on ESPN: "My understanding is that Liverpool are seeking a final shortlist of six managers whom the owners would like to interview.
"I am amazed that they think they can do that, it sounds very much an American way of dealing with these issues in sport, but I would wonder how those six managers might feel."
The Wigan chairman also doubts Martinez's willingness to work under a technical director, although with a job the size of Liverpool the Spaniard may need some help addressing the scale of the workload.
"A little bit will have to do with the attitude of the owners because I don't think they fully understand the game of football in England," he told Sky Sports.
"Roberto likes total control, from the youngsters at 16 to the first team.
"If he doesn't get that I don't think he will take the job."
He added on ESPN: "My information is that the new Liverpool manager will not be given full responsibility of the football department.
"The set-up on the football side goes well beyond the norm even with a director of football.
"There will be somebody else signing players and they might not necessarily be the choice of the manager.
"My advice to Roberto is to think very carefully about this, but Liverpool are a big club and I hope that they remain one of the big clubs.
"I've asked Roberto to make his mind up as soon as possible. If we have to lose him I will move very quickly to appoint a successor as I have ideas.
"Hopefully he will stay with us but we will wait and see."
If the job is offered to him - and FSG are expected to interview other candidates - Whelan expects to be fully compensated.
"He signed an extension to his contract so Liverpool would have to buy out his contract," he said.
"You are into £2million to £3million minimum. Whatever the contract is worth I am sure Liverpool would honour that and buy it out."
PA
Join our new commenting forum
Join thought-provoking conversations, follow other Independent readers and see their replies